COUPLES
Cops Swarm Marilyn Manson's Mansion The Same Day Ex-Wife Dita Von Teese Breaks Silence On Abuse Claims Against Singer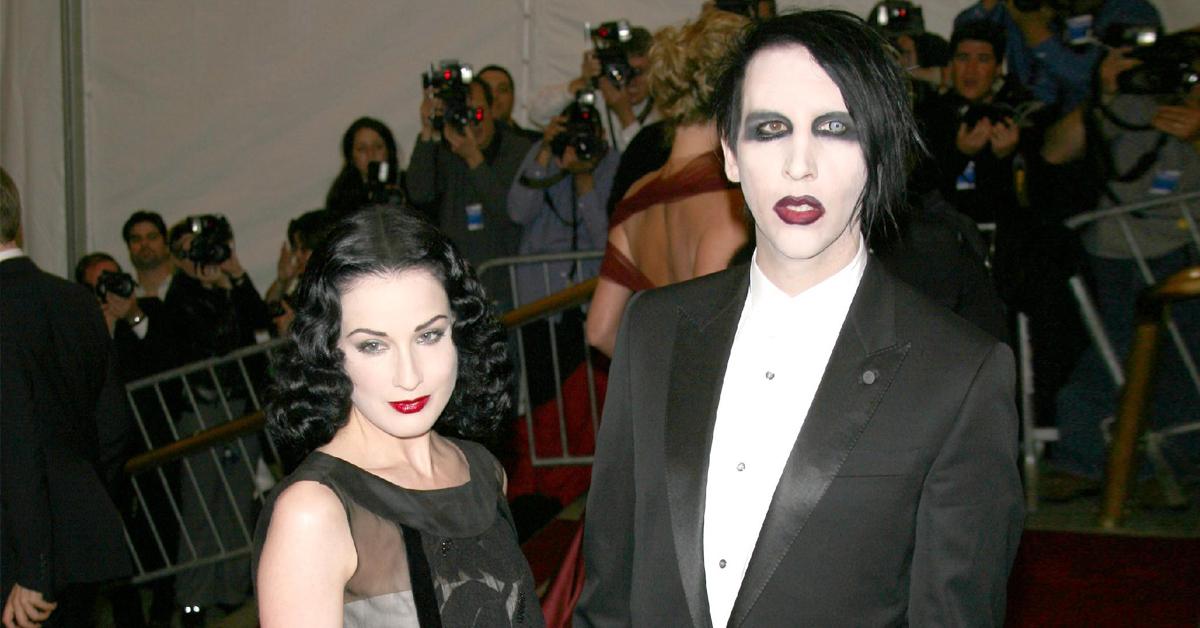 Police officers and a chopper reportedly swarmed Marilyn Manson's home for a welfare check in the evening of Wednesday, February 3. The welfare check was allegedly requested by an alarmed friend who spent several hours trying to get in touch with the singer following the abuse accusations against him from multiple women earlier this week.
Witnesses were said to have "heard someone inside shouting that they wanted to leave."
Article continues below advertisement
In a video obtained by TMZ, a witness is made out explaining: "They wanted to leave, but someone wouldn't let them leave." Another witness told The Sun that there appeared to be a gathering outside of his home. "No music but raised voices, and people in the garden just meters from the cops," the insider shared.
The police were said to have left the estate when no one came to the gate, only to return two hours later at 8 p.m. After the police returned for a second time, they were finally able to get in contact with one of the singer's representatives, who reportedly explained that Manson is OK and did not want to leave his home because there were several members of the media trying to get in contact with him.
Article continues below advertisement
The same day of the police visit to Manson's Hollywood Hills home, ex-wife Dita Von Teese — who was in a relationship with Manson for seven years — broke her silence on the controversial abuse accusations.
While sharing that "the details made public do not match my personal experience," burlesque dancer Von Teese, 48, urged "those of you who have incurred abuse to take steps to heal," via an Instagram post. "Had they, I would not have married him in December 2005. I left 12 months later due to infidelity and drug abuse.
Article continues below advertisement
"Abuse of any kind has no place in any relationship," she added before concluding: "This is my sole statement on this matter. Thank you for respecting this request."
Manson, 52, first made headlines earlier this week when ex Evan Rachel Wood accused the singer of grooming and "horrifically" abusing her during their past relationship.
Article continues below advertisement
"The name of my abuser is Brian Warner, also known to the world as Marilyn Manson," the 33-year-old claimed in a statement on Monday, February 1. "He started grooming me when I was a teenager and horrifically abused me for years."
Wood continued to allege that he "brainwashed" and "manipulated" her into "submission"; but she said she is now ready to "expose this dangerous man and call out the many industries that have enabled him."
Article continues below advertisement
One day after Wood's claims, artist and activist Love Bailey shared her own experience with Manson during a 2011 photoshoot, telling The Daily Beast he allegedly "put a big Glock to [her] forehead."
Manson has since spoken out against the abuse allegations, calling them "horrible distortions of reality." In a statement posted to his Instagram, he said, "My intimate relationship have always been entirely consensual with like-minded partners. Regardless of how — and why — others are now choosing to misrepresent the past, that is the truth."
Manson has reportedly been dropped from talent agency CAA as well as his record label — Loma Vista Recordings — in the wake of these recent claims.