NEWS
Rachel Lindsay Deletes Instagram Due To 'Hate She's Getting From Bachelor Fans' As Racial Controversy Rages On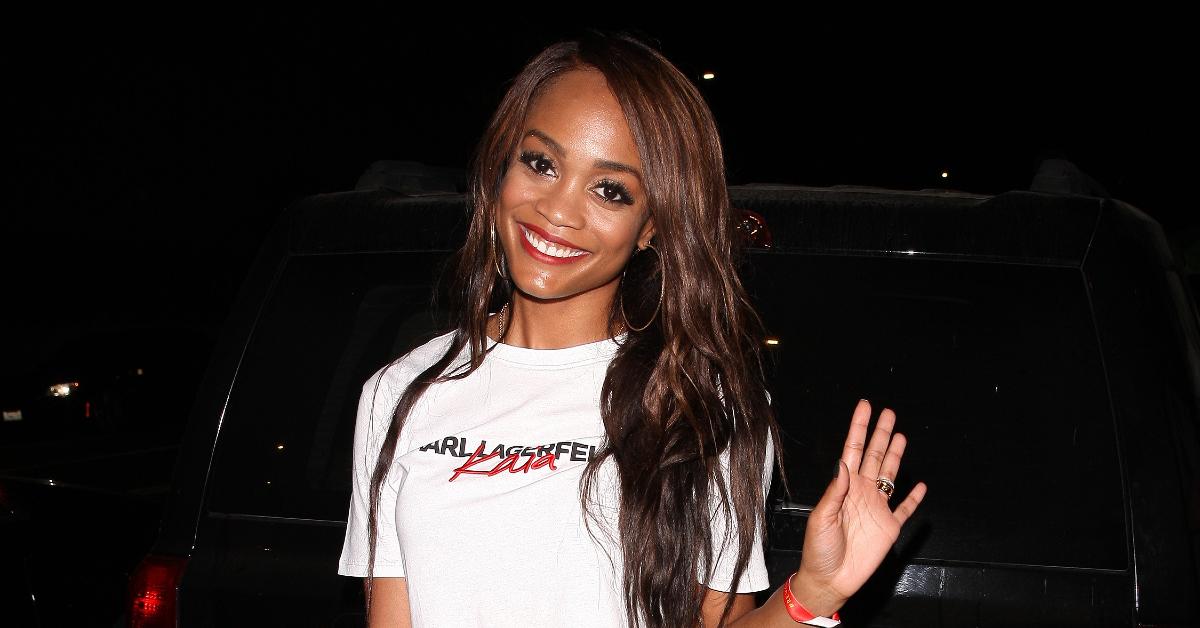 Former Bachelorette Rachel Lindsay has deleted her Instagram account after Bachelor fans reportedly harassed her for calling out Chris Harrison.
The 35-year-old permanently signed offline on Saturday, February 27, weeks after Harrison announced that he was temporarily stepping back from the show for causing "harm by wrongly speaking in a manner that perpetuates racism." He will be replaced by Emmanuel Acho on the After the Final Rose special.
Article continues below advertisement
Harrison was heavily criticized when he asked that Bachelor contestant Rachael Kirkconnell be given "a little grace" and "a little understanding" after she was accused of being racist on social media — due to old posts and photos of her apparently dressed as a Native American and at an antebellum-themed formal in 2018 that had emerged.
The 24-year-old apologized for her "racist" and "offensive" past actions; she also asked that people "stop saying I did nothing wrong" and promised to use her platform to share resources to combat racism.
Article continues below advertisement
"Rachel is not responsible for Chris Harrison, a 49-year-old man who can't read the room in these present 2021 times," Lathan said. "She's not responsible for that. It's not her job to make excuses or provide cover for somebody who doesn't understand what the f**k triggers people in today's world."
"You have the opportunity to make a positive difference, to use your energy towards change, and to come together and realize what's right in a time like this," Kirkconnell wrote in Lindsay's defense on Instagram over the weekend. "If you are choosing to rather spread hate, to send cruel, vicious messages, to be mad about people being hurt by racism…do better. Be better.
Article continues below advertisement
Article continues below advertisement
As for Acho taking over the After the Final Rose special, Lindsay will likely be thrilled that he's on board. "[He's] very outspoken about racial injustice, for social justice, and has pretty much been the person who said, 'I can have these uncomfortable conversations, and people trust it.' Who better to lead it? [He's] someone who's not involved with the franchise, no ties, no bias — I think it'd be great," she said of Acho before he was officially on the bill.
6 BACHELOR & BACHELORETTE CONTESTANTS WHO DIDN'T NEED TV TO FIND ETERNAL LOVE
But this doesn't mean that Bachelor Nation will lose longtime host Harrison altogether.
"Chris is going to have to do an interview at some point to explain his 'uniformed' and 'unacceptable' interview with former Bachelorette Rachel Lindsay on Extra. What better place than to do this on the After the Final Rose special? If Emmanuel Acho can forgive Chris on live TV, then so can Bachelor Nation," an exclusive OK! source recently spilled. "It is a risky move, but it is being discussed behind the scenes. Chris is all for it, knowing that if he doesn't do something bold, he will never return to the show."