NEWS
'I Will Release The Full Clips': Claudia Conway Threatens To Expose Mom Kellyanne After Concerning TikTok Videos Go Viral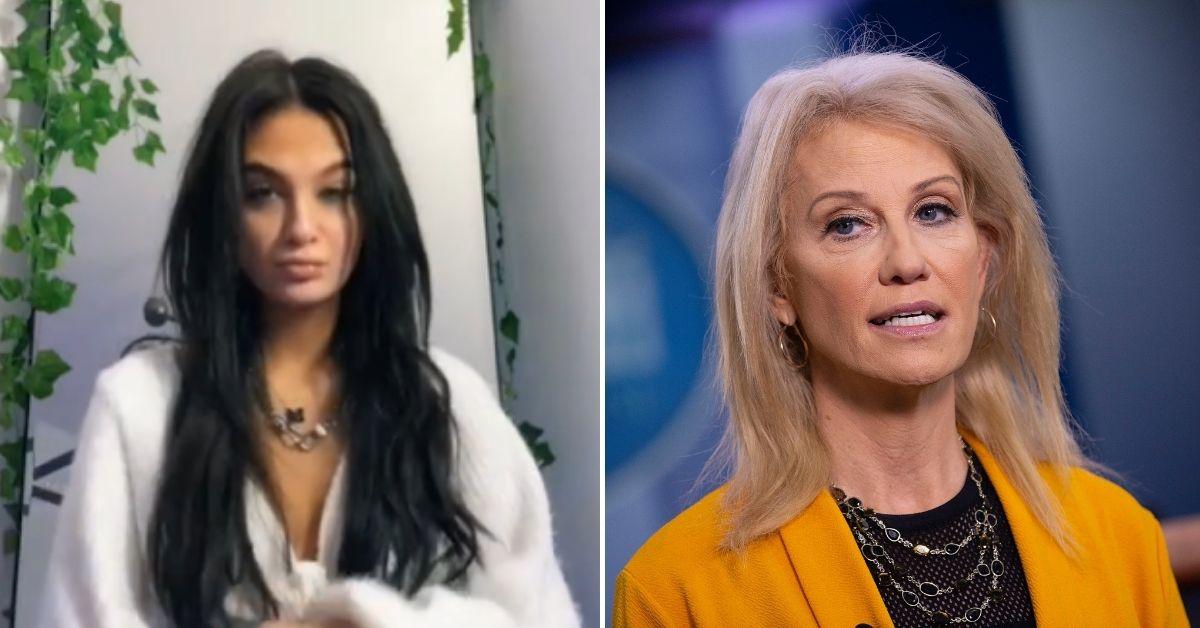 Family at war! Kellyanne Conway's daughter Claudia Conway is threatening to expose her mom after the teen claimed she is "abusive" towards her.
In a video posted to TikTok on Wednesday, January 20, Claudia revealed she "will release the full clips" of her mom allegedly shouting at her after she posted a concerning TikTok video earlier this week.
Article continues below advertisement
"I couldn't fit it all in to a 60 second video. They are hours and hours and hours long," she explained. "And it's clearly my mom."
"The woman is the video is OBVIOUSLY my mom what do you people not understand," Claudia captioned the video, making it clear that although her mom's face was not shown, it was her who was yelling at the TikTok star.
Article continues below advertisement
Article continues below advertisement
In a video posted later, Claudia told her 1.5 million followers that her devices were taken from her, and she was recording from a computer.
"I spent all day in the police office, police station, and nothing happened," she said. "And I don't even want to post this because I'm so scared."
Article continues below advertisement
As OK! previously reported, police visited Kellyanne in response to the claims made by her daughter. Claudia also shared that cops showed up at the house and asked if she was "good" and left when she said she was.
Article continues below advertisement
Claudia posted alarming clips in a TikTok titled, "A Covid recap with Kelly," in which a woman yelled at Claudia.
"You're lucky your mom's pro-life," the woman said in one video.
"F**k you, f**k you. It's over, it's over — I don't care who's following you, dumba**," the woman could be heard in another clip. "You don't f**king listen – what the f**k is wrong with you?"
"You can't get coronavirus from the president," the woman said, seemingly referring to Donald Trump's October 2020 COVID-19 diagnosis. Both Claudia and Kellyanne previously tested positive for COVID-19.
Article continues below advertisement
"The only place that will take you that you aren't going to post about your family anymore," the woman shouted, as this was not the first time that Claudia has posted about her family online.
Claudia's videos about how her father, George Conway, allegedly walked out on the family also went viral, and Claudia holds vastly different political beliefs than her mother, who was the Former Counselor to Trump.
Article continues below advertisement
In the clips, Claudia was branded a liar and an "ungrateful b**ch" by the woman who screamed at her.
"I'm not looking to hate on my mom, I just think it's important to tell my side of the story and my experience. I was just going through some videos, I have hundreds and hundreds of videos just like that and I thought it was important because as a woman who has such power in this country I don't think people really know how she is," Claudia explained after her initial video.
"She's probably going to publicly say that she's not abusive and what not, but that's kind of what manipulators do and narcissists do. I'm not looking for attention, I'm not looking for anything, I'm just in a situation that's really physically, mentally, and emotionally abusive and I think it's important that everybody sees that," the 16-year-old said in another clip.
Kellyanne has not publicly commented on her daughter's TikToks.