NEWS
Sarah Silverman Apologizes To Paris Hilton For Past 'Hardcore' Jokes That Left The Heiress 'Wanting To Die'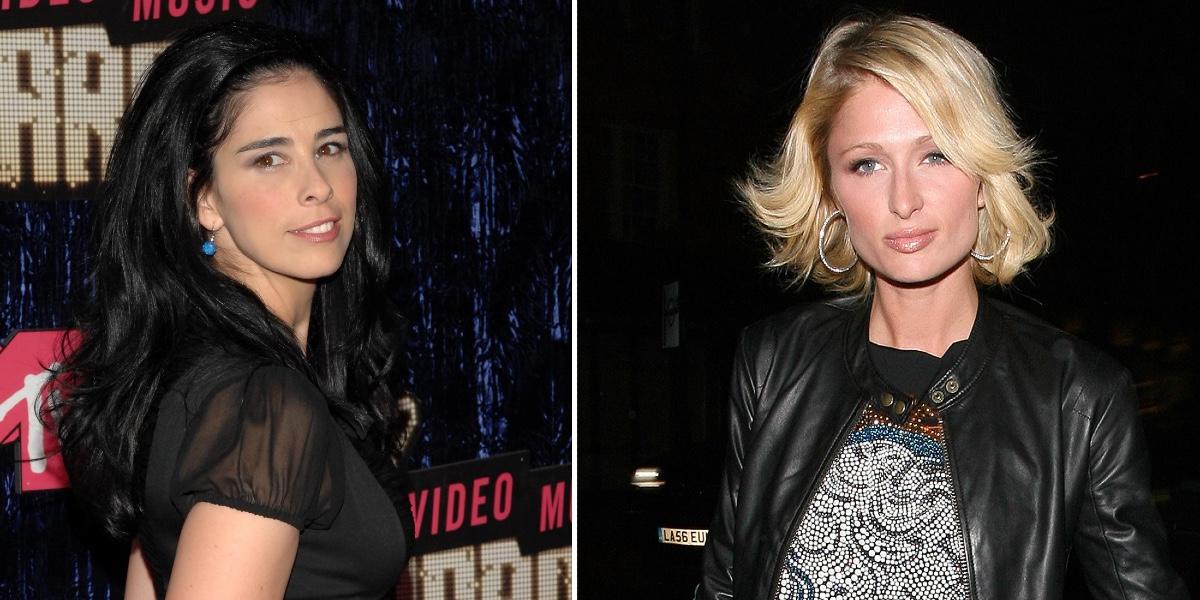 Sarah Silverman is saying sorry.
Fourteen years after brutally roasting Paris Hilton onstage at the 2007 MTV Movie Awards, the popular comedian has admitted she feels bad about her poor taste in jabs and issued a public apology to the heiress.
Article continues below advertisement
"I regretted the jokes not years later, but kind of immediately," the 50-year-old funny gal said Thursday, March 4, on "The Sarah Silverman Podcast," revealing she tried to send an apology note days after the event. "And I wrote her to let her know, but I now know that letter didn't get to her. So here I am, 14 years later, telling you, Paris, that I am really sorry.
"I was then, and I am much more completely, and with far more understanding, I think, now," she continued. "I can't imagine what you were going through at that time. My understanding of humanity through the lens of my work as a comedian had not yet merged. And I'm sorry I hurt you. Comedy, you know, is not evergreen."
At the time of the award show, the tabloid-friendly blonde was preparing for her now-notorious jail sentence after she violated her probation following a D.U.I. charge. While Silverman considered the mega celebrity fair game for laughs, she hadn't planned on The Simple Life star being in the audience to hear her scathing monologue firsthand.
"I didn't know also that she would be going directly from the event to jail that night. I said some very hardcore jokes about her, and she was there," Silverman recalled. "I remember spotting her in the audience. I really do. And I remember seeing that look on her face, and my heart sank. Because there was a person under there."
Article continues below advertisement
Sparked by the buzz around the documentary Framing Britney Spears, the DJ's memory of the MTV moment was part of a larger conversation Hilton was having with her sister Nicky Hilton about how famous females were treated
"There were certain people they targeted. I would see that with myself, with Britney, Jessica Simpson," she said."There was a certain type of girl they targeted that they'd never do that to a man."
Article continues below advertisement
Silverman agreed that the same jokes she told in 2007 would never fly in 2021.
"You know, as she said herself on the podcast, this would never happen today, and she's right. I would never do those jokes today," she admitted. "I've actually dedicated the past several years to trying to do comedy that attempts to marry hard-hitting jokes with, you know, actual heart.
"Back then, the consensus seemed to be that that was not possible," she added. "And I fully accepted that. I came up in a time when talk show hosts and comedians hired to make fun of pop culture were roasting the biggest celebrities and pop culture icons at the time. And nobody was bigger than Paris Hilton."
'I JUST WANT TO HELP': CHRISTIAN SIRIANO, SARAH JESSICA PARKER, BETTE MIDLER REACT TO BRITNEY SPEARS' CONSERVATORSHIP AFTER DOCUMENTARY MAKES WAVES
Despite her past hurt feelings, Hilton responded to Silverman's apology in a podcast update that she was "shocked" and "pleasantly surprised" by the I Smile Back star's mea culpa.
"I could tell that she really did mean what she said when she said that she was apologizing," she said.
"Thank you. I really, really appreciate you doing that," the "Stars Are Blind" singer added. "I know it's difficult for anyone, you know, to apologize, and for someone to do that really means a lot."