NEWS
'I Don't Give Free Passes': Tamron Hall Addresses Backlash For Having 'RuPaul's Drag Race' Contestant Sherry Pie Who Was Accused Of Sexual Assault On Her Show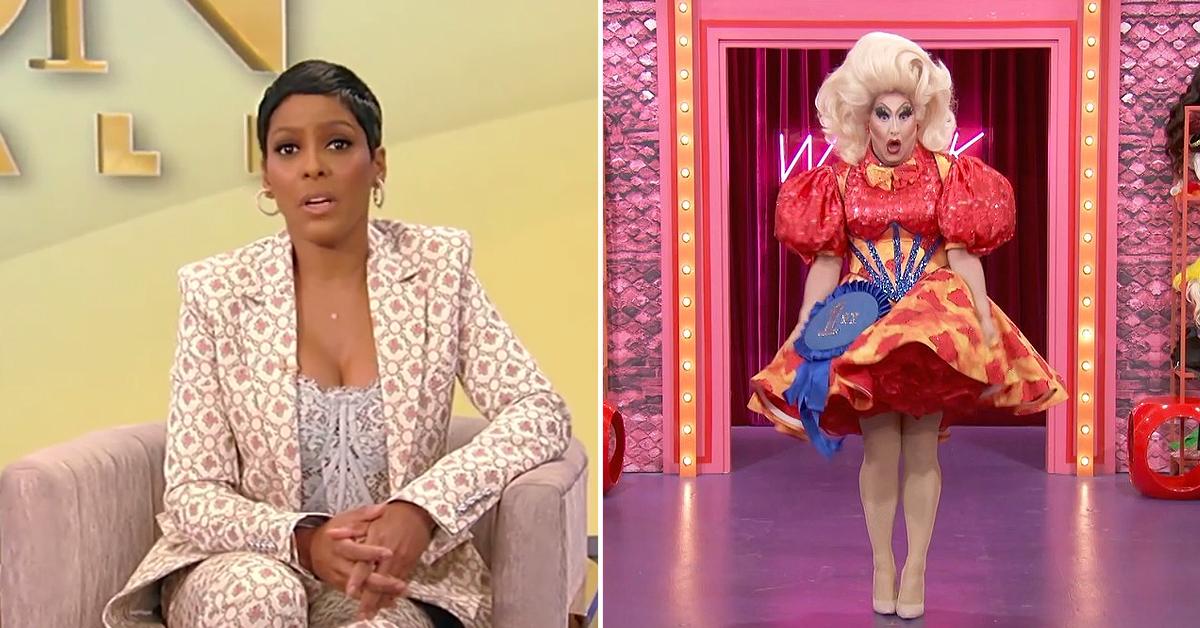 Article continues below advertisement
In March 2020, multiple men came forward with claims that Sherry Pie — whose real name is Joey Gugliemelli — had convinced them to film themselves auditioning for a fake role, some even admitting to pleasuring themselves, under the ruse they were up for a part in a new production that didn't exist.
After it was announced that Gugliemelli would have a chance to explain his story and be given a chance to openly talk about the situation, many were upset, calling on The Tamron Hall Show to rethink its decision to air the interview.
"I am publicly calling on @TamronHallShow to reconsider giving Sherry Pie access to the platform of national television to tell their side of the story without first speaking with the victims of her abuses and allowing them to weigh in on their own trauma," fellow Season 12 contestant Jackie Cox wrote on Twitter.
Article continues below advertisement
"Just so we are all clear on this, I spoke with producers at @TamronHallShow and told them that I and the 20 victims that I spoke to today DO NOT want them to air a segment with Sherry Pie. They're going to air it despite all of our requests," one of Gugliemelli's accusers, Ben Shimkus, wrote.
Article continues below advertisement
Hall addressed the backlash that she and her show received at the beginning of her interview on Tuesday, February 16. "One of my guests today has set off a firestorm on social media in the past 24 hours… The very idea that I would have Sherry Pie on, the former contestant on a very popular reality show, who was kicked off after multiple men came forward with proof of predatory behavior was seen by some as giving away my platform. And that's what I want to address before we even start this interview," Hall said.
Article continues below advertisement
Hall went on to explain that she heard the accusers' responses to her giving Gugliemelli a platform and defended her decision. "We believe the men who've gone on the record about Sherry Pie. We believe in being fair, and we don't give free passes. I don't give free passes. Sherry Pie agreed to an interview, no conditions, we've offered no opportunity to promote a book, or podcast or anything that can be seen as profited. This interview is what we say every day on the show. Let's talk about it, and that's what we're going to do," she added.
Article continues below advertisement
When directly talking to Gugliemelli, Hall said, "There are up to about a dozen people who have gone on record and made similar allegations that you don't deny."
"I first wanna say, there are no allegations. I admit to my wrongdoings and my, just, horrible behavior and I don't know if after I do this interview if more will come forward," Gugliemelli admitted, adding: "I am here to just apologize and I want to make that very clear. I understand now in lieu of this year how much pain I've caused ... and I just want to let the victims know and everyone else know that I am so sorry, and I can't even begin to imagine the pain and the trauma that I have caused and that's really all I have to say."