NEWS
New Allegations: Esme Bianco Claims She Was 'Psychologically, Physically And Sexually Abused' By Marilyn Manson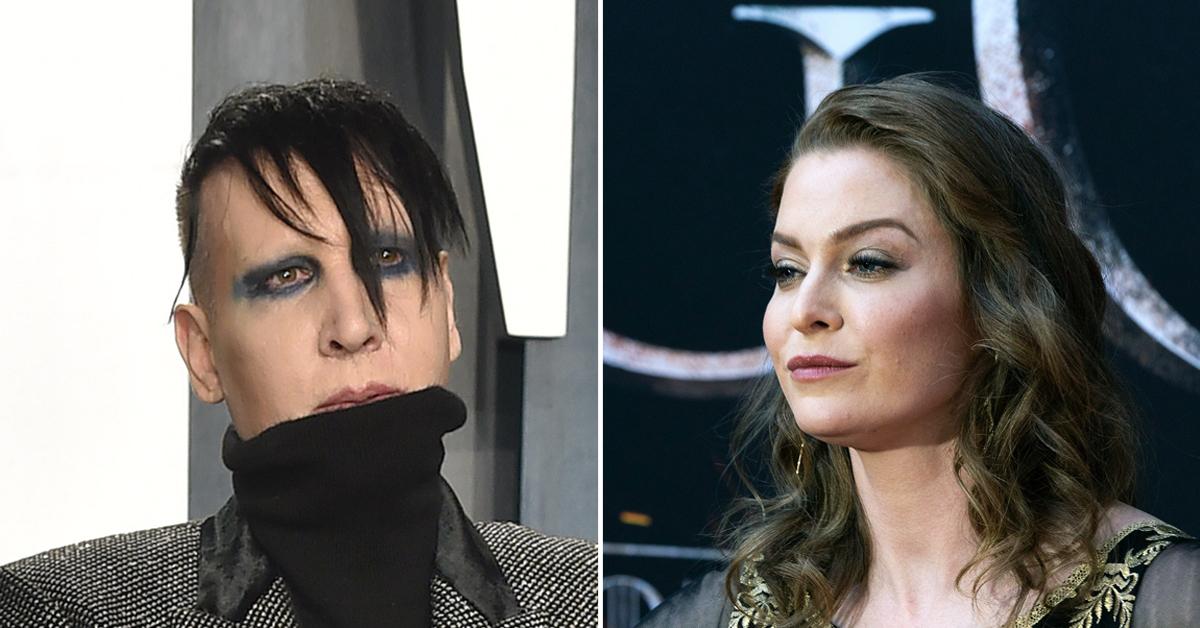 Another alleged victim has spoken out against Marilyn Manson. Esme Bianco — known for playing Ros in Game of Thrones — reported that she was "psychologically, physically and sexually abused" by the rock musician during their three-year relationship.
"I was coerced, I was defrauded, I was transported from the U.K. to the U.S.," Bianco shared. "I was harbored, and then I was coerced into involuntarily servitude, which included sexual abuse and physical abuse."
Article continues below advertisement
The English actress' lawyer, Jay Ellwanger, further disclosed that Bianco was interviewed by the FBI in Los Angeles last week, at their request. According to her lawyer, Bianco turned over extensive evidence against Manson, relating to "human trafficking and sex crimes."
Bianco detailed the first moment she met Manson in London in 2005. She was introduced to the 52-year-old by his then fiancée Dita Von Teese, who said Manson wanted to feature her in an upcoming film he was working on.
"I was a big Marilyn Manson fan as a teenager," Bianco confessed. "I just thought, wow, what a dream come true." Their professional relationship grew over the past four years, which the actress described as the time of Manson's "grooming" of her.
"He would say to me, 'you're my soulmate.' I truly believed him," Bianco admitted. She recalled the first time she was physical abused by Manson in 2009.
Article continues below advertisement
Manson reportedly paid for her flight from London to Los Angeles, where he said they were going to film a music video for his song, "I Want to Kill You Like They Do in the Movies." However, when she arrived to his Hollywood Hills home, there was no production or film crew. Manson insisted they would film the video themselves with a FlipCam.
Article continues below advertisement
"I was kept in his home for three days," Bianco claimed. "I was given nothing to eat, he gave me drugs and alcohol, and I essentially was not allowed to leave." When they weren't in the same room, Manson would allegedly text her about wanting to "murder other women" and his desire to "sneak down to the room where I was sleeping and rape me."
While filming the music video, Bianco claimed Manson: "locked me in his bedroom, tied me to a wooden prayer kneeler. I was half naked, and he would beat me with a whip."
Bianco further provided a photo that showed her bloodied back, which was marked with whip lashes, from the 2009 shoot. "I am so ashamed when I see that photo," she said, while noting she, at one time, may have thought the photo was "art," but now sees it as "repulsive … that I was so brainwashed into thinking that was anything but abuse."
Article continues below advertisement
Over the next two years, Bianco claimed their relationship became sexual and said he would hide the abuse with sexual acts. She recalled how he would bite her, which was "100% non-consensual," until she was black and blue. She admitted that she knew whatever was happening with their relationship was "very, very wrong," but she thought she was in love with him.
Article continues below advertisement
"It's not until [you know] what psychological abuse and gaslighting does to somebody that you can fathom why I would have stayed," Bianco shared.
In 2011, she moved in with Manson, and described her life with him as "very controlled." Bianco claimed she was not allowed to eat, drink or sleep without the musician's permission and even had to abide by his dress code of choice.
While wearing the required heels, lingerie and stockings, Manson would allegedly parade Bianco around in front of friends and "pull up my dress to show them bruises that he'd given to me."
Towards the end of their toxic relationship, Bianco claimed she thought Manson was going to kill her. Manson began smashing holes in the walls with an ax because he believed Bianco put cockroaches in their apartment to "mess with him."
Article continues below advertisement
"I tried to calm him down, and then he started chasing me with the ax," she said. "At that point, I thought, he's going to kill me."
In recent months, Bianco began to see herself as a victim of human trafficking after speaking with experts in the field.
Article continues below advertisement
"The biggest misconception, especially when you're speaking about sex trafficking, is that it involves little girls from a foreign country, coming over to the United States for the purposes of sex," legal director of the Chicago Alliance Against Sexual Exploitation, Mallory Littlejohn, said.
"I wish I had known what I know now," said Bianco, "that you can be trafficked by an intimate partner."
Bianco's statement came after multiple other women spoke out against Manson's alleged abuse. Manson has since addressed these allegations, calling them "horrible distortions of reality." Click here to learn more about the allegations against Manson.
The FBI has yet to confirm or deny if there is an active investigation into the numerous allegations made against Manson.
GMA was the first to share Bianco's story of her alleged abuse.