HEALTH
Vitamin D's Benefits Are Out Of This World — The Supplement May Boost Athletic Performance, New Studies Show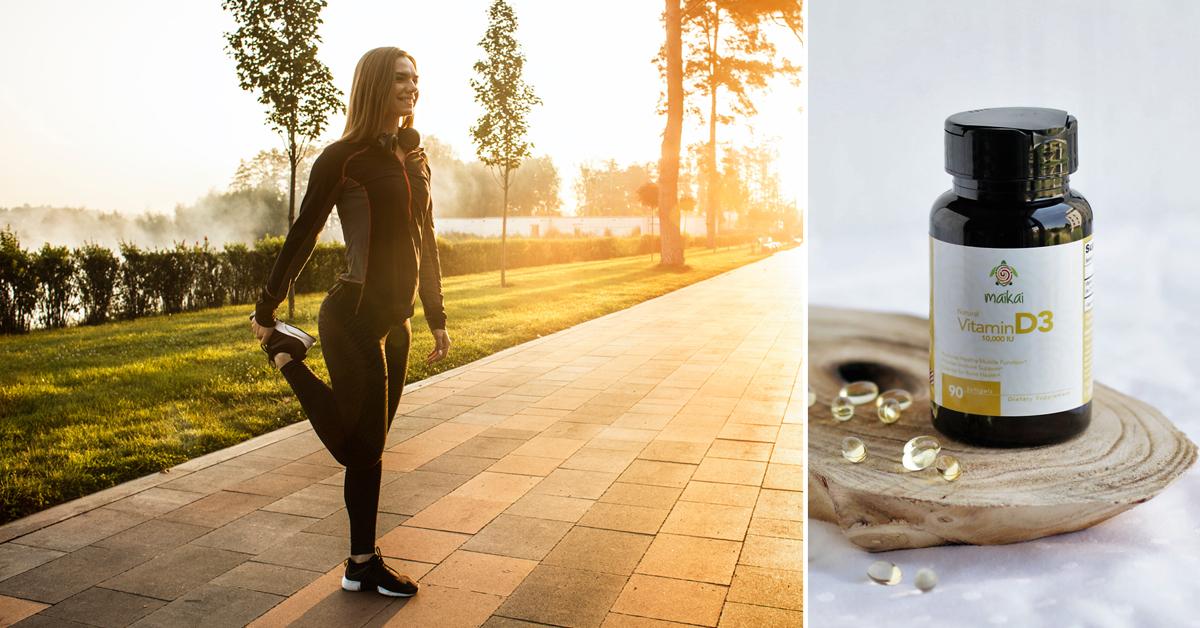 The winter months feel like they drag on forever, and the low temperatures and shorter days certainly don't help. Since it's harder to soak up the sun from November-March, people take Vitamin D supplements to boost their immune system. 
Article continues below advertisement
Now, there might be an even better reason to take Vitamin D — your athletic performance could also improve. Not only will it help with previous injuries, but it may also help muscle function, muscle repair and the immune system in general.
In a new Vo2 max/sprinting study — where some people sprinted for 30 seconds — the subjects took either 6,000 IU or a placebo daily for eight weeks. 
Based on blood tests, the Institute of Medicine considers 50 nmol/L to be "adequate," while the Vitamin D Society says 100 to 150 nmol/L is the sweet spot. 
Article continues below advertisement
In another study, there was a reduction in markers of muscle damage after people ran downhill for 30 minutes. The subjects were 24 ultrarunners and were assigned a daily dose of 2,000 IU (or a placebo) for three weeks. "Their baseline 25 [OH] D levels were already 86 nmol/L, [and increased] to just over 100 nmol/L after supplementation," the publication notes. "If going from the already-high level of 86 to 100 gives you a benefit, that makes vitamin D sound like a more-is-better performance booster as opposed to something you just need to get enough of, like food and water."
Article continues below advertisement
However, there's no concrete evidence at the moment that vitamin D will definitely improve athletic performance. "It may be that people with low levels tend to spend less time being active outdoors in the sunlight (which is the predominant natural source of vitamin D), so they're simply less fit," Outside Online says. "Vitamin D is stored in body fat, so people with excess fat tend to have lower levels of vitamin D circulating in their bloodstream — but it could be the extra weight, not the lack of vitamin D, that hurts the performance. Or it may be that low vitamin D signals a lack of sun exposure, but other benefits of sunlight such as elevated nitric oxide levels are what influence athletic performance." 
Regardless of your athletic ability, Maikai Nutrition's Vitamin D3 is "ideal for building and maintaining healthy bones" and is also "associated with increased cognition and immune health." 
There are many added benefits to taking Vitamin D, too, since it prevents diseases, bone pain, bone loss and more. 
Article continues below advertisement
"Vitamin D is used for conditions of the heart and blood vessels, including high blood pressure and high cholesterol," the website reads. "It is also used for diabetes, obesity, muscle weakness, multiple sclerosis, rheumatoid arthritis, chronic obstructive pulmonary disease (COPD), asthma, bronchitis, premenstrual syndrome (PMS), and tooth and gum disease."
HOW YOUR FAVORITE TALK SHOW HOSTS STAY FIT: DREW BARRYMORE, JEANNIE MAI & MORE