NEWS
Wendy Williams Spills Serious Tea On Ellen DeGeneres: 'I Was A Guest — I Wasn't Happy'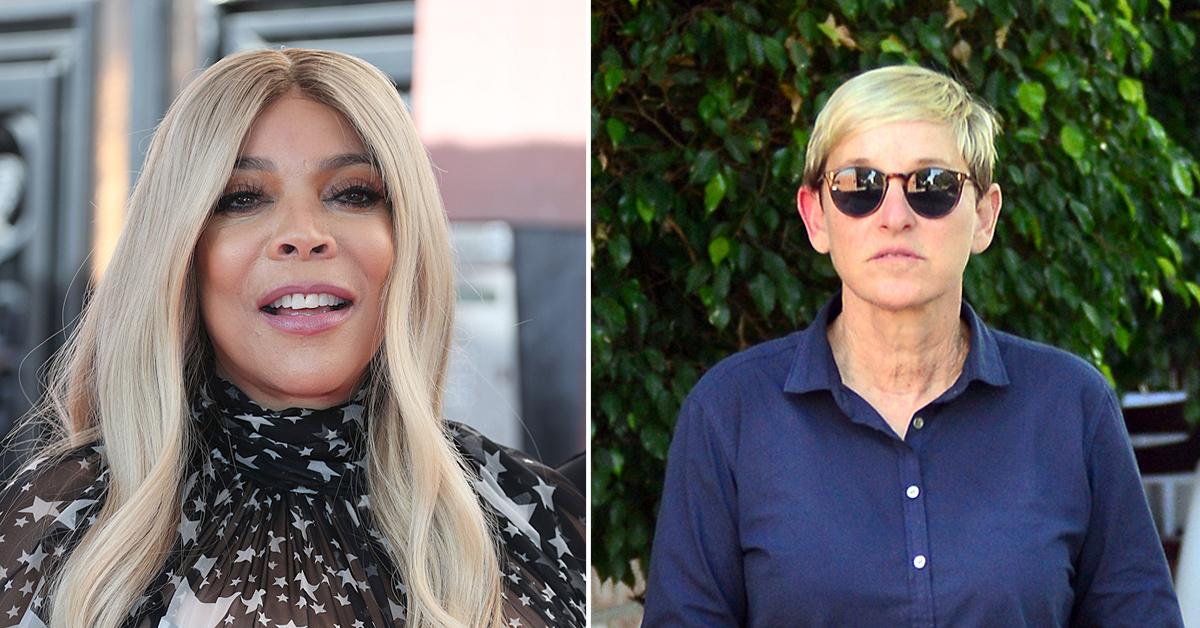 Wendy Williams has a thing or two to say about the end of Ellen DeGeneres' day-time talk show after 19 seasons — and it's not her wishing the embattled host a friendly farewell.
Article continues below advertisement
On the Thursday, May 13, episode of The Wendy Williams Show, the 56-year-old alluded that DeGeneres decided to call it quits after the toxic workplace drama plagued her talk show and reputation last summer.
Williams threw shade at her fellow host during her Hot Topic segment, insisting: "Nineteen years on TV doesn't change your life, it exposes you for the person that you really are."
Article continues below advertisement
Getting straight to the point, Williams said she believes DeGeneres is "leaving because the workplace conditions." Williams — whose studio audience is comprised of her staff due to the pandemic — implied that she and her crew know people who've worked at DeGeneres' show and therefore knows how different the environment is at Ellen's studio compared to the one she runs.
Article continues below advertisement
Williams then shared clips of DeGeneres speaking to TODAY anchor Savannah Guthrie on Thursday, May 13 — one day after news broke of the show's ending — about her bombshell decision and the toxic workplace claims.
In the clips, DeGeneres — who was accused by former and current staffers of turning a blind eye to the bullying by senior executives — said she felt the controversy was "too orchestrated" and "coordinated." She expressed her confusion over getting "picked on" for "four months straight" after the scandal played out in the press.
Article continues below advertisement
She also insisted all of her guests have had nothing but kind words to say about the atmosphere on the show. "All I've ever heard from every guest that comes on the show is what a happy atmosphere this is," DeGeneres told Guthrie, adding that it's hard to keep track of everything going on behind the scenes when she has 255 employees.
Article continues below advertisement
After the clips concluded, Williams questioned DeGeneres' claims, saying: "I'm not sure that all the guests are happy. I was a guest. I wasn't happy."
Williams' continued to question DeGeneres' exit strategy, telling her viewers: "I don't know whether she told her current staff, though. She seems like the type of person that would come out onstage and announce it to everybody and people are looking at the TV as she's saying it like: 'Wai-wha-wait, what just happened?'"
Article continues below advertisement
However, on the Thursday, May 13, episode of The Ellen DeGeneres Show, DeGeneres told guest Oprah Winfrey that she warned her crew about her plans for the series one year in advance so they had time to process the news and celebrate the final season with her.
Article continues below advertisement
Despite her seemingly salty feelings towards the 63-year-old, Williams congratulated DeGeneres on having a show run for 19 seasons. "We should be so lucky," Williams said before stating: "I'm not staying all that time."
OK! reported DeGeneres first broke the news in an interview with The Hollywood Reporter, published earlier this week, announcing she will conclude the series after season 19 in 2022. In her interview, DeGeneres explained: "As great as this show is and as fun as it is, it's just not a challenge anymore."
Her announcement comes one year after a Buzzfeed News report published claims made by her staff, accusing her show of being a toxic workplace. Despite the scandal, season 18 — which premiered following the accusations in September — was off to a strong start. However, the season has been on a decline ever since.