PHOTOS
Mercedes Javid & Reza Farahan's Feud Is Front & Center In First 'Shahs Of Sunset' Season 8 Teaser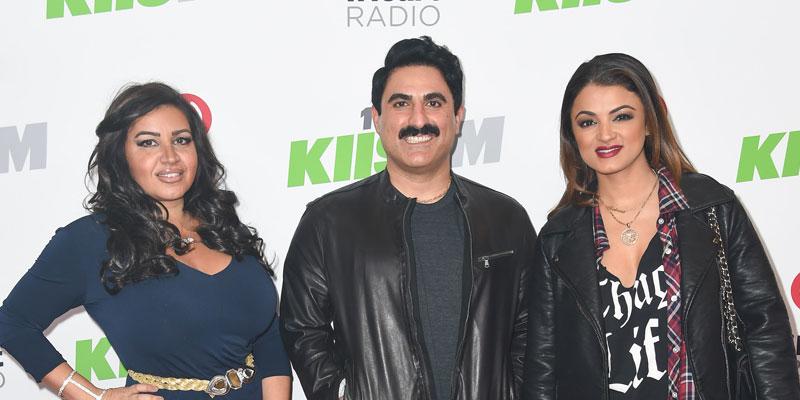 Article continues below advertisement
The teaser featured returning cast members Golnesa Gharachedaghi, Nema Vand, Mike Shouhed, Destiney Rose, MJ and Reza. The clip was first posted by Shahs Bravo's Instagram account.
"Once you go Persian, there's no other version," a man said in the clip as he spray tanned Reza's near naked body. In another scene, Mike, 41, was dressed in a pink dress, blonde wing, makeup and a diamond necklace. "Just act natural," he quipped.
Article continues below advertisement
One shot showed Destiney downing several shots of tequila as Reza, 46, shouted in background, "Destiney seems to be spiraling..." As for Golnesa, 38, who announced she was pregnant in October 2019, was seen in the trailer wearing a rainbow lei and sporting a small bump. "She could totally be pregnant," Reza said.
The clip revealed that the cast's friendships are "unbreakable...until now." The next scene cut to throwback footage of Reza and MJ, 47, hugging. "Nothing can ever break this bond," Reza sobbed in a voiceover. The trailer then showed clips of Reza and MJ getting into a screaming match and the mother of one throwing a drink in his face. "Have these lifelong friends reached a point of no return?" the teaser asked.
Article continues below advertisement
MJ and Reza's feud escalated earlier this year after the Reza Be Obsessed CEO apparently refused to visit Mercedes in the hospital after the birth of her son Shams. The drama continued when MJ's husband Tommy Feight allegedly vandalized Reza's home in May.
Reza has butted heads with Mike as well this year. Reza took legal action against the shoe designer for using his name and likeness for t-shirts sold on his site, TrueGoldBrand.com. Reza sent Mike a cease and desist letter back in October and he shared it to Instagram. Mercedes reposted Reza's letter from Mike's feed and made it clear whose side she stands on.
Article continues below advertisement
She wrote under the reshared picture, "Taking legal action on your best friends is really 'cool' Just when you thought ?? Reza couldn't sink any lower, he did! Get your TrueGold T's today at www.TrueGoldBrand.com for you."
The show ended its seventh season in November 2018 and the cast was busy filming all through 2019. Season eight of Shahs of Sunset will premiere on February 9 on Bravo.
Will you be tuning into the show? Sound off in the comments below!