PHOTOS
Vicki Gunvalson Slams Kelly Dodd For Painting Her As Unethical — And Promises Juicy Content In Her New Podcast!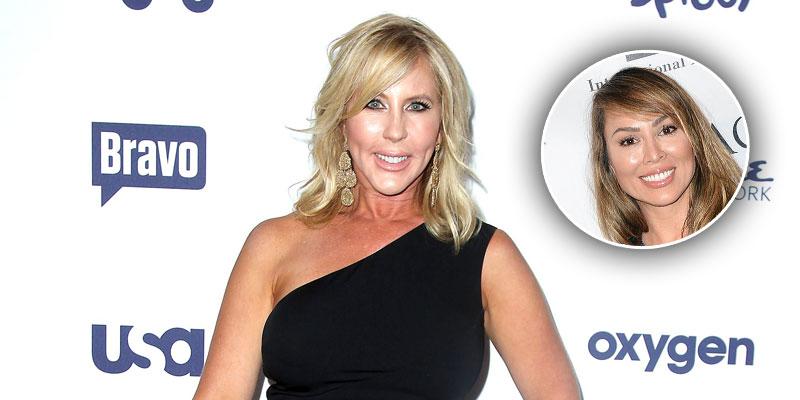 Vicki Gunvalson still isn't over Kelly Dodd's comments she made during the last season of the Real Housewives of Orange County. The "OG of the O.C." announced her departure from the Bravo series after 14 seasons last month and isn't going without a bang. Vicki recently slammed Kelly over her comments and dished her plans for her upcoming podcast.
Article continues below advertisement
Vicki, 57, was embroiled in fraud lawsuit with an 82-year-old woman named Joan Lile back in 2019. Vicki and her insurance firm, Coto Insurance, was sued by Joan for breach of fiduciary duty, negligence, intentional infliction of emotional distress and breach of contract. Joan also claimed that she paid increasing premiums and was not able to receive her benefits she was promised when her husband died.
Article continues below advertisement
On February 11, the case was dismissed with prejudice, and it cannot be reopened again. Vicki shared, "I am excited to share that the case against me was completely dismissed and that there was no wrongdoing on my part. Furthermore, the case was dismissed with prejudice, which means it can never be brought back into a trial."
"I was not surprised by the results at all, as I knew I had done nothing wrong and that the allegations against me were completely false," the mother of two added. Vicki's attorney revealed at the time of the filing, "The claims alleged against Gunvalson are completely false. Gunvalson has always acted professionally and with the utmost truthfulness and integrity in every transaction that she acted as an insurance agent for her clients."
Article continues below advertisement
"She has never engaged in any fraudulent conduct nor misrepresented any terms of any policy. She vehemently denies the false allegations made against her in the lawsuit by Mrs. Lile. The claims made against Gunvalson are completely false and lack any merit whatsoever," the lawyer continued.
Vicki also expressed how happy she is that the suit is behind her and issued a warning to Kelly, 44. "I love the American justice system, because the truth is always revealed. While I'm extremely ecstatic that this is behind me now, I think it should open Kelly Dodd's eyes. Like, take that, Kelly Dodd! She tried to 'out' me during the season claiming, falsely again, that I was a 'con woman.'"
Article continues below advertisement
Last year, reports surfaced that Kelly made several comments about Vicki on the show during a cast trip to Florida. "You prey on older people," was one of Kelly's statements. "You are a con woman," was another and "You engaged in 'fraud'" was a third. The Coto Insurance CEO then filed a defamation lawsuit against the mother of one back in November 2019 to try to prevent the comments from making it to air.
Vicki was worried how the statements would negatively impact her financial services business and her reputation. She filed papers because she believed at the time that the show producers would not edit out Kelly's words and wanted an injunction to block the episode from airing. However, she didn't want to scrap the entire episode from airing.
Article continues below advertisement
Vicki threw more more shade at Kelly, telling OK!, "She had no idea what she was talking about. As I said back then, and this just proves my point. She tried to spew lies about my work and who I am, and the result of this lawsuit being dismissed proves, yet again, that she knows nothing about my life."
The Chicago native later withdrew her lawsuit against the reality TV personality. A source told People in November 2019, "Vicki has spoken to the producers and has resolved the issues amicably." That same month, rumors swirled that Vicki and Kelly got into "epic feud" while filming the Real Housewives of Orange County reunion.
Article continues below advertisement
The reunion taping was the first time the two ladies have seen each other since Vicki filed withdrew the suit. There was a lot of yelling and finger pointing when it came to these ladies especially," a source divulged to HollywoodLife.com at the time. "The lawsuit infuriated Kelly and it was the first time she saw Vicki since it happened, so naturally, Kelly was angry and there was a lot of name calling on both sides that went on. Some would argue that she Kelly crossed the line with some of the things that came out of her mouth."
Vicki and Kelly have had a rocky relationship over the years. During the season 13 reunion, Vicki claimed Kelly used cocaine, which Kelly denied. Vicki also took part in spreading a rumor about Kelly doing a sex "train" during season 14. Kelly denied that accusation as well.
Article continues below advertisement
Vicki shocked fans and viewers on January 24 when she announced she would be exiting RHOC after 14 years. She took to Instagram to thanked her fans for all of their support over the last decade and teased her new projects. "I will always be the 'OG of the OC,' but it's time to say goodbye to The Real Housewives of Orange County," she wrote on social media last month.
"It's been an incredible ride for 14 years and I want thank all of you for your support, for your love and for 'whooping it up' with me along the way," she said. "I've been working on new projects that will be exciting, empowering and inspirational. My podcast with Westwood One will be launching soon and I will have much more to say about this on Whoop it up with Vicki. I hope you will join me with my new journey so please stay tuned," she continued. "I love all my fans, and I want to thank Bravo and Evolution for this incredible experience which my family and I have will never forget."
Article continues below advertisement
She revealed in her caption she will be hosting a brand new podcast that will be hilariously and so aptly named, Whoop it up with Vicki. Her "Whooping It Up" catchphrase has been a big hit over the course of the seasons. On February 13, Vicki gave fans a taste of what's to come in an Instagram video.
Article continues below advertisement
She dished that her podcast will be full of untold stories from RHOC. Vicki spilled in her video, "My Whoop It Up podcast will cover behind-the-scenes stories you've never seen on Real Housewives, my takes on pop culture, and the issues I really care about. Every episode will also have expert information about financial planning and security that everybody needs to know more about... I promise you're going to love it, and I'm going to love bringing it to you."
Vicki's costar and fellow "Tres Amigas" member, Tamra Judge announced her exit after 12 seasons just a day later. Tamra, 52, also revealed the news on social media. "It's been a wild 12 years. But it's time for me to move on," Tamra scribed. "I'm sad to go but I'm very excited about my future. Love red heart emoji you guys peace sign."
Vicki touched upon her new project and revealed to OK! how she's ready to conquer the next chapter in her life. "I am moving forward in my career and look forward to my podcast beginning soon. I can't wait for you all to listen," Vicki gushed. "Trust me, I'll be revealing some pretty juicy things you'll want to tune in for. Thanks to all my fans for their continued love and support!"