REALITY TV
Kyle Richards Accuses Garcelle Beauvais Of Not Donating $5K To Her Charity In 'RHOBH' Reunion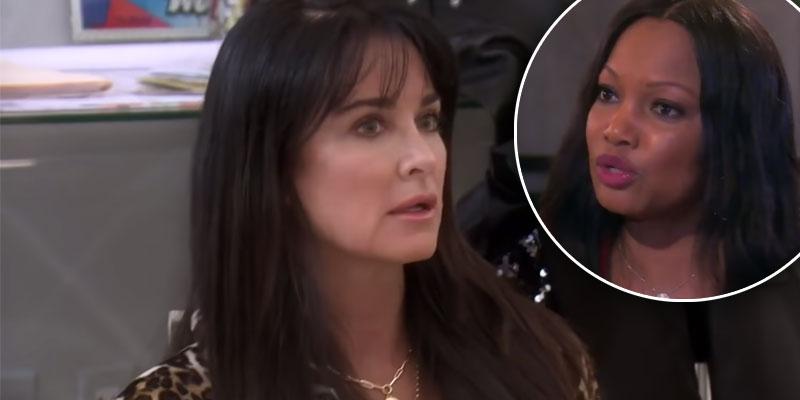 The Real Housewives of Beverly Hills reunion, which is set to premiere on September 2, will be one for the books. In the new trailer, fans got to see Kyle Richards and Garcelle Beauvais tackle their issues head-on. So much so, the 51-year-old accused Beauvais, 53, of not paying a large amount of money to her charity after she promised she would.
"You came to my charity event, raised your paddle to donate $5,000, and never paid!" Richards told Beauvais.
Article continues below advertisement
In the beginning of the season, Richards and Beauvais had limited interactions with one another, which is perhaps one of the reasons why their relationship didn't start off on the right foot. "I think that when you're used to the person everybody fawns over, that maybe you don't know how to fawn over someone else," Beauvais said on the "Bitch Sesh" podcast. "It's not that I need her to fawn over me. I just felt that there were things that we would like to say like at Denise Richards' barbecue and I said, 'Tell me, tell me.' We even had footage of it and she's like, 'No, I don't want to single you out.'"
Article continues below advertisement
"I was like, 'OK, but I'm asking you. If I did something to offend you then just tell me. And I think that's where I was coming from," Beauvais continued. "Was she nice to me? Yes, but I felt like when I really wanted her to take me in and hear what I'm saying that that wasn't the case."
RHOBH'S GARCELLE BEAUVAIS TO FRIEND DENISE RICHARDS 'IF YOU'RE NOT COMING BACK, I'M NOT COMING BACK'
During an episode of RHOBH, Beauvais invited some of the ladies to an event where she was being honored. While on stage, she gave a shout-out to the table where her friends were sitting but seemingly shaded Richards. "I want to say thank you to that table over there, everybody who supports me, loves me. My new best friends. Some of them, not so much, but we'll figure that out," she said.
MORE ON:
The Real Housewives of Beverly Hills
Later on, Richards admitted she was "totally blindsided" by the remark. "I felt we were getting along great, I adored her and I thought she was a great addition to the show," she said on on Watch What Happens Live With Andy Cohen.
Richards continued, "I was one of the first people to raise my hand and donate to her charity and she didn't acknowledge that in the episodes or anything, which I didn't do it to be acknowledged. But it was really rude. It was really unbelievably rude to stand up and make a speech like that."
Article continues below advertisement
'RHOBH' STAR KYLE RICHARDS SHARES NUDE PHOTO OF HERSELF IN PART OF INSTAGRAM #CHALLENGEACCEPTED TREND
Of course, the teaser also touched upon Denise's alleged affair with Brandi Glanville, which she still denies. "You guys are so vicious, you really are. It's actually kind of mean," Denise said to the women. "Oh f--king shut up," Lisa Rinna, 57, clapped back. "Denise, you lie, lie, lie."
Throughout all of the bickering, Cohen explained that he was showing all sides of the situation. Erika Jayne responded, "Except Brandi's side."
"I feel like the coverup is worse than the crime," Rinna added.
"If you want to play this game we can do it," Richards said to the former Days of Our Lives star, who responded, "Are you threatening me?"
DENISE RICHARDS CALLS HUSBAND AARON PHYPERS A 'WONDERFUL STEPDAD'
The teaser ends with Denise abruptly leaving the reunion, but Rinna had the last word, saying, "The whole f--king world knows about Denise's husband going and getting a happy ending from, like, a 100-year-old woman."
Article continues below advertisement
Glanville was absent from the virtual reunion but said she would have a one-on-one interview with Cohen.
Beauvais said filming the reunion was "stressful," to say the least.
"It took me two solid days to shake it. It really did," she confessed to Access Hollywood. "I mean, because I've never been in that situation. I keep saying to my friends, if I don't like someone, then they're not in my life. But with this show, you can not like someone, but then you have to hang out with them. Which, you know, we're grown-ups, we can do."
MOTHER-TO-BE TEDDI MELLENCAMP POSTS NEAR-NAKED INSTAGRAM SNAP
"It was 13 hours, so even though we're all in our own homes — since I hadn't done it before — it doesn't take away any less stress because you're not with everybody there," she continued. "It was still stressful, 13 hours is a long time."
The season 10 reunion of Real Housewives of Beverly Hills premieres September 2 on Bravo.