REALITY TV
War Of Words! Tinsley Mortimer Reveals Why She No Longer Speaks To Dorinda Medley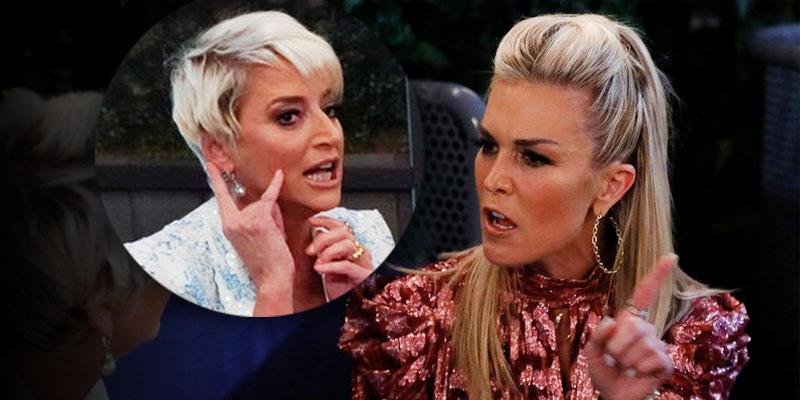 On part one of the Real Housewives of New York reunion — which was filmed in-person — Tinsley Mortimer confirmed that she is no longer speaking with Dorinda Medley and revealed what led to that decision. "We were actually friends at one point," Mortimer, 45, told Andy Cohen, before Medley made "the vile turkey baster comment," referring to the time the 55-year-old suggested Mortimer use the kitchen tool to get pregnant earlier in the season.
Article continues below advertisement
"Are you having a problem getting pregnant?" Medley asked, to which Mortimer replied: "No, but I am shamed for wanting a child."
"I'm surprised you don't have one already," Medley said. "You've been talking about getting pregnant."
LEAH MCSWEENEY CALLS FOR 'MORE DIVERSITY' ON RHONY AND BRAVO
The other women started to stop Medley from making any other rude comments, but Mortimer jumped in, adding, "A turkey baster, that's IVF, OK? Andy's baby was from IVF. Would you say the same thing to Andy?" (Cohen's son, Benjamin, was born via surrogate in February 2019.)
Medley said she would apologize to Cohen and tried to own up to her actions by calling her remark "a bad joke."
However, the socialite was less than pleased with Medley. "You still said it and it will never go away," Mortimer clapped back.
Cohen, 52, asked Medley why she really doesn't get along with Mortimer. "I believe half of what I hear in life and all of what I see," the Massachusetts native said. "You guys just saw what was on the show. There was a lot of stuff that went on."
Article continues below advertisement
"I don't know why we're talking about John," Medley replied.
"The betrayal that you felt for John manifested to anger towards me," Mortimer explained. "You took it out on me. You called John screaming."
Medley denied that ever happened, saying, "It's just not true."
'REAL HOUSEWIVES OF NEW YORK' SET TO FILM REUNION IN-PERSON WITH ANDY COHEN
"The producers did not want me to stay in the house that night because you were going so crazy," Mortimer claimed. "They were worried for my safety. You turned on me that moment when you found out John had that money."
Article continues below advertisement
The camera then cut to an unseen clip of Medley talking to Mahdessian over the phone, where she yelled at him over the situation and told him that Kluth is "not your friend."
"I did nothing to you to make you hate me the way that you do," Mortimer added. "Your jealousy, your hatred, your obsession with my relationship. Hey, girl, I'm engaged. We're getting married."
Medley clapped back, saying, "With no financial security. Tinsley, I'd hate your life."
'REAL HOUSEWIVES OF NEW YORK CITY' STAR TINSLEY MORTIMER BACK TOGETHER WITH EX SCOTT KLUTH ONE YEAR AFTER SPLIT
During last week's finale, Medley accused Mortimer of destroying their show because she decided to leave the Big Apple for Chicago with Kluth.
In June, Mortimer revealed she would no longer be a cast member on the reality show. "Thank you from the bottom of my heart to all my fans and friends who supported me and are happy for my fairy tale ending," Mortimer wrote on Instagram in June. "Without #RHONY, I would never have met my prince charming, Scott. Being a Housewife ? was such a fun experience, and I thank @bravoandy and all the wonderful people at Shed Media and @bravotv."
Article continues below advertisement
Two months later, Medley announced she would be leaving, too. "What a journey this has been. I have laughed and cried and tried to Make it Nice," the housewife captioned a photo of herself in a sparkly dress, referring to her iconic catchphrase.
"But all things must come to an end," she continued. "This was a great outlet for me to heal when my late husband Richard passed away. I have met so many interesting people and learned so much about myself, about life and about women along the way."
But don't be surprised if Cohen brings Medley back later on since he hinted it's definitely a possibility. "I love her," the producer said on his Sirius XM show, Radio Andy, on Wednesday, September 9. "She has been so iconic to the show from the moment she walked in."
"The door is definitely open," he added. "I just think a pause is a good thing and she will come back renewed and refreshed."