ROYALS
Prince Harry Urged To Drop $150M Netflix Deal After 'The Crown' Angered The Royals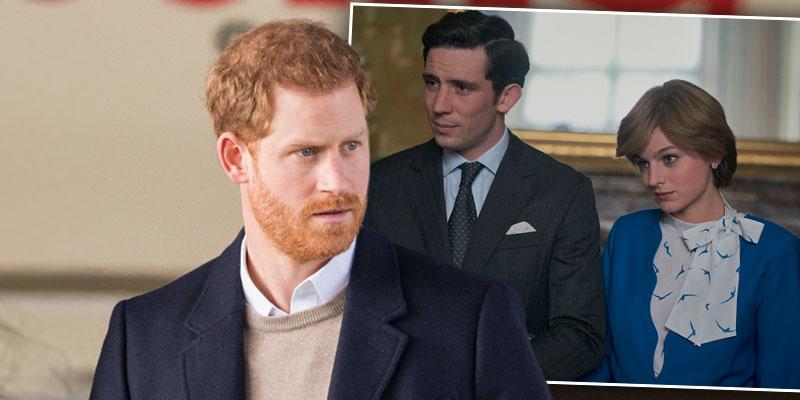 It seems The Crown is getting on the royals' nerves!
Royal analysts are urging Prince Harry and Meghan Markle — who signed a $150M production deal with Netflix in September — to abandon the agreement after Netflix's The Crown seemed to give an inaccurate portrayal of the family. Season 4 of the hit Netflix show focuses on Prince Charles' relationship with Princess Diana — who was only 20 when she wed the Prince of Wales — and his infamous affair with Camilla Parker Bowles.
Article continues below advertisement
"Never before have members of Queen Elizabeth II's own family been associated with those 'trolling' the Monarchy. The unedifying impression is that, by having signed a deal with Netflix, Prince Harry and his former Hollywood star wife Meghan are seen to be lavishly benefiting from the company's distortion of the truth about the Royal Family," Mail on Sunday columnist Emily Andrews wrote amid the royals' row with the streaming platform.
Article continues below advertisement
One insider questioned why Harry, 36, would want to partner with a company who portrayed his mother — who was known as the People's Princess — in such a poor light. "There are raised eyebrows about Harry taking millions from the company that's behind all this," they dished. "After all where do much of Netflix's profits come from? The Crown."
Another insider slammed Netflix for portraying a false representation of the royal members for entertainment purposes. "There is no sense of telling carefully nuanced stories — it's all very two-dimensional. This is trolling with a Hollywood budget," they noted. "The public shouldn't be fooled into thinking this is an accurate portrayal of what really happened."
Article continues below advertisement
In the new season of The Crown — which premiered on Sunday, November 15 — Charles and Camilla are seen carrying on with their affair while Charles began his romance with Diana. The two exchanged phone calls where Camilla encouraged Charles to marry Diana — since she would easily adjust to his life — which Camilla could not do at the time. Diana is seen struggling with her lengthy eating disorder battle and her place within the royal family.
DUCHESS DRAMA! 5 TIMES MEGHAN MARKLE WAS SNUBBED BY THE ROYAL FAMILY
Charles and Diana tied the knot in 1981. They welcomed sons William, 38, the following year and Harry in 1984. The former couple separated in 1992 and were divorced in 1996. Eight years after Diana's tragic death, her ex-husband married Duchess Camilla in 2005.
Prince Harry has remained silent amid The Crown controversy. Upon announcing their new Netflix deal, Harry and Meghan previously released a statement, explaining that they will be "creating content that informs but also gives hope" and inspires new generations.
"As new parents, making inspirational family programming is also important to us, as is powerful storytelling through a truthful and relatable lens," they added. "We are pleased to work with Ted and the team at Netflix whose unprecedented reach will help us share impactful content that unlocks action."