Archive
Stabbed In the Back: Jennifer Aniston's Friends Stage An Intervention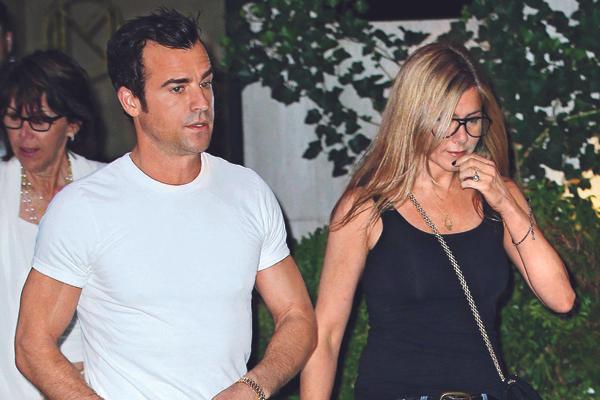 As Jennifer Aniston struggles to nail down a wedding date, her BFFs are unanimously begging her not to marry Justin Theroux.
Jennifer Aniston was well on her way to her fairy-tale ending. Her cool-cat, actor-writer-producer boyfriend, Justin Theroux, had proposed in August 2012 with a bazillion-carat rock. They'd moved into a $21 million Bel Air love nest, complete with a trendy chicken coop and vegetable garden. And Jen's long-held desire to start a family finally felt like an imminent reality. But at a time when her closest friends in the world should be offering their support and congratulations, Jen's inner circle—including Courteney Cox, Ellen DeGeneres, and Chelsea Handler—have instead rallied together with one very explicit plea: Dump him!
Article continues below advertisement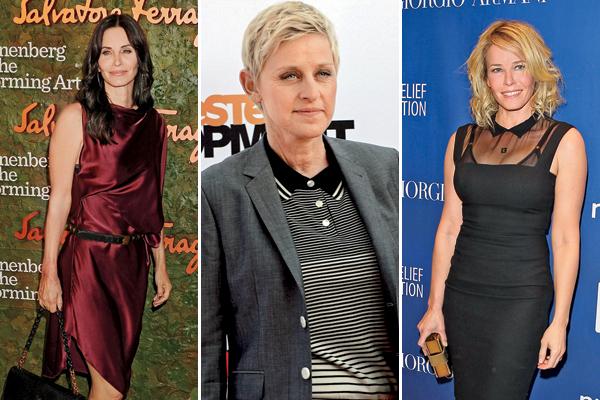 A Growing Divide
Jen's besties want nothing more than to see her happy, but nearly two years after getting engaged, wedding plans have stalled indefnitely, and Justin, 42, and Jen, 45, are spending less and less time together. Now, after months of watching Jen stubbornly try to fit Justin into her vision of domestic bliss, her friends are hoping this is the perfect time to get her attention—and make her realize that Justin's been the wrong guy all along.
Article continues below advertisement
For one thing, "Jen's world" is based in L.A. Justin may keep a closet (full of leather) in Bel Air, but he spends as little time there as possible. "Justin is an East Coast guy who despises L.A. and the people there," says the source, who adds that Justin was thrilled to relocate to New York last summer for a role. "Justin was relieved and excited," says the insider. "He wanted space from Jen because she'd been nagging him night and day about a wedding. He had cold feet for a while, and admitted to friends that had he not gotten the acting role in New York, he might have ended the relationship."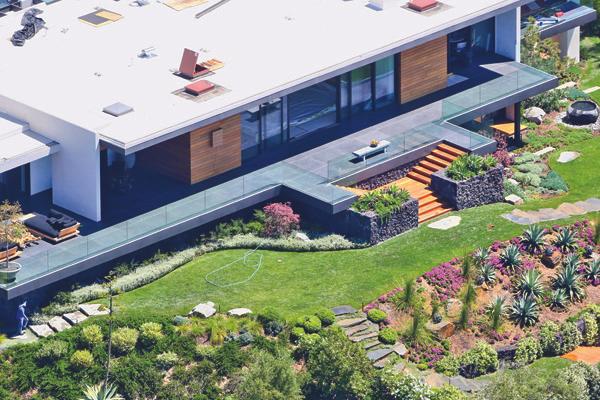 Jen's friends are practically praying for such an outcome. So much so, that Courteney recently banded together with Chelsea—who's not exactly her favorite of Jen's friends—to stage an intervention. The girls lured Jen to Courteney's house, using the excuse that Courteney's 10-year-old daughter, Coco, wanted to see her. "Once Jen got there, Courteney and Chelsea sat her down and pleaded with her not to marry Justin," says the insider. "Courteney told Jennifer how great she is, and that she can do so much better than him." But Jen didn't take the confrontation well. "She was furious," says the source. "She told them Justin is the love of her life and to butt out."
Article continues below advertisement
Friends Like These
The intervention not only failed to inspire Jen to ditch Justin, it also threw an uncomfortable strain onto her friendships with Chelsea and Courteney. In late May, Jennifer met Chelsea for dinner at Mastro's and confronted her about the ambush. "Chelsea cares about Jen, so she agreed to go to dinner," says the insider. "Jen wanted to tell Chelsea that the intervention was uncalled for, but Chelsea stood her ground and said that she doesn't think Justin is the right guy for her."
PHOTOS: Big Athletes Who Have Tiny Little Dogs
Jen's relationship with Courteney has also taken a hit. The Friends co-stars have long maintained one of Hollywood's most covetable close friendships. For the last 20 years, they have been steadfastly present for each other's every milestone and have helped each other weather painful divorces (from, respectively, Brad Pitt and David Arquette); Courteney even asked Jen to be godmother to her only child. But while Courteney has made every effort to ingratiate herself to Justin—and to see what her friend sees in him—she has been consistently disappointed by what she feels is an indifferent attitude. "Courteney has tried an endless number of times to spend time with Justin and get to know him a little better," says an insider, "but he's always so cold to her. One time, he called her 'pretentious' to her face! Courteney can't figure out why Jennifer is attracted to him and puts up with his ego."
Article continues below advertisement
OK! News: Evelyn Lozada Reveals The One Piece Of Clothing That Made Her Faint!
Courteney made a last-ditch effort in December, when she agreed to join Jen and Justin, along with Howard Stern, Jimmy Kimmel and their wives, for a Cabo vacation. "Courteney was against going to Mexico, and straight up told Jen that she didn't want to be in a house with Justin for even a few hours, let alone several nights," dishes the insider. "But Jen convinced her, saying that it would be great bonding for them, and that Courteney would fnally understand why she loves him so much." But, according to the source, the exact opposite happened. "As Courteney expected, she and Justin just didn't click. He and Jen bickered the entire time, and Courteney hated him even more for that. Justin barely spoke to Courteney, and when he did it was small talk. He wanted to hang with Jimmy and Howard the whole time."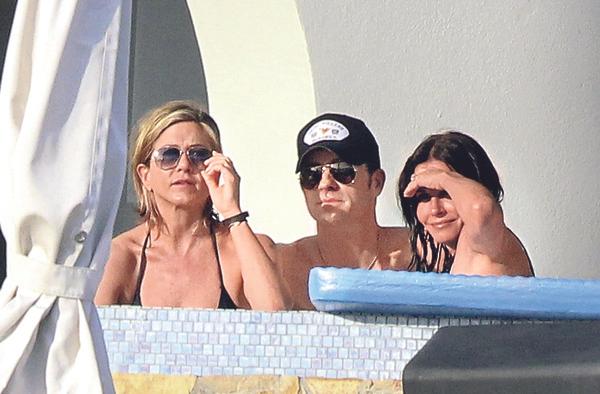 Love At Any Cost
While Jen expends her energy trying to convince her friends of Justin's redeeming qualities, insiders say she's just sinking deeper into denial about the state of her relationship. When Justin and Jen got engaged, they were on the same page regarding marriage and babies, but now, after multiple delays, "Justin comes up with excuse after excuse for why they should wait," says an insider. "When they first started dating, all Justin talked about was how much he wanted Jen to have his baby. But now she's pretty much hopeless and barely brings it up. Sadly, she'd do anything if Justin would finally give in and marry her, including giving up her dream of being a mother."
Article continues below advertisement
OK! News: Why Has LeAnn Rimes Had 26 Surgeries In Just 2 Years?
And while her friends keep hoping that she'll realize Justin isn't The One, sources say Jen is tired of being depicted as the forlorn single gal, forever unlucky in love—and is more concerned with saving face. "She's just so desperate to make her relationship work," says an insider. "She wants to prove to the world that she can have a lasting relationship, even if it means none of her friends approve."
Do you think Jen and Justin will ever tie the knot? Share in the comments or tweet us @OKMagazine.