NEWS
Celeb Diet Tips! 'Biggest Loser' Stars Dolvett Quince And Alison Sweeney On Tracking Goals For Weight Loss Success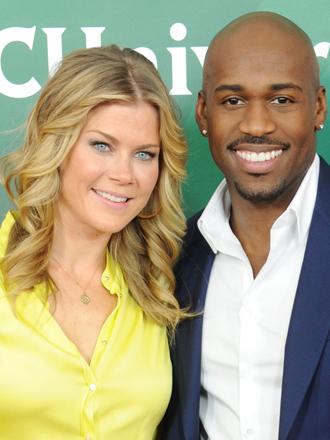 Article continues below advertisement
"I think the best things that people can do is don't just set a goal but track the goal," he suggests.
"Have a weekly goal set. This week, I'm not going to eat any pasta, next week, I'm going to have a diet as if I'm eating on an island; nuts, fish, fruits. And do small things like that an watch your body transform.
HEALTHY EATS! PREPARE YOUR HOME FOR WEIGHT LOSS SUCCESS
Meanwhile, Biggest Loser host Alison Sweeney reveals her own tips for getting beach ready over the coming weeks and how she keeps in such amazing shape herself.
Article continues below advertisement
I think obviously exercise is a really big answer, getting out there and running or biking, swimming is a really good all over body workout.
But obviously nutrition is where it's at. I think that people eat a lot without realizing it and certainly in the winter, I think snacking can be such comfort food. Getting ready for spring and summer, it's really important to maybe even start a food journal, start again fresh, get that spring cleaning going, clean out your cupboards, clean out your thought process and just start making healthy choices again.
STAR BODIES! HOW TO GET BLAKE LIVELY'S TONED LEGS
OK!: What did you eat yesterday?
AS: About the same thing that I eat every day. I had oatmeal for breakfast. I had a greek yoghurt with blueberries for a snack and then I had a salad with chicken for lunch.
PHOTOS: BIGGEST CELEBRITY WEIGHT LOSS STORIES IN PICTURES
And then I made this super good… My friend for her wedding shower, it was the most clever idea. For her wedding shower she had a chef come in and teach us how to make a healthy summer dinner for the party. That was the party. We got to make the food and then we got to sit and eat it.