NEWS
'DWTS' Watch: Nicole Scherzinger & Evan Lysacek Tie for First Place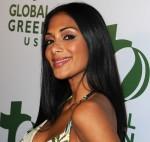 Nicole Scherzinger and Evan Lysacek have been the top two Dancing with the Stars performers all season and Monday night's show proved it again, as they tied for first place.
The Pussycat Dolls singer and Olympic ice skater both got a score of 29 and 30 for their two dances for a total of 59 in the DWTS semi-finals.
DEREK HOUGH'S DWTS BLOG: A PERFECT SCORE IN THE PASO DOBLE
But it was a night when Nicole, Evan, and the other two semi-finalists, Erin Andrews and Chad Ochocinco, all seemed thrilled with their strong performances.
Article continues below advertisement
"It was an amazing night, not just for us but for everyone," Nicole's partner Derek Hough told reporters after the show. "The audience was spewing love."
OK! DWTS WATCH: NICOLE SCHERZINGER & DEREK HOUGH WIN AGAIN
And the judges also gave lots of love to Nicole and Derek, as the pair walked away with a perfect 30 for their Viennese waltz and a 29 for their cha cha cha.
In fact, the waltz made judge Carrie Ann Inaba cry and tell Nicole, "you are so amazing. You brought me to tears."
OK! DWTS WATCH: OLYMPIAN EVAN LYSACEK TANGOS TO THE TOP SCORE
Carrie Ann's emotion made Nicole herself cry and she said backstage, "when one person in my family starts crying, I start crying — and Carrie Ann felt like family. It feels so good that you're here for the right reasons."
But it wasn't an easy night for the front-running couple as Derek had strained his neck before rehearsals. "My neck is my Achilles heel. I always have neck injuries, always something wrong with it each season," Derek admitted backstage.
Article continues below advertisement
OK! DWTS WATCH: NIECY NASH LEAVES LAUGHING
"I was just telling Nicole, 'I haven't gotten sick, I'm doing good' and literally, the next day, I'm like, 'I can't walk.' I think it was a pinched nerve but last night, a guy worked on it and today, literally, it feels good."
Nicole joked, "I was definitely panicked but then I slapped him around, 'get it together. This is the semi-finals!'" More seriously, she said, "I did get on my knees and pray."
OK! NEWS: KATE GOSSELIN & TONY DOVOLANI HAVE A BREAKTHROUGH
Derek also revealed during rehearsals, Nicole accidentally kicked him in the family jewels! "Pretty much every single time we danced it. So I wasn't just icing my neck, put it that way! I'm bruised around the outside of my groin now." Ouch!
Evan told reporters after the show, in which he and partner Anna Trebunskaya got a score of 29 for their foxtrot and a 30 for their Paso Doble, "the adrenalin was pumping. We gave more than 100 percent this week. We've worked harder than we ever have. We kept pushing and pushing."
Article continues below advertisement
OK! DWTS WATCH: EVAN & ANNA GO FOR GOLD, CHAD WOOS CHERYL
The Olympian revealed that there was some behind the scenes drama as they tried to create a vampire/Twilight theme for their Paso Doble. Evan was supposed to wear fangs, but that didn't happen for the performance.
"They tried to use Poligrip to keep them in and it was like goo, and the fangs just slowly slid out of my mouth and I said that's disgusting, so we had to figure out another way to get the vampire idea across without the fangs," Evan told OK!.
Article continues below advertisement
However, even after his passionate Paso Doble got the audience members on their feet, Evan was humble, telling reporters, "I'm still a nerd."
Meanwhile, Erin and Maks got a score of 27 for their Viennese waltz and a 29 for their Paso Doble for a total of 56. Judge Bruno Tonioli praised Erin for being a "hot chick" on the dance floor. But she said later, "We were all really nervous backstage. My hands are sweaty even talking about it. I was a mess."
OK! NEWS: ESPN STALKS OUT ERIN ANDREWS' PEEPING TOM FOR MONEY
Adding to her discomfort was a DWTS segment that showed Erin and her family discussing her peeping Tom stalker ordeal. And the ESPN reporter said she was crying when she watched it and before she danced on Monday night.
"That subject is very emotional for me and my father getting upset. I still remember that moment that my parents and sister were crying about, so I was like oooh!" She said partner Maksim Chmerkovskiy comforted her through it: "He was so 'the man.'
Article continues below advertisement
OK! VIDEO: ELISABETH HASSELBECK CRIES APOLOGY TO ERIN ANDREWS
"He grabbed me and just said, 'okay, let's just dance for us, come on!'" Maks recalled to reporters, "she was backstage bawling." But Erin recovered her composure and she and Maks were delighted about their dances.
Chad and partner Cheryl Burke "nailed the waltz" according to judge Carrie Ann, and they received a score of 27. Later, their samba, in which Chad danced shirtless exposing his amazing eight-pack abs, got 25 points for a total of 52, lowest of the night.
OK! NEWS: CHAD OCHOCINCO ASKS CHERYL BURKE: "ARE YOU REALLY IN LOVE WITH ME?"
"It was fun," Chad said afterwards. "I felt a little cold draft, but other than that, it was good." Cheryl smiled, "if I said, 'take your pants off, he'd do the same thing.' He's very comfortable in his own skin."
The longtime DWTS pro reminded reporters of the football star's lack of dance experience, saying, "he's still learning but now, I think he's able to go out there and perform."
Article continues below advertisement
OK! EXCLUSIVE: CHAD AND CHERYL — IT'S LOVE
Meanwhile, Kareem Abdul-Jabbar and Rick Fox cheered the DWTS celebrities on from the audience. While promoting ABC's upcoming June 3 telecast of the NBA finals, the two basketball greats told OK! they're interested in being on the dancing show.
"I've watched the show occasionally," Kareem said. The sports legend revealed he'd consider DWTS: "Why not? It's intriguing. I've always enjoyed dance but I don't know if they'll ever find a dance partner tall enough."
OK! NEWS: TOM BERGERON SAYS BETTY WHITE IS TOO OLD FOR DWTS
Rick said he'd jump at the chance to be on the show: "Yeah, sure I would! It would be an honor." In fact, Rick revealed, he's already been asked to be on DWTS: "We've had meetings.
"It just hasn't lined up schedule wise. Hopefully it works out one day. I'm a huge fan of the show. I root for the athletes because I like to see them go as far as they can because it's out of their element."