NEWS
The One With Ellen DeGeneres? Comedian May Host HBO Max 'Friends' Reunion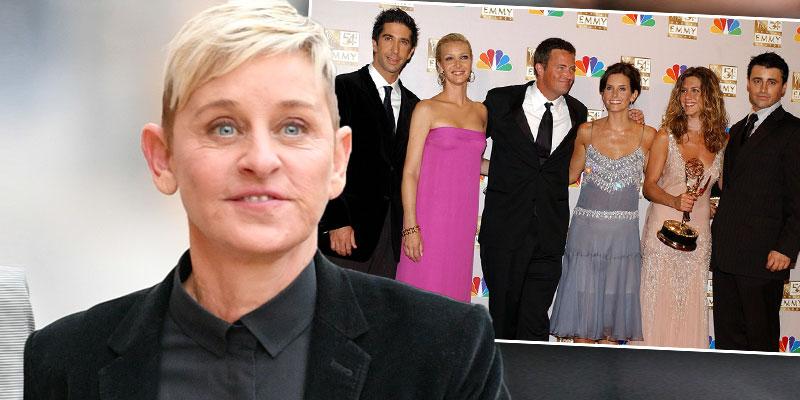 It certainly hasn't been Ellen DeGeneres' day, her week, her month, or even her year — but the talk show host may have a new "friendly" project in the works.
On Monday, September 14, Lisa Kudrow gave an interview on SiriusXM's Radio Andy to promote the upcoming Friends reunion special on HBO Max and teased to host Andy Cohen how it will compare to the drama filled Bravo reunions he typically hosts.
"Oh my god that's so funny," the 57-year-old said. "Well, I think we're going to sit around like a really nice restaurant and have you host and start screaming at each other … No, that's not, I don't know. I can't say."
Article continues below advertisement
OVERCOMING ADDICTION, MATTHEW PERRY LEANS ON HIS 'FRIENDS'
After the 52-year-old host revealed that he'd heard DeGeneres was rumored to host the reunion, Kudrow played coy.
"Um, you may have heard that, I don't know," she responded. "I don't know that that's been decided. Yeah."
During her radio show appearance, the California native, who played Phoebe Buffay on the NBC series from 1994-2004, also admitted she has a group text going on with all her Friends costars.
"I mean, it's, you know, checking in and how are you and stuff like that," she said. "Now it's more about, you know, around the reunion and let's talk about this and can we jump on a call and, and stuff like that."
The special was originally set to film in March, but was delayed amid the coronavirus pandemic. According to Us Weekly, it will mark the first time Kudrow, Jennifer Aniston, Courteney Cox, Matt LeBlanc, Matthew Perry and David Schwimmer have publicly reunited since 2016.
Article continues below advertisement
MORE ON:
The EllenDegeneres Show
"On day one of our show, I told everyone in our first meeting that The Ellen DeGeneres Show would be a place of happiness — no one would ever raise their voice, and everyone would be treated with respect." she said. "As someone who was judged and nearly lost everything for just being who I am, I truly understand and have deep compassion for those being looked at differently, or treated unfairly, not equal, or — worse — disregarded. To think that any one of you felt that way is awful to me."
Article continues below advertisement
THE DARKER SIDE OF HOLLYWOOD STARS: TOP 10 WORST CELEBRITY BOSSES
As a result, three senior producers — executive producers Ed Glavin and Kevin Leman and co-executive producer Jonathan Norman — were all ousted from the Warner Bros.-distributed talk show. In an email to staff obtained by BuzzFeed News, David McGuire, executive vice president of programming at Warner Bros., said: "We promised you change and a new culture, and we are absolutely committed to that."
The Ellen DeGeneres Show is set to make a return with its 18th season on Monday, September 21.
"I can't wait to get back to work and back to our studio. And, yes, we're gonna talk about it," the daytime talker said in statement announcing the show's return and referring to the ongoing scandals.
The announcement of the show's comeback also came with a list of guests that includes Tiffany Haddish, Kerry Washington, Alec Baldwin, Chrissy Teigen, Chris Rock, Amy Schumer, Adam Sandler and Orlando Bloom.