NEWS
Did Kourtney Kardashian Drop a *Major* Hint That She's Pregnant?!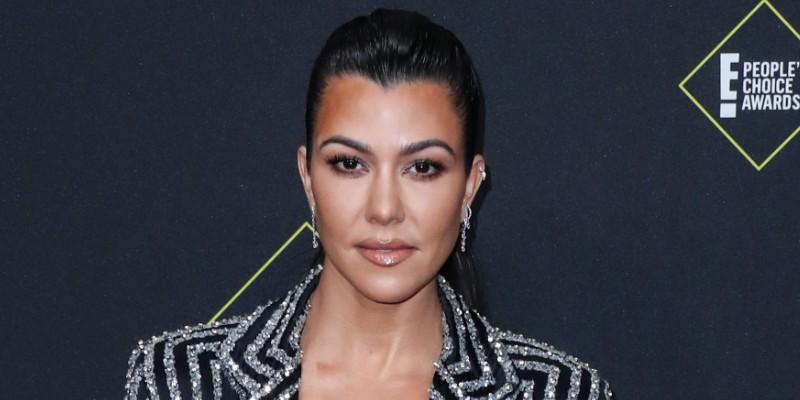 Is there a bun in the oven? While we don't know for certain, fans are speculating that Kourtney Kardashian hinted that a fourth baby is on the way in her Instagram post on Friday, September 24.
The KUWTK star posted two snaps of her hand with black nail tips while wearing a zebra-printed, long-sleeve robe. The photo was taken in front of large windows, leaving a shadowed outline of the mother of three on the floor. In the second photo, her zebra-printed robe is off as she shows off her nails, but this time, the shadow appears to be very (very) pregnant. She simply captioned the snap with a zebra emoji.
Article continues below advertisement
Fans quickly noticed the brunette beauty's shadow and took to the comment section. "Is she pregnant? (2nd photo shadow)," one asked, while another flat out asked her, "Are u pregnant?"
REALITY REWIND: THE 10 MOST EXPLOSIVE MOMENTS FROM 'KUWTK'
The major clue may come as a surprise to the rest of the world, but the reality star's sister and mom had their own suspicions during the new KUWTK trailer for season 19. In the sneak peek clip, Kim Kardashian asked her sister if she would want a fourth child with baby daddy Scott Disick.
"Scott's like, 'We're going for baby number four.' Is that serious?" the Skims founder asked Kourtney. "I want to know." Kris Jenner then stepped in, asking the question on everyone's mind — is she pregnant? However, the clip ended before anyone got the highly-anticipated answer.
The 41-year-old and Disick, 37, share Mason, 10, Penelope, 8, and Reign, 5. The on-again-off-again couple dated for nearly a decade before calling it quits for good in 2015, but the co-parents have been spending a lot of time together this summer since Disick's break up with Sofia Richie, 22. Now with the young beauty out of the way, fans (and even family members!) are eager for the former flames to possibly reunite.
Article continues below advertisement
SLAM DUMPED: TRISTAN THOMPSON'S ROCKY DATING HISTORY
"They've got all these kids together," Caitlyn Jenner told Entertainment Tonight. "I think always it's the best for the kids to have a mother and a father that's right there all the time. I don't know if that's ever gonna work out.
"So many of my kids had never gotten married, but had families and all the kids seem to be doing great. They're just great kids. Kourtney and Scott are both good parents. Whether they work it out themselves for a lasting relationship, I don't know. That's a Kourtney question."
ABUSE, DIVORCE & NASTY FEUDS: 'THE BACHELOR' CREATOR MIKE FLEISS' SECRETS & SCANDALS EXPOSED
Last month, the Poosh founder and self-appointed "Lord" took a family trip to Idaho, Colorado. "Scott is so happy that he and Kourtney get along so well and how easy it is with her. It's weird to everyone else, but not to them. They are really like best friends," a source told Us Weekly. "Kourtney is not open to him in a romantic sense, but Scott is always flirting with her and thinks she looks better than ever."
Article continues below advertisement
Kourtney isn't the only Kardashian who may have a baby on the way. When Kris joined The Ellen DeGeneres Show on Wednesday, September 23, the show host asked the mother of six if she is expecting any more grandkids from Khloé Kardashian and Tristan Thompson. The 64-year-old coyly responded: "You never know what's going to happen."
THE KIM KARDASHIAN AND KANYE WEST RELATIONSHIP TIMELINE
The Good American co-founder has been spending a lot of time with the baby daddy; the pair have even been spotted looking for homes together in L.A., PEOPLE reported. "Despite Khloé trying to keep their relationship more private, she is very much with Tristan," a source told the outlet. "In the past few months, Tristan has really shown Khloé that he has changed. He is an amazing dad and partner."
Article continues below advertisement
Kim revealed on September 8 that the 14-year-long show is coming to an end after their final season in 2021. However, a source exclusively told OK! that the family was fired from E! since the network refused to pay them another $150 million to keep the famous family around for five more years. The momager signed the deal in 2017 and "that deal has expired, and greedy Kris wanted at least $40 million per season to continue even though ratings have been declining dramatically."
Between possible babies on the way and couples reuniting, the second-to-last season of Keeping Up With The Kardashians can't be missed!