NEWS
Denise Richards Reveals Why She *Really* Left 'RHOBH' Following Alleged Affair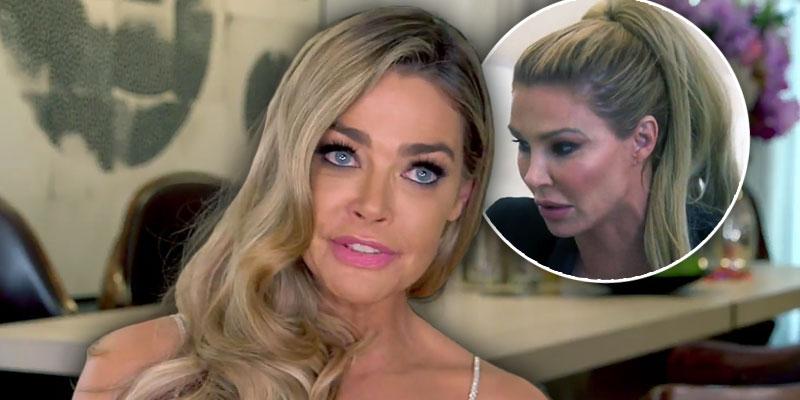 Article continues below advertisement
SHOCKING VIDEO — FORMER 'RHOBH' STAR BRANDI GLANVILLE'S CAR GETS BROKEN INTO ON CAMERA
However, it doesn't seem like the actress is ready to hang up her reality TV hat just yet, since she admitted she's not opposed to returning to the small screen. "Never say never," Richards said. "I love that things have changed."
The mom of three also gave a shout-out to her costar Garcelle Beauvais — who is the newest host on The Real — for being a good friend to her during season 10 of the Bravo show. "You know, all these dinners kind of go sideways quickly and her and I would have side conversations and no one else would really pay attention or hear us cause they were too busy talking about themselves so we would just look at each other and laugh at that," she explained about their bond.
"Garcelle, it almost makes me want to cry," she gushed. "I truly could not have gotten through this season without you, honestly. She is a girl's girl. A good friend. Your loyalty is beyond."
HEARTBREAKING! BRANDI GLANVILLE ADMITS WHAT SHE HATES ABOUT HERSELF
On Wednesday, September 9, a rep for Richards confirmed to Variety that she would be exiting the Bravo franchise. The shocking news dropped hours before part two of the season 10 reunion premiered.
Article continues below advertisement
During the reunion, Richards didn't mention anything about her departure. Instead, she denied she ever was involved with Glanville, 47, who claimed they had sex on Richards' movie set in April 2019.
"I had been out with her and her husband Aaron Phyphers and I knew that they have, like, an understanding, like she could be with girls if she wanted to," Glanville said during a July episode of RHOBH.
According to Glanville, the two slept in the same bed at the hotel. "I was uncomfortable," she noted. "The kids were downstairs and we were in the loft and there was no door. And I just couldn't get into it."
DENISE RICHARDS CALLS HUSBAND AARON PHYPERS A 'WONDERFUL STEPDAD'
For her part, the The Bold and the Beautiful alum made it clear that they were not pals. "Every, I would say about 10 messages that were sent to me from Brandi, I would respond," she said. "She would always contact me wanting to go to dinner and this and that, and I never did. It was a very, I would call it like an acquaintance exchange, truly. But I was always nice to her. I was. I had no reason not to."
Article continues below advertisement
Glanville seemingly reacted to the news about Richards' exit on social media. "The word of the night is calculated #timing," she tweeted. "#Are you f**king kidding me."
However, Glanville recently told DailyMailTV that their alleged steamy romance didn't begin in 2019 — it actually started in September 2018 when they went out to dinner in Malibu.
Glanville recalled that Richards couldn't stop looking at breasts since she wanted to get hers redone. "We went into the bathroom and I showed her my boobs and right when I took my shirt down, she just kind of threw me against the wall and started making out with me," Glanville claimed. "And I was down for it, I honestly didn't mind. I was like, 'OK, what are we doing, but this is fun.'"
'THE REAL HOUSEWIVES OF BEVERLY HILLS' LADIES TAKE OVER NEW YORK CITY
After a few more drinks, the duo went back to the bathroom, where things heated up. "She said to me, 'Oh, my God, I always wanted to f**k the s**t out of you.' And I was like, 'What?' But I was going with it. I was having a good time. We were just making out, I had jeans on. There was nothing other than like a little bit of t**ty sucking, but it was sexy," Glanville claimed.
But a source told Us Weekly that the sexual encounter "never happened," adding: "This is just a complete fabrication and pure desperation by Brandi. It sounds like a tacky porno."