NEWS
Kanye West Launches Nasty Verbal Attack On Kardashian Family, Calls On 'Fellow C*m Donors' Tristan Thompson, Travis Scott & Scott Disick To Speak Up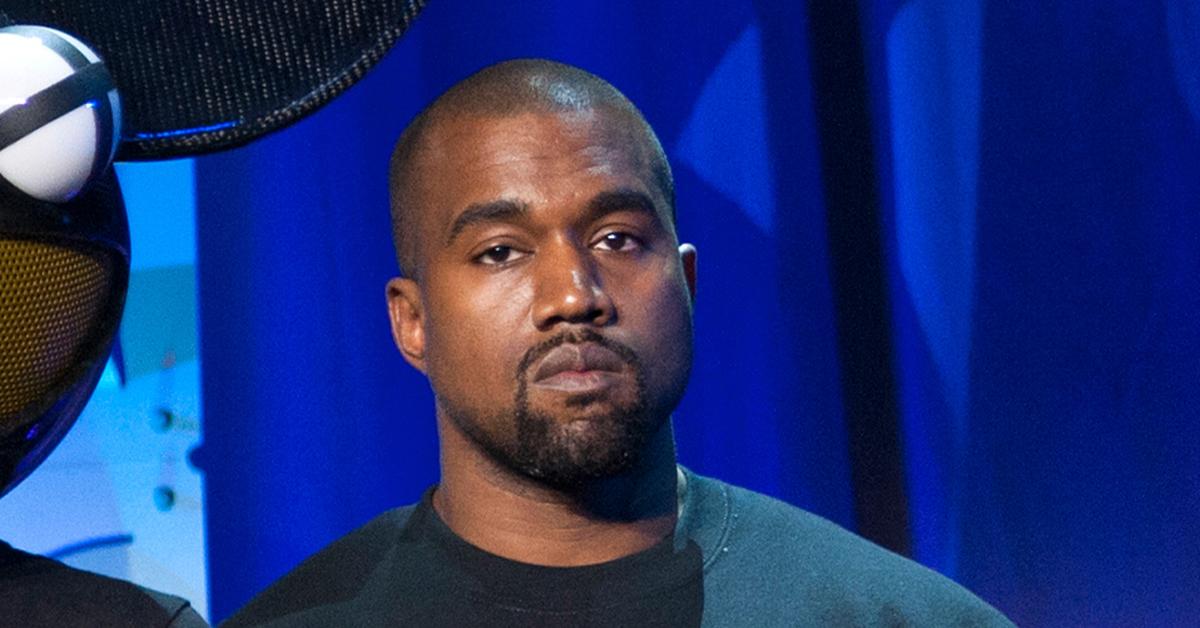 Kanye West outdid himself with his latest unhinged rant targeted at everyone closest to him.
From publicly calling Kim Kardashian out about where their children attend school to trolling Pete Davidson and calling on his "fellow c*m donors" to speak out against the Kardashian-Jenner family, Ye caused quite the scene on Instagram Thursday, September 1.
Article continues below advertisement
Before launching his online attack in the late hours of the night, the 45-year-old shared a since-deleted photo of Victoria Villarroel, Kylie Jenner's former assistant, writing: "Don't let Kris make you do playboy like she made [Kylie] and Kim do," referring to famed momager Kris Jenner, who supported her famous offspring modeling for Playboy magazine.
KANYE WEST ACTIVE ON INSTAGRAM AFTER SCATHING POST ABOUT PETE DAVIDSON'S FAKE DEATH
"Hollywood is a giant brothel Pornography destroyed my family I deal with the addiction Instagram promotes it Not gonna let it happen to Northy and Chicago," he added of the two daughters he shares with the reality star.
Article continues below advertisement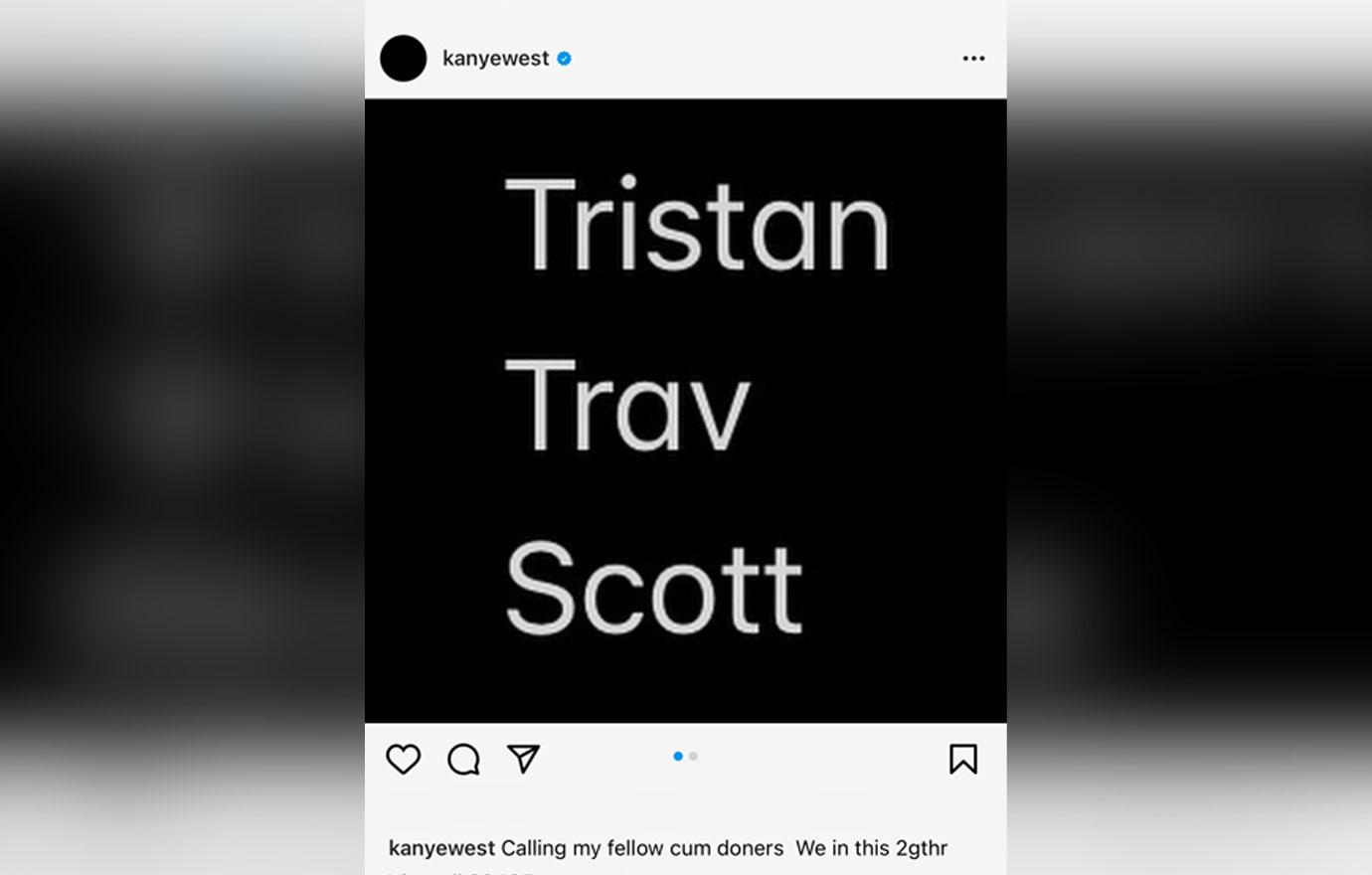 As the rapper's posts went from bad to worse, he called upon his fellow Kardashian rejects, Tristan Thompson and Scott Disick, as well as Travis Scott, who has since rekindled his relationship with the Kylie Cosmetics founder.
"Calling my fellow c**m doners [sic] We in this 2gthr [sic]," West captioned a black photo that simply read, "Tristan, Travis, Scott," in white text.
West also posted a screenshot searching for "c*m donors" on Google.
Article continues below advertisement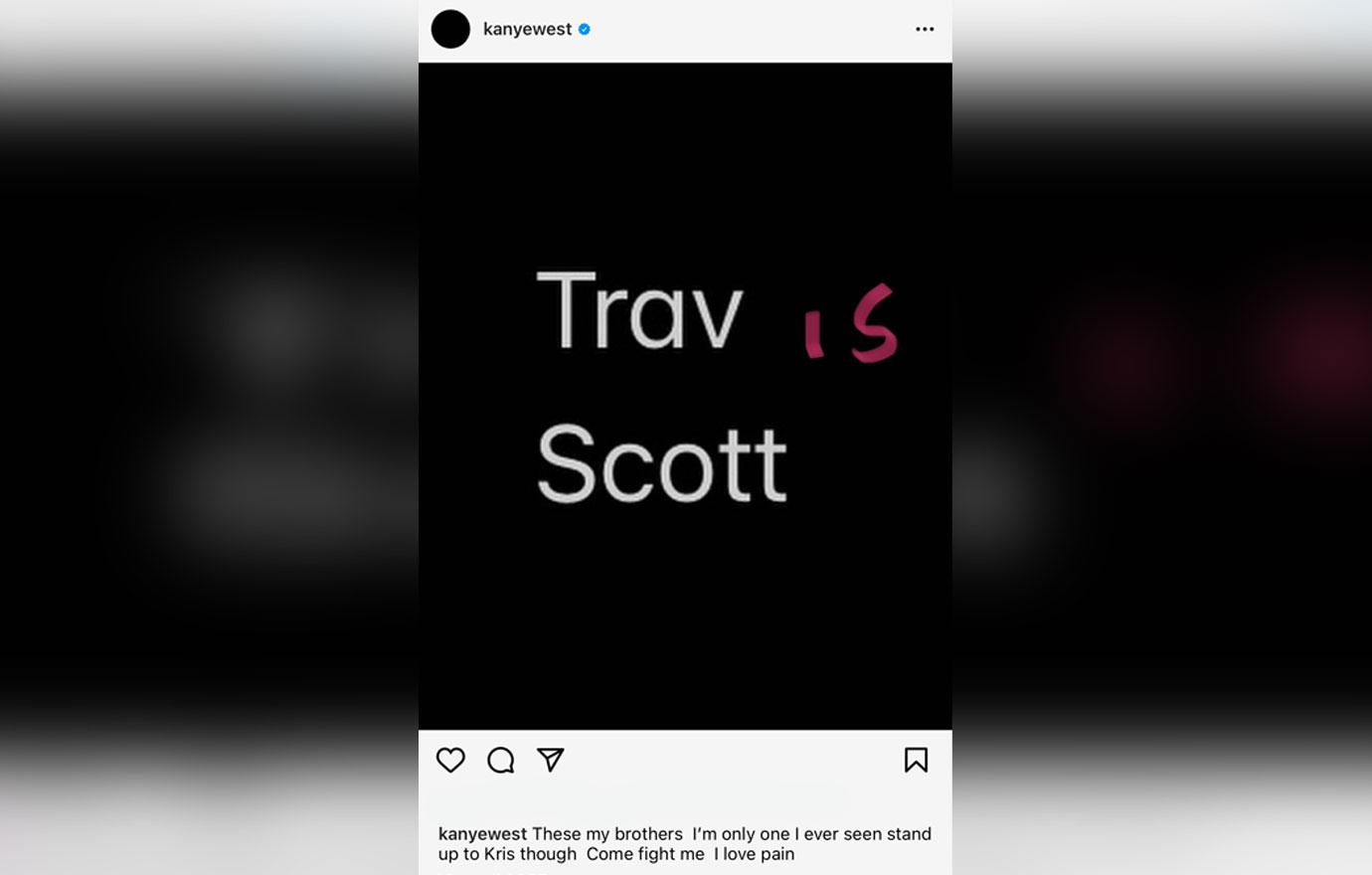 Alongside another black photo that read "Trav" and "Scott" with the letters "is" in red, as West was seemingly referring to both the "Highest in the Room" rapper and Kourtney Kardashian's baby daddy, West wrote: "These my brothers I'm only one I ever seen stand up to Kris though Come fight me I love pain."
In another not-so surprising move, West went ahead and aired out his and Kardashian's dirty laundry over the two disagreeing about where their four children go to school. The Donda artist opened Donda Academy, located in Southern California. Though his kids currently attend Sierra Canyon, West wants them to switch over to his school, a request it seems his ex-wife is not agreeing to.
Article continues below advertisement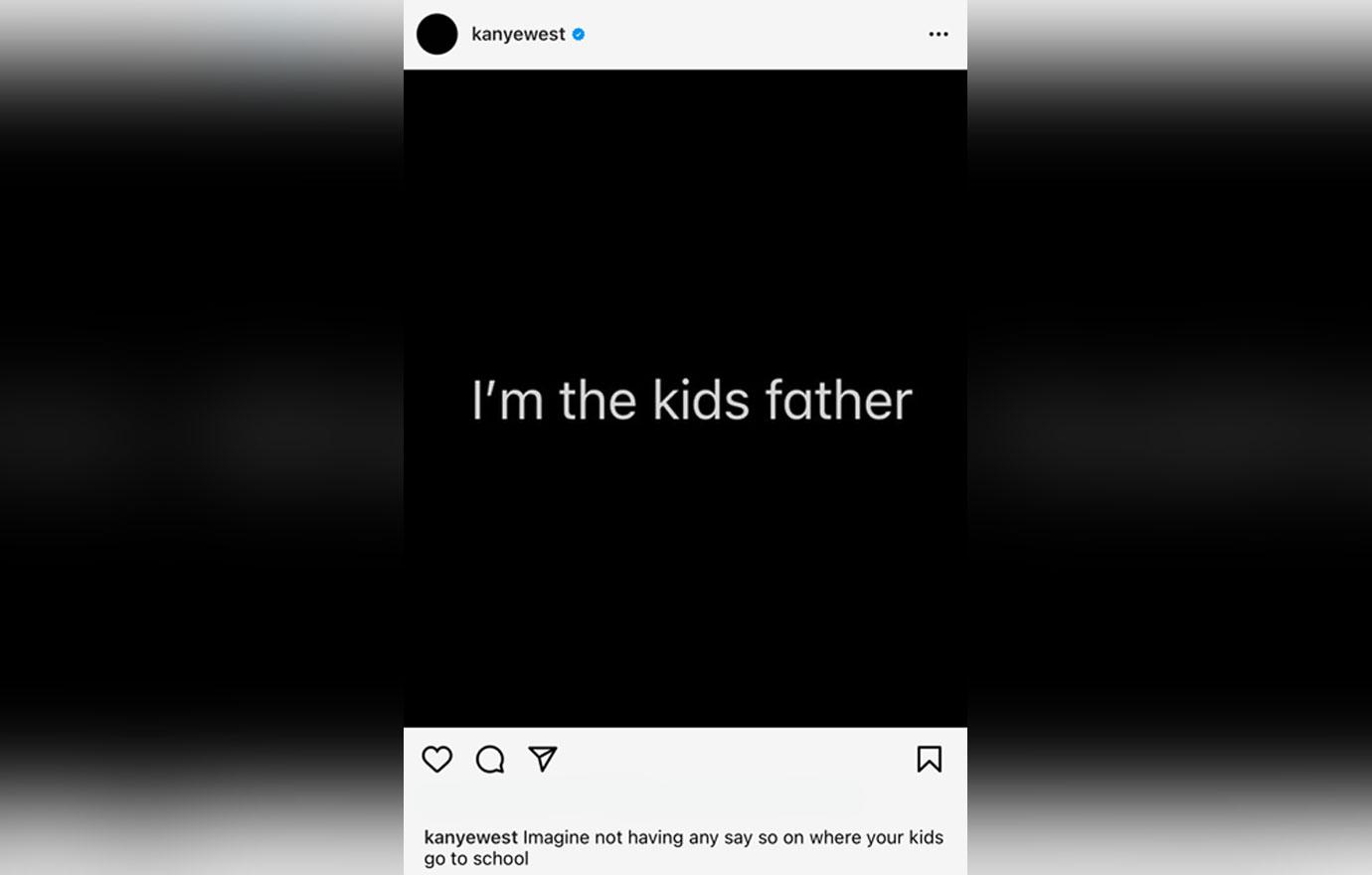 Touching on the former flames' disagreement, West captioned a black photo with the words "I'm the kids father": "Imagine not having a say so on where your kids go to school."
He shared another black photo that read, "I was driven crazy before. I'm not going crazy no more. It's not up to Calabasas or Hulu where my kids go to school. I'm not the crazy one here."
"It's up," he continued, "I won't stop until I have a say so on my kids no matter what It legally takes."
Article continues below advertisement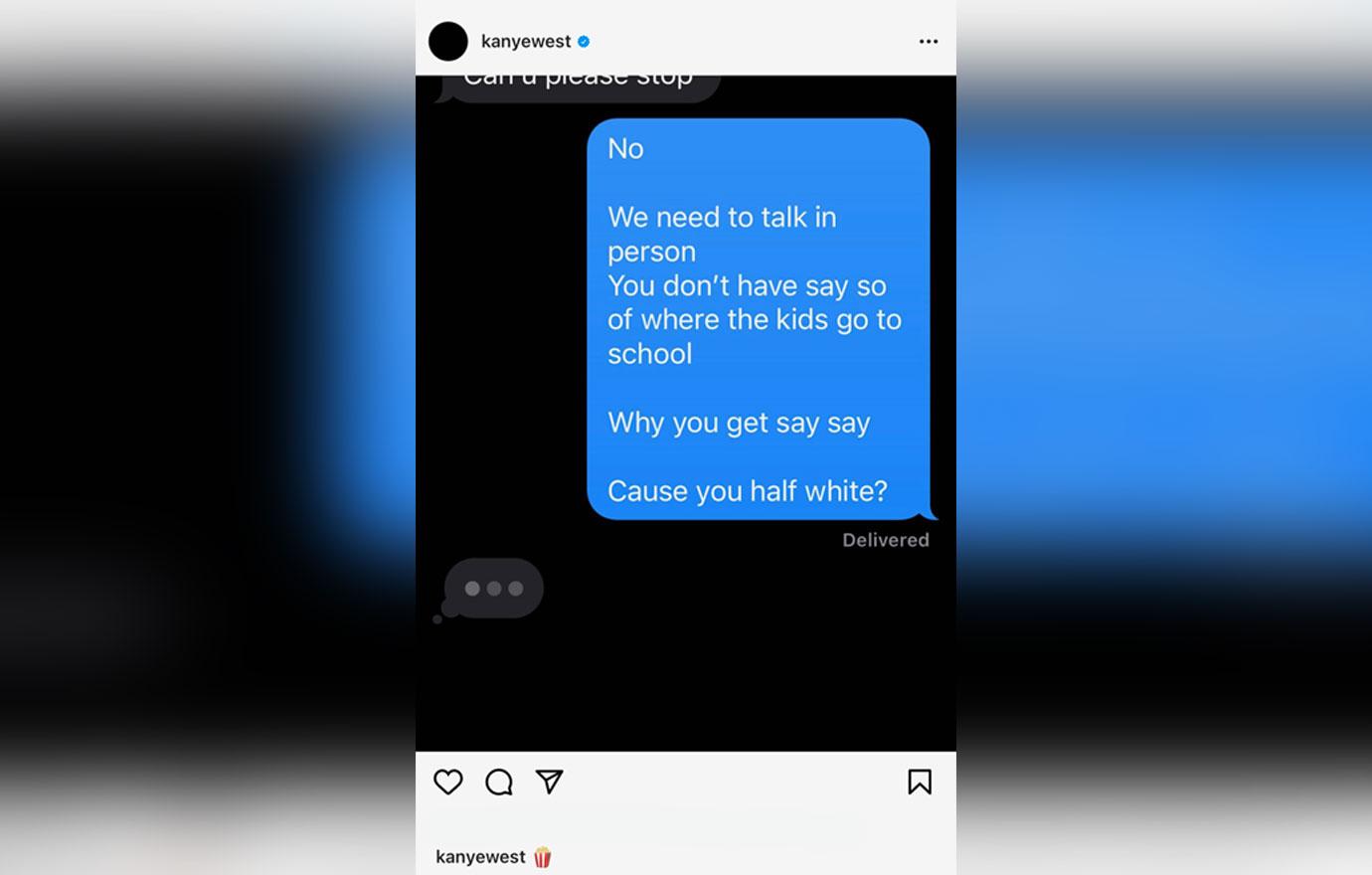 Article continues below advertisement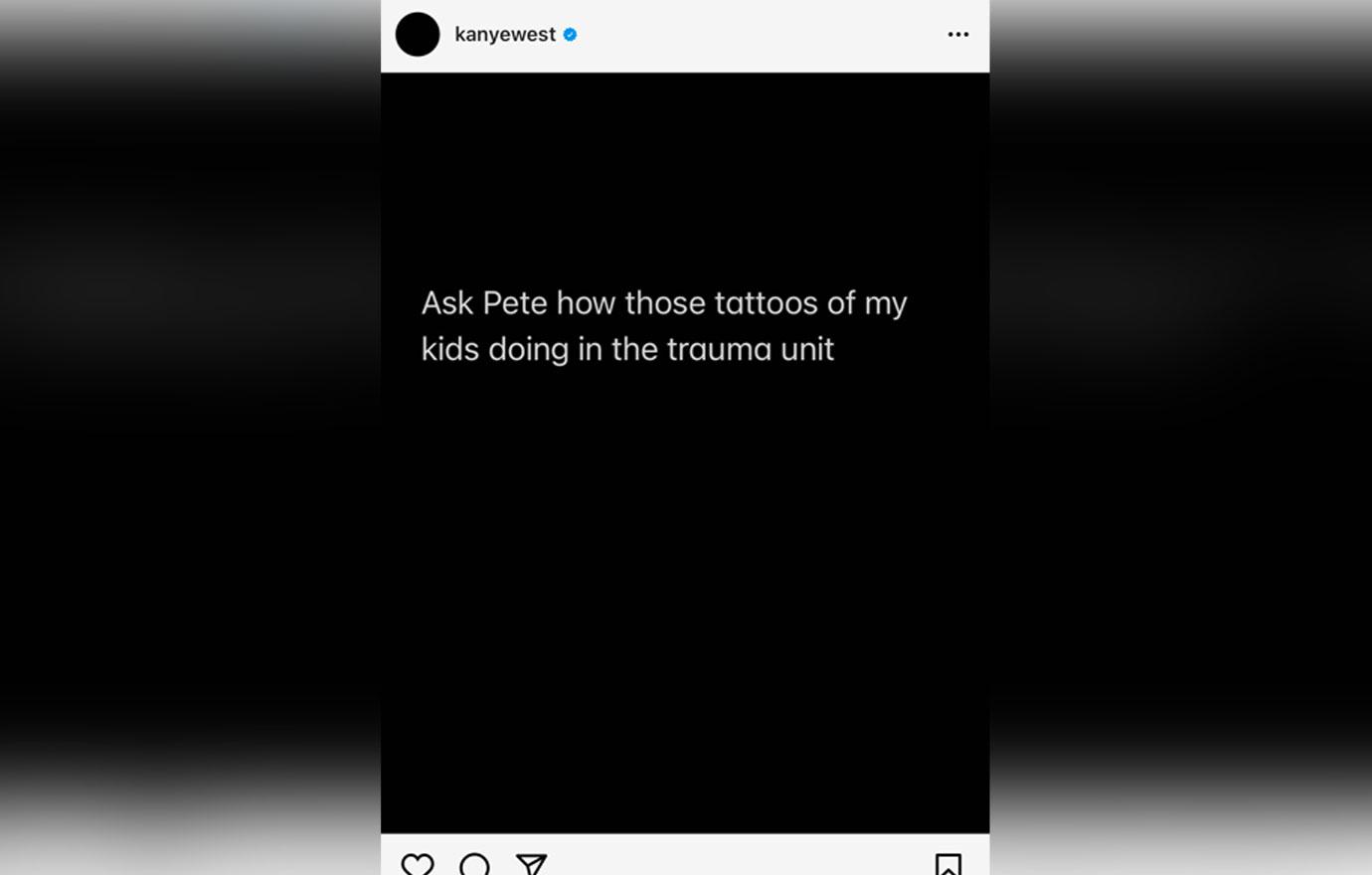 Going back to his old ways, West once again took aim at Pete Davidson even though he is no longer dating the SKIMS founder. "Ask Pete how those tattoos of my kids doing in the trauma unit," the post read, seemingly mocking the fact that the comedian sought trauma therapy because of all the online abuse he endured at the hands of West.
(The "Heartless" rapper posted a doctored New York Times front page on Instagram last month that read, "SKETE DAVIDSON DEAD AT AGE 28," following news of the former flames' split.)
West has since deleted all of his posts from his Thursday night rant.