ROYALS
Snubbed Again! Kate Middleton's Birthday 'Overshadowed' Once More By Prince Harry & Meghan Markle's Never-Ending Drama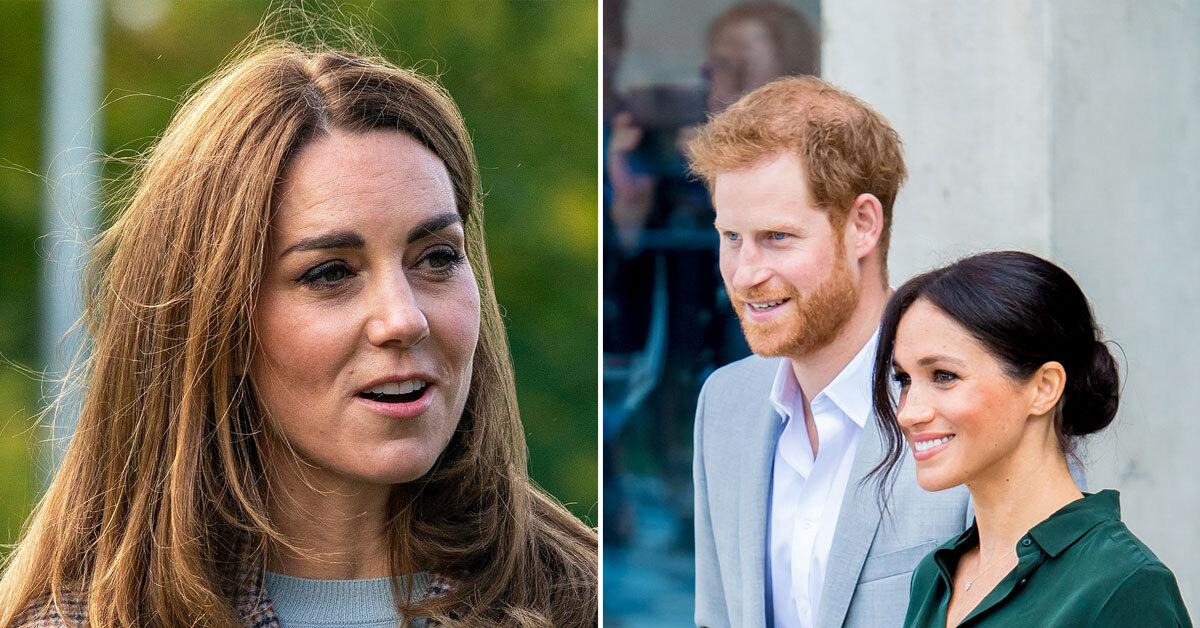 As Kate Middleton's 39th birthday approaches, all eyes are on Prince Harry and Meghan Markle — once again. This time around, Harry and Meghan are trying to get their Megxit deal extended.
Harry and Meghan are planning on meeting with senior royals over a Zoom conference call in January before the father of one flies to London to confirm the deal in person.
Kate's birthday marks the one year anniversary of when the Duke and Duchess of Sussex announced they would be stepping away from their senior royal duties to become financially independent and start their new lives.
Article continues below advertisement
"Apart from anything else, Harry and Meghan's announcement has overshadowed Kate's 38th birthday," royal author Phil Dampier said at the time. "It's just another example of how far the so-called Fab Four have drifted apart and I doubt Harry and Meghan will be at any celebrations for Kate."
Dampier continued: "It's a sad day for the monarchy that these two brothers and their wives, who had the potential to be such a positive force, are now in this position."
Article continues below advertisement
"Kate will be celebrating her birthday privately at home with the family," royal expert Russell Myers added. "She certainly would prefer it that way given the whole furore over the Sussexes' decision to press the nuclear button on their royal careers."
While Harry and Meghan shared their bombshell statement one day prior to the Duchess of Cambridge's birthday, the spotlight remained on the controversial couple during Kate's big day, which most likely contributed to Prince William being "incandescent with rage" after learning about their decision.
As OK! previously reported Kate and Meghan "couldn't have been further apart" when Harry and the actress made their announcement. After stealing her spotlight, Kate showed zero remorse for the duo when the "Fab Four" reunited for the first time at the Commonwealth Day services before Harry and Meghan's departure.
Article continues below advertisement
"It was a real slap in the face, especially the way Kate gave Meghan the cold shoulder," a source revealed of the sister-in-laws' encounter. "Meghan tried to take the high road and strike up a conversation, but Kate basically blanked her."
This is not the first time Harry and Meghan stole another royal member's thunder.
Article continues below advertisement
Princess Eugenie was reportedly left "on the brink of tears," as she felt she was "overshadowed" on her wedding day after Harry, 36, and Meghan, 39, announced they were pregnant with baby boy Archie on the same day.
While the world remains focused on the red-headed prince and Suits alum (since their drama never ends), Kate will hopefully have a better birthday while she resides with her family in Anmer Hall.
Since Prime Minister Boris Johnson announced the U.K.'s third lockdown amid the ongoing pandemic earlier this week, Kate will most likely be spending the day at home with her husband and children, Prince George, 7, Princess Charlotte, 5, and Prince Louis, 2.