Tristan Thompson 'Jumps At The Opportunity' To Embark On Adventurous Date With Khloé Kardashian — Watch New 'KUWTK' Clip
Couples who seek out alien energy together, stay together!
Article continues below advertisement
Khloé Kardashian and on-again-off-again boyfriend Tristan Thompson embarked on a unique date out in Malibu, Calif., and their adventures will be featured on the upcoming Thursday, April 15, Keeping Up With The Kardashians episode.
In a sneak peek, the parents of daughter True hiked through boulders, where there have apparently been UFO sightings, in the hopes of picking up "alien energy."
Article continues below advertisement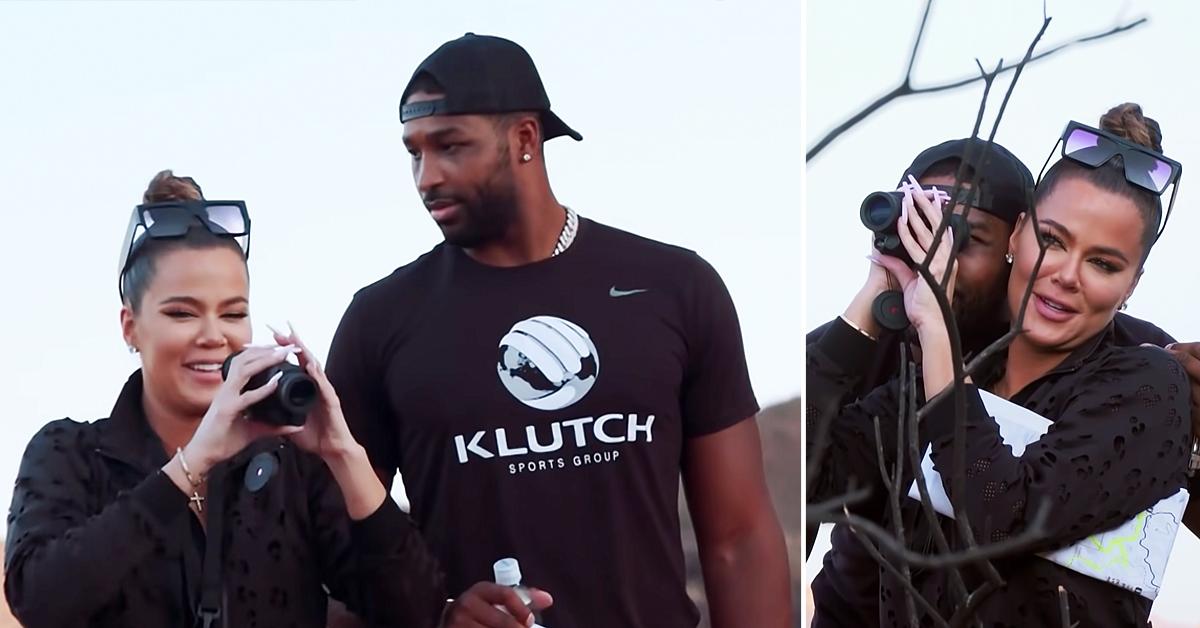 "Malibu has actually attracted a ton of UFO sightings and then when I was researching, I found out about this trail and this trail is supposed to have amazing alien energy, and I am so excited again," Khloé told cameras. "Hiking, aliens, what's better?"
Article continues below advertisement
Article continues below advertisement
"Khloé gave me the invite. I think I was the last person on her address book who she asked to join her on this hike, but at the end of the day, it's quality time," he said in the confessional with his baby mama.
After noting that the adventurous hike is a great way to get in some cardio — since he's not playing basketball right now — Tristan added that he's obviously going to "jump at the opportunity" of "being besides a beautiful woman" like Khloé.
Article continues below advertisement
The duo exchanged comical banter on their journey to the landmark "balancing rock," with the NBA player asking if she feels any "supernatural powers."
Article continues below advertisement
Once they arrived at the site, where one infamous rock could be seen, Khloé, 36, and the Boston Celtics player, 30, hilariously bickered over the fact that her beau couldn't figure out which rock she was pointing at.
Article continues below advertisement
The 6'10'' athlete tried to get a better look at the rock by lowering down to Khloé's height. The Good American co-founder passed him her binoculars, as he lowered his head to be side-by-side with Khloé while laying his hand on her shoulder.
"Are you just doing this to get close to me?" she teased.
Article continues below advertisement
Despite Tristan cheating on Khloé twice, the complicated couple appear to be on good terms. As OK! previously reported, the lovebirds rekindled their romance after spending quarantine together with True in Khloé's Calabasas home.
However, they are making sure they don't jump into anything too quickly, as Khloé explained during a previous episode: "Me and Tristan are figuring things out, but I'm still trying to navigate my way through my feelings, and that's how I want to keep it."
New episodes of the final season of Keeping Up With the Kardashians air Thursdays at 8:00pm ET/PT on E!.