NEWS
Off-Duty Capitol Police Officer Howard Liebengood Dead By Suicide After Pro-Trump Rioters Wreak Havoc On The Capitol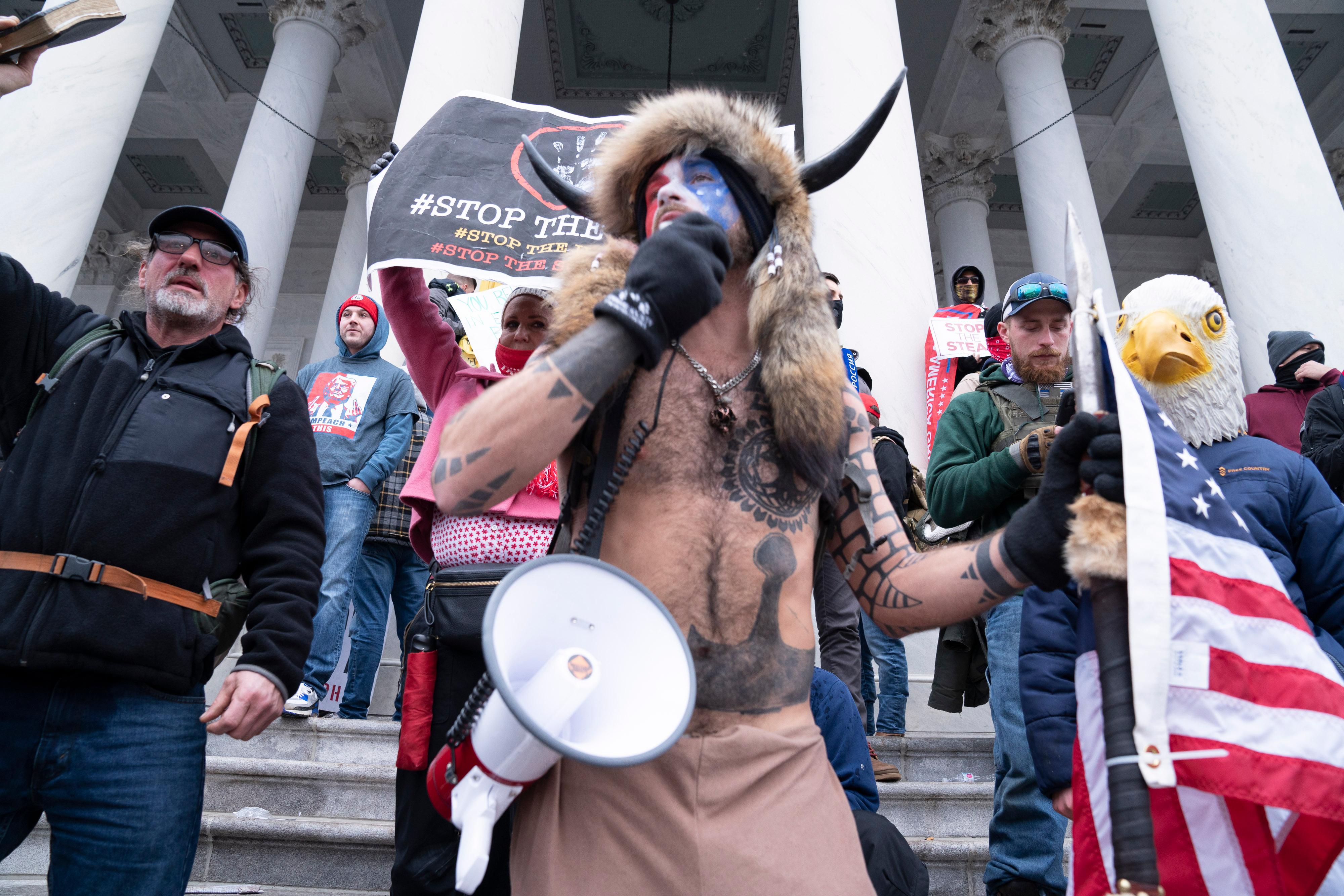 Off-duty United States Capitol Police Officer Howard Liebengood has died at 51 years old after he responded to the pro-Trump riots in Washington D.C. on Wednesday, January 6.
Liebengood — who was a 15-year veteran — took his own life on Saturday, January 9.
Article continues below advertisement
"The United States Capitol Police is deeply saddened by the off-duty death on January 9, 2021, of Officer Howard Liebengood, age 51. He was assigned to the Senate Division, and has been with the Department since April 2005. Our thoughts and prayers go out to his family, friends, and colleagues. We ask that his family, and other USCP officers' and their families' privacy be respected during this profoundly difficult time," the USCP wrote in a statement.
Article continues below advertisement
"We extend our deepest sympathies to Officer Liebengood's family and we mourn the death of a friend and colleague who worked alongside us to protect the lives of the Members of Congress, their staff and all who serve at the U.S. Capitol," the USCP union stated.
"We pay tribute to his service and we grieve for the loss of a fellow officer."
Article continues below advertisement
"We are reeling from the death of Officer Liebengood. Every Capitol Police Officer puts security of others before their own safety and Officer Liebengood was an example of selfless service that is the hallmark of USCP. This is a tragic day," union Chairman Gus Papathanasiou said.
"I'm deeply saddened to learn about the death of USCP Officer Howard Liebengood. Officer Liebengood served with USCP for 15 years, continuing a family tradition of protecting the U.S. Senate. He was my constituent. My heart breaks for his family, his loved ones, & our community," Representative Jennifer Wexton tweeted.
Article continues below advertisement
MORE ON:
President Donald Trump
Article continues below advertisement
Libengood is the second police officer to die following the riots last week.
Brian Sicknick, who was a 12-year veteran of the USCP, died on Friday, January 8, from injuries he sustained during the riots.
Four civilians died at the pro-Trump riots.
Ashli Babbit was shot dead by an officer as rioters stormed the Capitol building. "One capitol police officer discharged his service weapon, striking an adult female. She was transported to a local hospital, where after all life-saving efforts failed, she was pronounced deceased," Metropolitan Police Department Chief Robert J. Contee III explained at a press conference.
"The MPD's internal-affairs division is currently investigating this matter as we investigate all officer-involved deaths in the District of Columbia, including ones from other agencies."
Article continues below advertisement
The three other civilians — Rosanne Boyland, Kevin Greeson and Benjamin Phillips ' died from "medical emergencies."
Phillips suffered a stroke, Greeson had a heart attack and Boyland suffered from an undisclosed medical emergency.
Capitol Police say that over 50 officers from the USCP and the Metropolitan Police Department were injured in the clash and several have been hospitalized.
"The violent attack on the U.S. Capitol was unlike any I have ever experienced in my 30 years in law enforcement here in Washington, D.C.," Capitol Police Chief Steven Sund, said in a previous statement. "Make no mistake — these mass riots were not First Amendment activities; they were criminal riotous behavior." Sund resigned after the riots.
Article continues below advertisement
We're thinking of Liebengood's family during this difficult time.