ROYALS
Samantha & Thomas Markle Weigh In! Meghan's Father Slams Stunning Race Claims, Sister Argues 'Depression Is Not An Excuse' For Her Behavior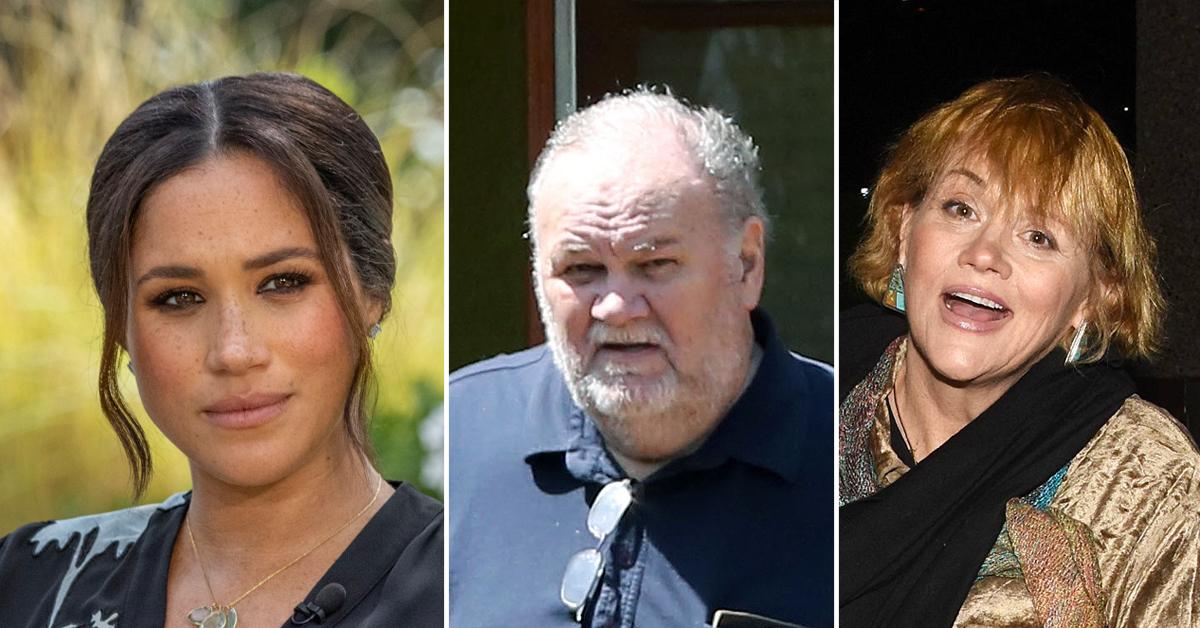 Markle mania! Meghan Markle's estranged father, Thomas, and half-sister, Samantha, reacted to the claims the Duchess of Sussex made during her and Prince Harry's shocking interview with Oprah Winfrey on Sunday, March 7.
During the CBS 90-minute primetime sit-down, Meghan revealed that "there were concerns or conversations about how dark [Archie's] skin might be when he's born."
"There's several conversations ... with Harry. And what that would mean or look like," she added.
Article continues below advertisement
Following Meghan's race claims, Thomas, 76, defended the royal family and insisted they are not racist. "I have great respect for the royals, and I don't think the British royal family are racist at all. I don't think the British are racist," Thomas said on the Tuesday, March 8, episode of Good Morning Britain. "I think Los Angeles is racist, California is a racist, but I don't think the Brits are.
Article continues below advertisement
And while he seemed to doubt the legitimacy of Meghan's race statement, he was upset when he learned of her mental health struggles after joining the royal family in 2018. As OK! previously reported, Meghan told Oprah that she had "very clear and very scary" suicidal thoughts and "didn't want to be alive anymore" because she "didn't see a solution" on how to endure the pressure of royal life.
"Had I known she had psychological problems, I would have been there for her," Thomas said, as he also claimed Meghan "pretty much ghosted" her family in the U.S. and said "she really had no one to reach out to."
Though Thomas appeared to feel some sympathy for his estranged daughter, Samantha, 56, seemed to be less fazed by her younger half-sister's struggles. "Depression is not an excuse for treating people like dishrags and disposing of them," Samantha told Inside Edition on Monday, March 8, following the revelation of Meghan's mental health battle.
The author also shared her thoughts on Meghan's remark in a bonus clip from the interview that aired on CBS This Morning on Monday, March 8, in which the former actress said she doesn't "really know" Samantha.
Article continues below advertisement
Samantha, who shares the same father as Meghan, refuted Meghan's recollection of their childhood. "I don't know how she can say, 'I don't know her' and she was an only child," Samantha said. "We've got photographs over a lifespan of us together. So how can she not know me?"
Samantha shared multiple photos of the half sisters through the years, including a snap of the two together at her graduation in 2008. Samantha alleged the photo — which was taken 13 years ago — contradicted Meghan's claim that "the last time I saw [Samantha] must have been at least 18, 19 years ago."
Meghan has been at odds with her half-sister since before she wed Harry, seemingly due to Samantha — who was not invited to the royal wedding — dragging the Duchess' name in the press and on social media.