NEWS
OK! Imagines What Carrie, Miranda & Charlotte's Lives Might Look Like Today — Before HBO Reboot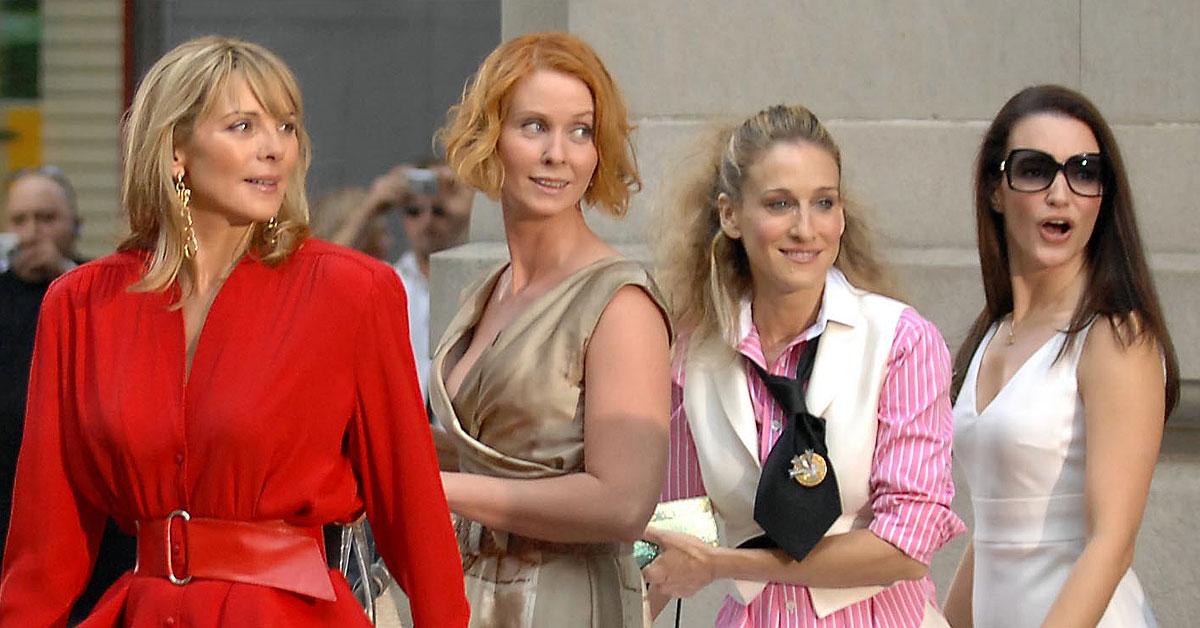 It's been a decade since fans of Sex and the City were able to glimpse into the lives of fashionista Carrie Bradshaw and her fabulous crew. But now that Sarah Jessica Parker has announced that the iconic series is coming back with a reboot on HBO Max titled And Just Like That…, OK! couldn't help but wonder what their lives might look like when the characters return to the small screen.
Take a look at our predictions for the girl gang — even though we won't be able to see some of the story unfold, as Kim Cattrall, who plays Samantha Jones, won't be returning for the series.
Article continues below advertisement
Carrie Bradshaw
Carrie's column goes kaput — on paper, at least. The digital format is alive and kicking, but she's barely making peace with everyone's comments, especially the mean ones. Some nights when Big is snoring beside her in bed with red wine teeth, she finds it hard not to scroll through them with one hand over her eyes and the other flicking a Marlboro Light.
'SEX AND THE CITY' STAR CHRIS NOTH SHOWS OFF HIS GUNS — AND SARAH JESSICA PARKER REACTS!
Carrie's latest bestseller, Till Dolce Do Us Part, looks back at her life on the outskirts of the fashion world, and she questions whether her quest for one-of-a-kind couture is actually a search for all-consuming love. Gwyneth Paltrow attends her book party and offers her a hair product partnership with Goop, and somewhere, behind a cheese platter, Berger lurks with an unsigned copy.
Article continues below advertisement
Carrie's making coin by Airbnb'ing her old apartment a few weeks out of the year. It feels slightly traitorous letting her single-girl space go, even temporarily, but as Miranda says, "More money, fewer shoe problems, Carrie."
40 OMG MOMENTS FROM 'SEX AND THE CITY' THAT MAKE US CLAP, CRY & CRINGE
Meanwhile, she and Big try not to drive each other insane deciding whether to stay in for moo shu or go out in black tie. "I'm too old for this, kid," sighs Big, who wants to retire at an upscale golfers paradise in Palm Beach, Fla.
Charlotte York
Charlotte and Harry stay put in their enviable classic six, where she's replaced 99 percent of their white upholstery with outdoor fabrics because of Harry's intermittent naked lounging and ripping tea bags. It's out with fancy-shmancy china and in with serving meals buffet-style on the kitchen island, but she still insists on placements and coasters.
Article continues below advertisement
Charlotte is parents association secretary at their daughters' Upper East Side private school and pipes up about causes close to her heart, like art appreciation day at the Met. She takes Lily to see Taylor Swift for her birthday, though she thinks TS' outfits are "too sassy."
Charlotte and Harry's favorite couples destination is Cap Juluca, where he can soothe his back wax with jojoba and coconut oils. Charlotte takes solo sojourns to the Mayflower Inn & Spa for massages. Like the used-date party she gave back in season 3, she hosts used-nanny parties where people can swap au pairs for less attractive ones.
Miranda Hobbes
After ill-fated braces in her 30s, Miranda is thrilled with Invisalign. Sometimes she leaves her trays in while eating Chinese takeout with Steve, particularly the dumpling soup. He doesn't mind making out with a plastic mouth.
THE 10 WORST BOYFRIENDS TO EVER APPEAR ON 'SEX AND THE CITY'
After serving on her building's co-op board, fighting injustice at work and rallying for women's rights, there's only one thing left for Miranda: running for office. She starts out on a grassroots level by drafting anti-discrimination laws at her new firm and gets nominated for local rep.
Article continues below advertisement
While Miranda's pounding the pavement, housekeeper Magda and Steve realize that their Brooklyn backyard is a gold mine for growing organic produce. Their prize-winning cherry tomatoes are so sweet and juicy that Steve pitches Brady's Bruschetta Bites to Shark Tank. He gets enough seed money to beta-launch the business, and they're a big hit!
Samantha Jones
Though we'll never know what Samantha Jones gets up to in today's day and age, since Cattrall has made it clear she is not returning to fill out Samantha's shoes, we couldn't not include her! Here is what happens to the sex-positive hot-shot (in our dream world, of course!).
Samantha's P.R. is full of mobile millennial staffers, allowing her to jet-set with her team from Rome to Rio to seek out new business.
Just when she thought she would be priced out of the meatpacking district, Samantha sells her building to Starbucks, leaving her rolling in cash (which she does, by the way, on satin sheets).