'The View' Cohost Whoopi Goldberg Cuts Off Meghan McCain During Cringeworthy Rant — 'For Frog Legs... Are You Done?'
Things got really awkward (to say the least) on the Monday, April 5, episode of The View when cohost Whoopi Goldberg cut off Meghan McCain's tirade on Major League Baseball's decision to move this year's All Star Game from Atlanta in light of Georgia's new voting law — which will put new restrictions on voting by mail.
Article continues below advertisement
In response to the new law, former president Donald Trump called on conservatives to boycott MLB and any other companies that criticized the Georgia law. On the other hand, president Joe Biden supported MLB's decision.
Article continues below advertisement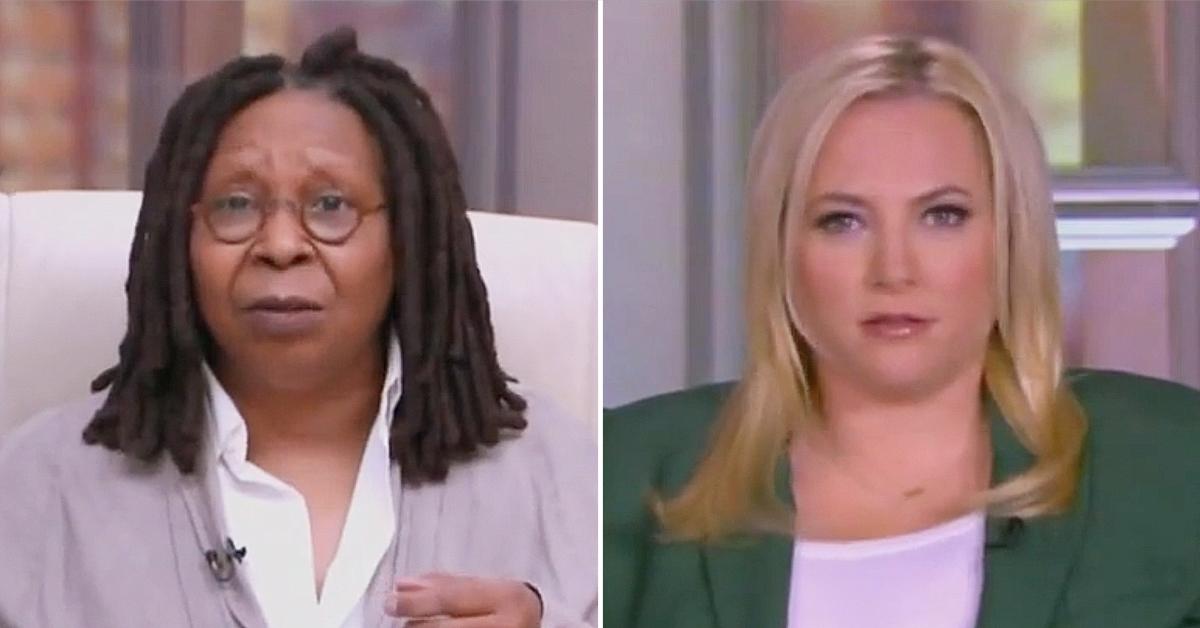 Joy Behar shared her thoughts on the recent corporate pushback first, noting that Republicans — who are also pushing for laws that will restrict voting in other states — are panicking over the fact that Georgia might become a blue state after Democrats won the election.
Article continues below advertisement
"The Republicans know right now they have nothing to offer the American people," she claimed, adding that all Republicans have "is tax breaks for very, very rich people. That's all they've got. They have no platforms."
Article continues below advertisement
As for McCain, she wondered if MLB was going to "boycott" all of the baseball games played in Georgia in light of the new law.
"They should boycott that too," McCain advised. "Put your money where your mouth is. Just completely remove yourself entirely from Georgia since it's a racist, deplorable, unforgivable place."
Article continues below advertisement
McCain claimed Biden was the "first sitting president in U.S. history to call for an economic boycott targeting a specific state."
Article continues below advertisement
However, she noted that if Biden was going to share his opinion on controversial cultural matters, then he should boycott next year's Winter Olympics in China.
"If we're going to do this sliding scale with the Biden administration, you need to come out today and boycott the Beijing Olympics," she demanded of Biden, noting that he hasn't said anything about the "mass genocide going on with the Uighurs."
Article continues below advertisement
"You have nothing to say?!" she rhetorically shouted to Biden. "We're still going to the Olympics where mass genocide is happening, but we're going to boycott everything in the state of Georgia. That is ridiculous!"
Article continues below advertisement
As McCain continued her MLB rant, stating that "Republicans and Democrats have to learn to live with each other," Goldberg muttered: "They do know that — oh, for frog legs," which prompted a confused McCain to respond, "I'm sorry? I'm sorry?"
Article continues below advertisement
"I'm sorry, what," McCain said again, as Goldberg asked if she was done with her heated speech.
"Yes, yes. Sorry," McCain replied.
In response to McCain's claim that there has been a huge misunderstanding about the bill — she argued that it expands voters' rights — Goldberg said that she believes the law was only passed because Trump insisted that widespread voter fraud cost him the 2020 election.