PHOTOS
Who Is Olivia Jade? 10 Things To Know About Lori Loughlin's Daughter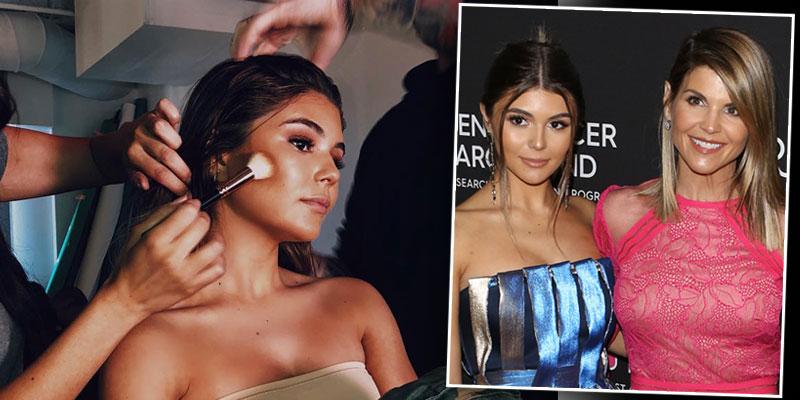 Olivia Jade has quickly gone from influencer to infamous thanks to the 2019 college admissions scandal.
On August 21, her mother Full House actress Lori Loughlin was sentenced to two months in jail while her father, Mossimo Giannulli will serve five months, following their involvement.
LORI LOUGHLIN'S DAUGHTER OLIVIA JADE PLANNING 'MOMMY GOING TO JAIL PARTY'
The 20-year-old has been at the forefront of the drama from the beginning. According to an indictment by the United States Government, Olivia posed for a photo on an ergometer rowing machine. The photo was later submitted as part of her application to the University of Southern California with the implication she was a competitive rower, though she was not and had no interest in becoming one. At the same time, it is alleged, her parents paid $500,000 in bribes to a coach at the university to designate her and her older sister, Issabella Rose, as athletic prospects for the team, enabling them to gain admission to the school.
Article continues below advertisement
She Has Not One But Two Famous Parents
Sure, everyone knows Olivia's actress mom but her dad is also well known. Although not a household name, her father is the designer behind Target's mega popular Mossimo clothing line. She also has an older sister Isabella and a half-brother, Gianni.
Article continues below advertisement
She's A Virgo
Olivia was born September 28, 1999, making her Virgo. Characteristics of a typical Virgo include being a perfectionist, shy, loyal, passionate, practical and dominating.
Article continues below advertisement
She Went To The Same High School As The Kardashians
In 2018, Olivia graduated from Marymount High School in Los Angeles, the same, all-girls Catholic preparatory high school Kourtney, Kim and Khloe Kardashian attended. The Bel Air area school also counts Law And Order: SVU star Mariska Hargitay and actress Marlo Thomas as alum.
Article continues below advertisement
Her Social Media Following Is Huge
While in high school, Olivia started her lifestyle YouTube channel where she gained a following for doing her makeup for the camera and casually discussing her personal life. She monetized her social media through commercial endorsements, advertisements and beauty collaboration for brands like Amazon and Sephora. At her peak, she had 2 million YouTube followers and 1.4 million Instagram followers.
Article continues below advertisement
She May Not Be The Best Driver
In 2017, Olivia crashed her car while singing along to Stevie Wonder's 'Signed, Sealed, Delivered I'm Yours' as she filmed herself with her mobile phone, prompting expressions of concern about her driving habits among her social media followers.
Article continues below advertisement
She Has A Competitive Side
Olivia appeared in a 2016 episode of the game show Tap that Awesome App, competing for a $5,000 prize for charity.
Article continues below advertisement
The College Admissions Scandal Had Major Repercussions
On March 14, 2019, two days after the scandal broke, Sephora distanced itself from Olivia announcing that the company would be ending its makeup partnership with her. TRESemmé also dropped her as a sales partner.
In October 2019, the USC Registrar confirmed that Olivia and her sister were no longer enrolled at the university, but due to student privacy laws, the university did not confirm if the sisters were expelled or left on their own.
Article continues below advertisement
She Was Reportedly In On The Scandal
It was assumed for some time that Olivia was involved in the college admissions scandal that has plagued her parents. Court documents from April 2019, for instance, showed her email address copied on several messages regarding the scam, and a year later, federal prosectors released staged photos of Jade using a rowing machine — photos that appeared in her application to USC, which claimed that she was an accomplished coxswain who would be recruited to join the crew team.
New court documents filed by federal prosecutors released August 17, though, assert that Olivia had numerous discussions with her parents about how to hide the scheme from her guidance counselor, who was getting increasingly suspicious about the veracity of her college applications. These new documents state that she actively discussed with her parents "how to avoid the possibility that a high school counselor would disrupt their scheme."
"They involved both their daughters in the fraud, directing them to pose in staged photographs for use in fake athletic profiles and instructing one daughter how to conceal the scheme from her high school counselor," the documents state, referring to Olivia and her older sister.
"When their daughter Jade asked whether she should list USC as her top choice school, Loughlin replied: 'Yes, but it might be a flag for the weasel to meddle.'" The "weasel" is in reference to her guidance counselor, who Loughlin implored Jade not to "say too much" about her applications, because the counselor was acting like a "nosey bastard."
Article continues below advertisement
She Was Never A Fan Of School
Despite getting caught in the college scandal, Olivia never seemed to really be a fan of going in the first place.
"I remember being a senior and telling my mom I want to drop out," she said in a vlog. "I was like, 'I don't really want to do this anymore because YouTube was doing well and I just wanted to focus on that. I told my mom I wanted to quit school and she was like, 'That's not happening,' so she made me stick it out. And then my dad made me go to college which sounds so annoying because I know I'm very lucky to have an education."
While she ultimately enrolled at USC, an education seemed to be the last thing on her mind.
"I don't know how much of school I'm going to attend but I'm going to go in and talk to my deans and everyone and hope I can try and balance it all," she said before heading to college. "But I do want the experience of game day and partying, I don't really care about school. As you guys all know."
Article continues below advertisement
She's Got A Beau
Olivia is dating 24-year-old singer-songwriter Jackson Guthy.