PHOTOS
'Real Housewives Of Orange County' Cast Reacts To News Tamra Judge May Be Returning To The Show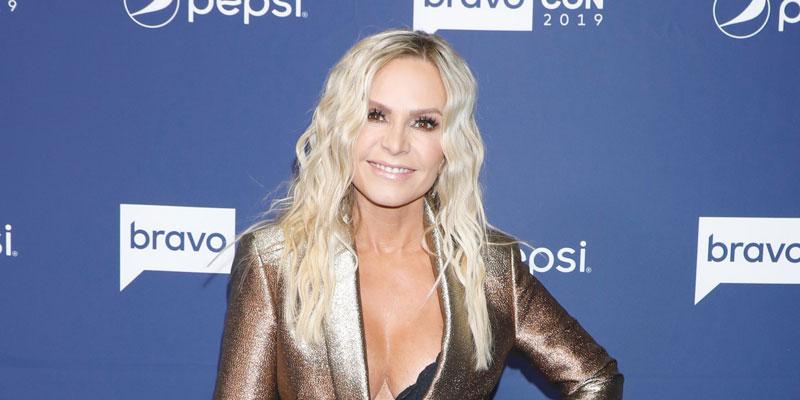 After news that Real Housewives of Orange County alum Tamra Judge might return to the long running Bravo series, her former cast mates are reportedly unsure of what to make of the surprising news.
Article continues below advertisement
Tamra, 52, shocked viewers on January 25 when she announced she would be leaving RHOC after 12 seasons. She wrote on Instagram at the time, "It's been a wild 12 years. But it's time for me to move on. I'm sad to go but I'm very excited about my future. Love you guys." She added a heart and peace sign emojis to her post.
However, RadarOnline.com reported that after turning down a three-episode offer for Season 15, Tamra was in negotiations to come back in a "friend" role. "Tamra is working out a deal that would bring her back for more than three episodes for between $20-25,000,000 each," a source told RadarOnline.com. "She didn't like just being on three episodes. She was being phased out and she knew it and wanted to control the narrative."
Article continues below advertisement
Now the RHOC cast is allegedly "shocked" to hear the news that the mother of four might return to filming. An insider told HollywoodLife.com on February 28, "The ladies of the RHOC were shocked to hear that Tamra will be returning for this season. The cast also "didn't know what to make" of the news.
Tamra recently appeared on Jeff Lewis Live and to claimed that Bravo head honcho Andy Cohen told her "to hold off on signing any kind of contract with another show." Andy, 51, also Tamra to "run" other offers "past him first." She also revealed on the show that Andy said she'll be back on RHOC "next year."
Article continues below advertisement
The source also revealed to HollywoodLife.com how her costars feel about the VENA CBD founder's exit. "They thought she was done for this season so they didn't know what to make of it when the news came out," the insider continued. "Everything is still very up in the air about Tamra filming, if it's actually happening soon or not, in what capacity, etc. They have all been kept in the dark about what capacity that is as Tamra herself doesn't even know the plan, so they're all anxiously waiting."
Tamra's BFF Vicki Gunvalson also departed RHOC after 14 seasons in January. The 57-year-old was one of "Tres Amigas" on the show alongside Tamra and costar Shannon Beador. Vicki wrote on Instagram about her exit, "I will always be the OG of the OC, but it's time to say goodbye to The Real Housewives of Orange County."
Article continues below advertisement
The Coto Insurance CEO addd, "It's been an incredible ride for 14 years and I want thank all of you for your support, for your love and for 'whooping it up' with me along the way. I've been working on new projects that will be exciting, empowering and inspirational. My podcast with Westwood One will be launching soon and I will have much more to say about this on Whoop it up with Vicki. I hope you will join me with my new journey so please stay tuned. I love all my fans, and I want to thank Bravo and Evolution for this incredible experience which my family and I have will never forget."
Tamra admitted earlier this month that her decision to leave the show attributed to her ex-husband Simon Barney's cancer diagnosis. Simon, 55, revealed he is suffering from stage three throat cancer and he first began experiencing symptoms in May 2019. The father of three opened up to People about his health struggles. "I'm a private person, despite what my time on reality television might say," he said.
Article continues below advertisement
Simon added that his diagnosis has been a "tough lesson" for him. "I think everything happens for a reason, I think your destiny is pretty much set for you, and you're here to learn lessons," he told the publication. "This has been a tough lesson for me. And I'm hoping it can be a lesson for others, too."
Simon began his cancer treatments in January and he told People that he told Tamra and their three children — Sidney Barney, Sophia Barney and Spencer Barney — before then. The ex-couple were married for 13 years before breaking up in 2011. Tamra has been married to wellness guru Eddie Judge since 2013.
Article continues below advertisement
Tamra also spoke to People how Simon's diagnosis affected her decision to leave The Real Housewives of Orange County. She said the news made me "reevaluate" her life. "Simon had told me about his health back in November and I was completely destroyed," she continued.
She added, "I was a mess! This is the father of my children. Any ill will between the two us just vanished. My first thought was, 'I don't want to take my kids to their dad's funeral.' And my second was, 'I don't want to go back to the show.' The reality of it is, after Eddie's heart condition and now Simon with cancer, it's just very hard for me to want to go on a show where people are screaming and yelling and arguing about things that don't even matter. They've taught me that life is precious, and you don't get that time back."
Article continues below advertisement
Tamra added she found out about Simon's cancer just days before she started filming season 14. She wanted to leave the show during that season, however, she was advised against it by her costars. "I thought, I'll be the first Housewife to go and be like, 'This is my last year, I won't be back.' Because I was really done," Tamra said.
"But I ran it by a few people close to me who said, 'Don't do that right now because you're emotional and you don't know how you're going to be feeling in a few months.' So I agreed, I might have just been reacting too quickly." Tamra hadn't told the show's production team about Simon's health. "I hadn't told production about Simon, so they didn't fully understand what was wrong with me. But I told Shannon, 'I feel like this is my last season.' In my gut, I knew I wouldn't come back,"she added.
Article continues below advertisement
Aside from Shannon, 55, other stars who will be returning for season 15 include Kelly Dodd, Braunwyn Windham-Burke, Emily Simpson, Gina Kirschenheiter and newcomer Elizabeth Lyn Vargas. Shannon and Kelly, 44, were confirmed to return on January 30. A source close to production told HollywoodLife.com at the time that Kelly was "honestly excited that Vicki and Tamra aren't going to be returning," however, Shannon "will miss her friends."
Shannon was reportedly "nervous" to return to filming following Vicki and Tamra's exits. The mother of three is the only "Tres Amigas" member left on the show. Shannon was also "sad" to see her pals leave but is "happy to find her own groove and new storyline," an insider dished to HollwyoodLife.com on February 17.
Article continues below advertisement
"She's happier and more in love than she's ever been, her business is doing well, so she has a lot going on. It seems like she will have no choice but to talk to Kelly about moving past everything at some point." The insider added, "It's too early to tell what everyone's real storyline are going to be, but they all know new faces are coming. They were all left feeling nervous after Vicki and Tamra were not returning, so they're thankful to be coming back. Kelly really wants one of her friends to join the new cast and the ladies are still waiting to see who the new ladies are as they haven't begun filming, but they all gave recommendations."
RHOC alum Heather Dubrow also had some advice for Tamra following her departure. The 51-year-old told Entertainment Tonight earlier this month about her friend, "You know what? When it comes to Housewives, I think that the whole is greater than the sum of its parts, and the show is going to live on a long, long time." She continued, "Tamra and Vicki are both incredible. Tamra is a dear friend of mine, I love Vicki, and they were both amazingly influential on the show. But sometimes, it is time for everyone to move on, and I am really excited to see what their next chapters are going to be."