VIDEOS
The Men of Spider-Man Steal Our Hearts and More Late Night Highlights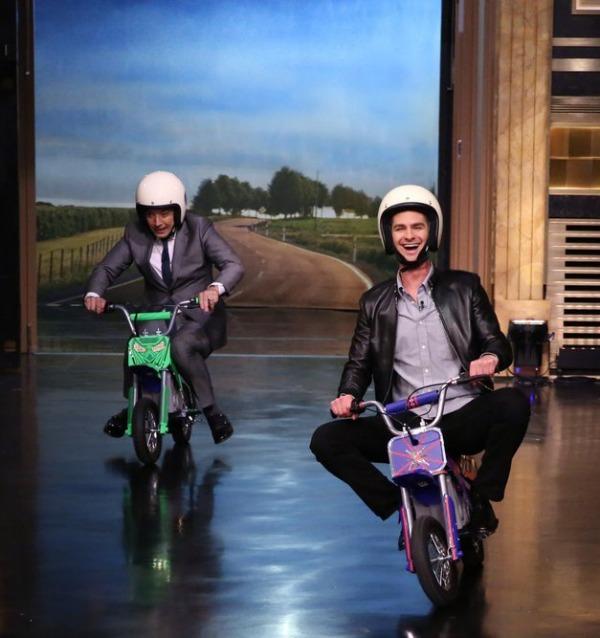 The Amazing Spider-Man 2 hits theaters today, but all we could think this whole week is how amazing the entire cast of this movie is! Emma Stone showcased her lip-synching skills in full force earlier this week and then her co-stars Andrew Garfield and Dane DeHaan also stopped by The Tonight Show Starring Jimmy Fallon and it was clear this whole cast is just the best.
Check out the Spider-Man dudes below as well as plenty more late night TV highlights in this week's Late Night Booty Call.
Article continues below advertisement
Just so we're all clear: Andrew Garfield is hot, talented AND hilarious. It's not fair, but its fun to watch.
hulu id=tcx4hstduggesd9bdanelg width=512
It sounds like Dane DeHaan was kind of destined for his comic book character future due to his upbringing:
hulu id=onacfxxgd4ewnk9uwvbu3g width=512
OK! News: The weirdest sports shows in Japan
Joel McHale stopped by The Late Show with David Letterman to talk about his big gig hosting the White House Correspondents Dinner this weekend:
Nick Carter and Jordan Knight revealed their "pick-up lines" on Watch What Happens Live, even though just showing up in a room should usually do the trick for either of them.
hulu id=2igl51f_sgolg7gql_-bsg width=512
What was your favorite late night TV appearance this week? Tell us in the comments below or on Twitter @OKMagazine.