EXCLUSIVE
Suri Cruise 'Approves' Of Mom Katie Holmes' BF, Actress Has 'Never Been Happier'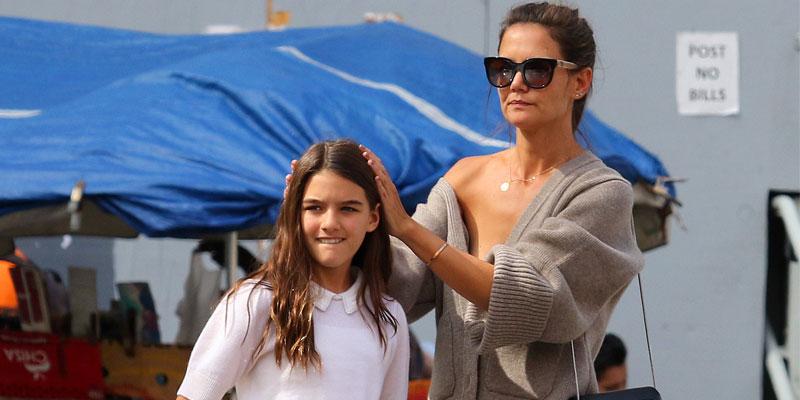 Article continues below advertisement
"Before the pictures of her mom and Emilio making out went public, Suri knew about him. Katie knew the relationship would eventually be exposed and didn't make any effort to hide it, like she did when dating Jamie Foxx," the insider shares. "Because of this, she had a talk with Suri so she would find out from her mom rather than reading about it online. Suri is happy that her mom is happy, and there isn't much more to it at the moment. If things get more serious, then obviously, Suri will be involved too. Katie and Suri are a package deal. You cannot get one without the other."
Even though Holmes, 41, has been unlucky in love before, the source notes that "there is something different" about Vitolo, 33.
MEET KATIE HOLMES' NEW MAN EMILIO VITOLO — 5 FAST FACTS ABOUT THE RESTAURATEUR
"He is charming and funny, and — unlike when she was dating Jamie on and off for six years — Katie isn't hiding anything. She is being herself again and has never been happier. For a long time, she thought she would never be in love again," adds a pal.
Article continues below advertisement
When the pair started seeing each other, Vitolo was still in a relationship with his ex-fianceé, Rachel Emmons. Holmes and Vitolo were first spotted together on September 1 at a restaurant in New York City — the "same day" Vitolo's engagement was called off, OK! previously reported.
The chef and the actress "had been seeing each other for a while," an insider exclusively told OK!, adding that Holmes knew Vitolo was engaged and living with his fianceé. "I'm shocked to hear that they were sneaking around this whole time."
LOVE IN THE AIR! KATIE HOLMES PACKS ON THE PDA WITH NEW MAN EMILIO VITOLO
Vitolo has "apparently been on Raya the entire time" he's been seeing Holmes, a source told OK!, adding that he met his ex-fiancée on the dating app before ditching her for Holmes.
While it's unclear when the Dawson's Creek alum and the restaurateur started seeing each other, Vitolo wasn't afraid to get flirty with Holmes on social media in July, despite him being engaged.
Article continues below advertisement
At the end of the day, the mom of one — who rarely speaks about her relationships — is determined to spend time with her kiddo and raise her right. "My child is the most important person to me, and her upbringing is paramount to my work right now," she told Town & Country in March 2017. "It's very important that I'm present and she has a stable, innocent childhood. I feel so blessed to do what I do, but there's nothing in the world better than watching your child succeed."