NEWS
Brandi Glanville Brought Her Boobs And Her Fisticuffs To Last Night's WWHL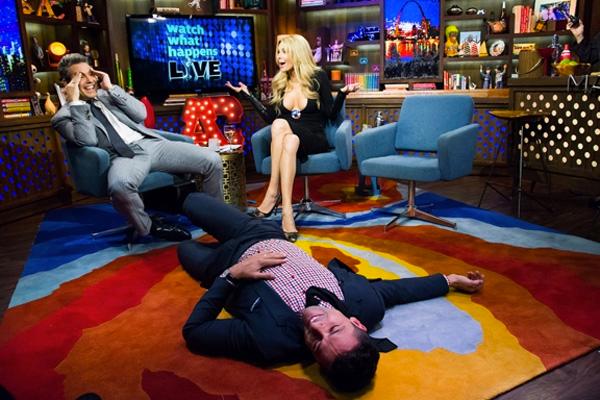 Every morning here at OKMagazine.com HQ, we gather 'round with our coffee and bagels fruit, and talk about the pop culture happenings of the previous 24 hours. Sometimes we get excited about things (Kate Middleton twirled her hair!), sometimes we let things go (The World Series, what now?) and sometimes we LOSE OUR DAMN MINDS.
Enter: Ms. Brandi Glanville.
Brandi was a guest on Watch What Happens Live last night, and as Andy Cohen so eloquently put it in The After Show, "This is one for the books." Seriously, though—His mouth was agape. His parents were speechless. Mark Consuelos fell out of his chair and dead-fished it on the clubhouse's colorful carpet for nearly 30 seconds. So what led to this utter chaos? Here's a rundown of what shall henceforth be known as "The Night Brandi Glanville Said "P*ssy" on National TV":
Article continues below advertisement
On the Real Housewives of Miami reunion, Adriana De Moura let it slip that Brandi once told her that Joanna Krupa was the reason that Real Housewives of Beverly Hills star Yolanda Foster split from her first husband, Mohamed Hadid. (You know Mohamed, right? He's on every Bravo show ever? He hosted Lilly Ghalichi's 30th birthday on Shahs on Sunset? Still don't know? Reza, take it away...)
But while Joanna refuted the claim and Adriana went on to say that maybe Joanna's husband Roman was gay, Andy wasn't about to let that juicy bit of gossip slide. So later on, when Brandi was a guest on WWHL, the jovial host asked Brandi again if it was true. She stood her ground, and we went on with the show. And went on staring at her boobs.
Then, during The After Show, Andy got word in his earpiece that Joanna had tweeted a response to Brandi. And the rest... is... clubhouse... history. Watch below:
And may we all live by Andy's words of wisdom: "Do NOT engage Brandi Glanville in a twitter war."
polldaddy poll=7556374
Did you watch WWHL last night? Would you engage Brandi in twitter war? Did you watch this video over 25 times like I did? Share in the comments or tweet us @OKMagazine. And make sure to vote in our poll!