NEWS
Donald Trump Booed While Paying Respects To Ruth Bader Ginsburg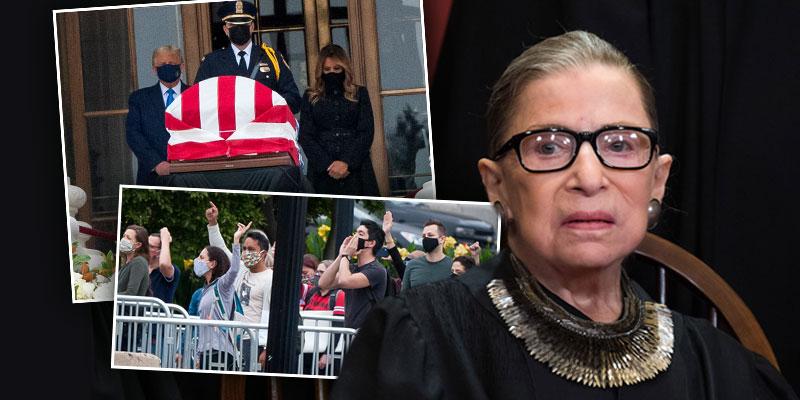 President Donald Trump was not received well while paying his respects to Ruth Bader Ginsburg in Washington D.C. As Trump emerged at the top of the Supreme Court steps on Thursday, September 24, he was met with loud booing.
"Vote him out," the crowds began to chant as Trump stood next to the flag-draped coffin containing the late Supreme Court Justice. The angry crowd also chanted "honor her wish," referencing a statement that Ginsburg said to her granddaughter in her final days, according to NPR.
Article continues below advertisement
With his face concealed behind a mask, Trump glanced over at the feisty crowd as they chanted. His wife, First Lady Melania Trump, looked straight ahead.
It is reported that the Trumps stood quietly by the coffin, before returning to their limousine and heading back to the White House.
TRUMP EAGER TO NOMINATE A WOMAN TO FILL JUSTICE GINSBURG'S SEAT BEFORE ELECTION
White House press secretary Kayleigh McEnany spoke out about the booing, calling it "appalling," during her midday briefing. "Certainly to be expected when you're in the heart of the swamp," she said. "I travel with the President all across the country — Pennsylvania, North Carolina, Florida, Nevada — and everywhere we go, the streets are lined with support like I don't think any other president has had previously.
Article continues below advertisement
Long lines have formed outside of the courthouse this week to pay respect to Justice Ginsburg, including parents of young girls wanting to honor the female justice who dedicated her life to gender equality.
Ginsburg was appointed to the court in 1993 by then-President Bill Clinton, and served as the most senior member of the court's liberal side. Dubbed the 'Notorious RBG,' the beloved figure consistently delivered progressive votes on the most divisive social issues, including abortion rights, same-sex marriage, voting rights, immigration, health care and affirmative action.
RBG will be the first woman to lie in state in Statuary Hall at the Capitol during a small ceremony on Friday, September 25.