NEWS
Watch: Ellen DeGeneres Addresses Scandal On TV, Says I'm 'A Work In Progress'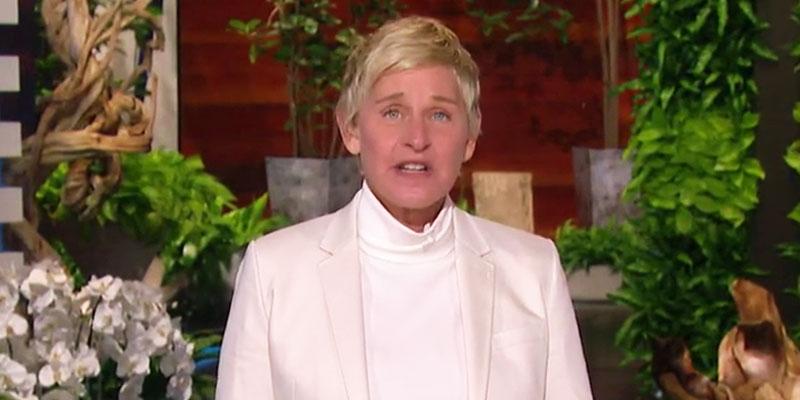 Article continues below advertisement
DeGeneres admitted she was "happy" to be back in the studio and wanted to get down to business, despite not having an in-person audience.
FORBES HIGHEST-PAID CELEBS OF 2020! ELLEN & KANYE MAKING BANK AMID CONTROVERSIAL BEHAVIOR
"As you may have heard, this summer there were allegations of a toxic work environment at our show, and then there was an investigation," she stated. "I learned that things happened here that never should have happened. I take that very seriously, and I want to say I am so sorry to the people who are affected. I know that I am in a position of privilege and power, and I realize with that comes responsibility, and I take responsibility for what happens at my show.
"This is The Ellen DeGeneres Show, I am Ellen DeGeneres," she continued. "My name is there, my name is there, my name is on underwear. We've had a lot of conservations over the last few weeks about the show, our workplace and what we want for the future. We have made the necessary changes and today, we're starting a new chapter."
After poking fun at her "be kind" mantra, the Finding Dory star said she is "that person that you see on TV."
Article continues below advertisement
"I am a talk show host... and some of you know that I was an actress," she revealed. "I have played a straight woman in movies, so I am a pretty good actress but I don't think that I am that good that I could come out here everyday for 17 years and fool you. This is me. And my intention is to always be the best person I can be. And if I have ever let someone down, if I have ever hurt their feelings, I am so sorry for that. If that is ever the case, I let myself down, and I have hurt myself as well because I always try to grow as a person."
Article continues below advertisement
Ultimately, DeGeneres wants her staff of 270 people "to be happy and to be proud to work here." Between the ongoing coronavirus pandemic, wildfires, racism and people losing jobs, DeGeneres wants people to tune into her show to bring them happiness and joy. "I still want to be the one hour a day that people can go to escape and laugh. I want to continue to help all of the people that we help everyday, and I am committed to making this the best season we've ever had," she said. "So, welcome to season 18 of The Ellen Show, I am so glad that you're here."
Article continues below advertisement
In July, former staffers from the Emmy-winning series came forward and claimed there were incidents of racism and sexual misconduct going on behind the scenes. As a result, Ed Galvin, Kevin Leman and Jonathan Norman — who were all top producers — were ousted after WarnerMedia launched an internal investigation.
Following the accusations, DeGeneres apologized to her staff and held a video call, where she confessed she is far from perfect. "I'm a multi-layered person, and I try to be the best person I can be and I try to learn from my mistakes," the host told staffers, a source told PEOPLE. "I'm hearing that some people felt that I wasn't kind or too short with them or too impatient. I apologize to anybody if I've hurt your feelings in any way."
Watch the full monologue below: