NEWS
Savannah Guthrie Looks Toward Massive NBC Deal After Successful Town Hall Gig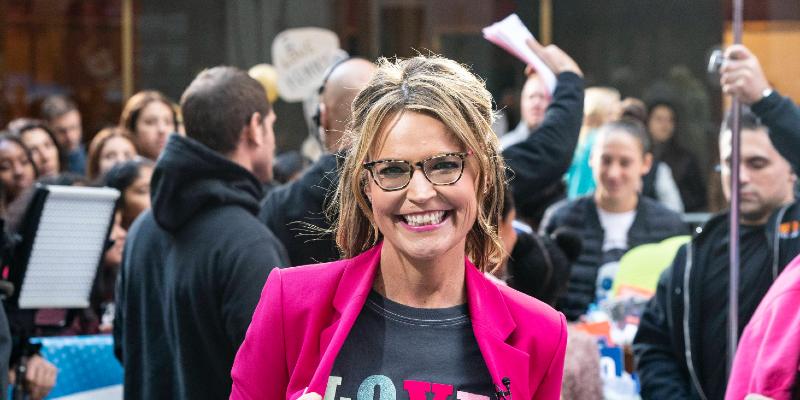 Journalist Savannah Guthrie may have just landed herself a new massive deal with NBC following her successful town hall. The network was reportedly impressed with how she moderated the event with President Donald Trump, Page Six reported.
The Today anchor, 48, would see a huge salary increase with the new deal. She previously signed a contract extension in late 2016, and was rumored to earn $8 million a year. However, her salary didn't come close to Matt Lauer's $20 million a year before he was axed after sexual harassment allegations.
Article continues below advertisement
"Savannah's new deal will be significantly more than $8 million a year, taking into consideration inflation, Lauer's old deal and her popularity," a source told the publication.
Guthrie impressed NBC bosses, as she was composed and steady during the President's town hall two weeks ago. She will be at the helm of the network's election coverage with Lester Holt and Chuck Todd next week and recently landed the first-ever live interview with Bob Woodward on his book Rage, about President Trump.
Article continues below advertisement
"Rachel Maddow is livid at her parent company and Savannah for agreeing to do this," the source said "The liberal base that makes up Rachel's audience is just as angry as Rachel, putting her in a very difficult situation.
"Behind-the-scenes, Rachel has made her feelings very clear — she doesn't think NBC should back Trump for pulling out of the debate and give him what he wanted. But saying anything would make Savannah and her bosses mad, while saying nothing makes her complicit."
Article continues below advertisement
Some sources believe that Guthrie was happy about the potential to garner huge ratings. "Rachel needs to be careful," the insider explained. "Everyone knows Savannah is the queen of NBC. The network has a long history with Donald Trump dating back to The Apprentice."
INSIDE THE EXPLOSIVE WHITE HOUSE COVID-19 CRISIS — EVERYTHING WE KNOW
"Rachel can make all the fuss she wants behind the scenes, but it would be a huge mistake to take on Savannah in public," another source told OK!. "MSNBC is welcome to scream and shout about the President all day long, but when they start affecting the bottom line at NBC, they will be silenced, quickly."
Representatives for NBC did not give Page Six a comment about Guthrie's new deal.