NEWS
Revenge! Joe Exotic Wants Justice For Carole Baskin's Missing Husband Don Lewis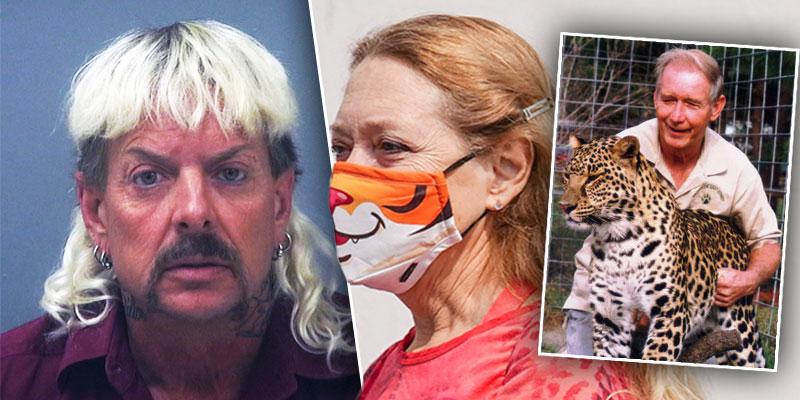 Will Tiger King fanatics soon find out what happened to Carole Baskin's late husband, Don Lewis? Joe Exotic seems to think so! In a phone interview from his federal prison in Texas, Exotic blasted his enemy, Baskin, and said that the truth will finally be revealed about Lewis, TMZ reported.
The conversation was recorded before the cat lover, 59, went on Dancing With the Stars, an insider told the outlet, but Exotic, 57, is thrilled that Lewis' case is being brought to light again. During the call — which is part of a new Discovery ID special — Exotic said it's about time Lewis' family finds the truth about what really happened to him in 1997.
Article continues below advertisement
Baskin didn't mind that the commercial aired and even said it would be "wonderful" if authorities could finally solve the mystery of his disappearance.
Lewis vanished in 1997, and Baskin reported him missing to the authorities. Baskin's late husband's van was found at a remote airport — not too far from where the former flames lived. Lewis' keys were reportedly still in the vehicle. In 2002, Baskin had a judge declare Lewis dead.
Article continues below advertisement
Now, Baskin is being sued for allegedly making jokes about Lewis' disappearance on DWTS.
Lewis' daughters, Gale, Lynda and Donna, and his former assistant, Anne McQueen, are suing Baskin for defamation.
According to court documents obtained by TMZ, McQueen claims Baskin didn't react after DWTS judges joked about the viral TikTok video — where people have changed the words to Megan Thee Stallion's song 'Savage' to sing about Baskin and Exotic's tense relationship.
Article continues below advertisement
Lewis' former assistant also believes Baskin should have spoken up after the judges said she "didn't quite kill the paso doble dance, it was kind of sedated." McQueen did not appreciate the words "kill" and "sedated" being used on-camera.
CLAWS OUT! 'DWTS' CONTESTANTS WANT CAROLE BASKIN 'OFF FIRST,' REVEALS INSIDER
"There's no way I'd associate losing him with that word or concept," Baskin hit back. Baskin said that any Tiger King reference about murder or killing someone that is made on DWTS "is strictly based on the fact that so many animal abusers have tried unsuccessfully to kill me either by rallying their minions or hiring hitmen."
Joe Exotic: Tigers, Lies and Cover-Up premieres on Investigation Discovery on Sunday, September 27, at 9 p.m. EST.