NEWS
Armie Hammer Was Allegedly Broke While Dating Paige Lorenze, Who Paid For 'Everything' During Their Short-Lived Toxic Affair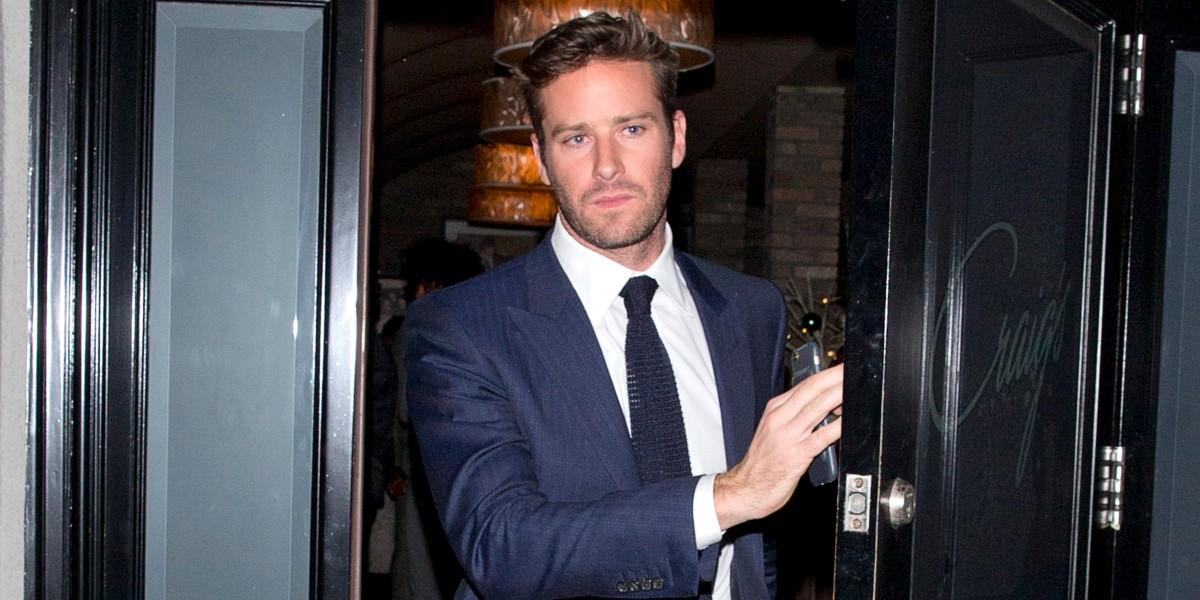 Armie Hammer, the once highly praised Hollywood star known for his wicked good looks and beautiful life with estranged wife Elizabeth Chambers and their two children, has fallen from grace after the shocking allegations of his twisted, hidden fantasies of cannibalism and bondage made headlines.
Article continues below advertisement
Following the bombshell revelations in recent months, his former flame Paige Lorenze — who was the first of his exes to speak out against him and his alleged violent sexual predilections — claimed that Hammer was broke during their short romance and that she paid for "everything," since the actor was just getting by on loans from his friends, according to a new exposé in Vanity Fair.
Hammer and Lorenze's romance began last September after he and Chambers called off their 10-year marriage in July.
However, the blonde beauty eventually broke things off with Hammer after "he started making rules for me of things I could and couldn't do, who I could have over, who I couldn't," she claimed. "He told me that I couldn't have anyone else in my bed. And then I just started to feel really unsafe and really sick to my stomach about things."
SOCIAL DISTANCING FOR GOOD: CELEB COUPLES WHO'VE CALLED IT QUITS DURING QUARANTINE
Lorenze ended their relationship in December over text "because you never know what you're going to get with him — he's kind of a scary person." During their tumultuous romance, Lorenze claimed he used a knife to carve the letter "A" above her pubic area and introduced her to BDSM.
Article continues below advertisement
Lorenze first came forward about Hammer's twisted fantasies after his alleged messages about cannibalism went viral.
As OK! previously reported, the stomach-churning scandal began in January, when the Instagram account House of Effie leaked DMs allegedly sent from the 34-year-old to an unidentified women. In the disturbing unverified messages, Hammer allegedly detailed graphic sexual fantasies.
After the messages leaked, several woman who had dated Hammer came forward with similar allegations against the Rebecca actor.
Article continues below advertisement
Courtney Vucekovich brought forward the idea that Hammer apparently wanted to chomp on her bones: "He said to me he wants to break my rib and barbecue and eat it," adding, "He says, I want to take a bite out of you. If I had a little cut on my hand he'd like suck it or lick it."
She also told Page Six that Hammer wanted to "break my rib and barbecue and eat it."
Article continues below advertisement
Hammer initially refused to respond to the "b****it claims," and his team denied the allegations as "patently untrue," adding that any interactions with sexual partners were "completely consensual in that they were fully discussed, agreed upon, and mutually participatory."
"The stories being perpetuated in the media are a misguided attempt to present a one-sided narrative with the goal of tarnishing Mr. Hammer's reputation, and communications from the individuals involved prove that," Hammer's attorney Andrew Brettler previously said.
Article continues below advertisement
In January 2021, he was in another scandal when he allegedly posted a photo of a lingerie-clad woman on his private Instagram account and called her "Miss Cayman."
Miss Cayman Islands Universe Committee denounced the video, insisting that the woman in the photo had nothing to do with their organization.
"On January 15, 2021, the RCIPS received an allegation of misuse of ICT in relation to a suggestive video which had been posted on social media. Officers investigated the matter and spoke to the suspect, who was warned about his conduct, in accordance with the wishes of the complainant," the Royal Cayman Islands Police Service stated.
"My deep sympathies to Miss Cayman, who I don't know, and to the entire organization as I had no intentions of implying she was actually Miss Cayman," Hammer said.