'Unlikely' Buddies Barack Obama & Bruce Springsteen Team Up For 'Renegades: Born In The USA' Podcast
Former president Barack Obama and legendary rocker Bruce Springsteen joined forces to launch their "Renegades: Born in the USA" podcast — through Obama and former first lady Michelle Obama's production company, Higher Ground.
On Monday, February 22, the "unlikely" friends debuted their new project with two episodes on Spotify.
Article continues below advertisement
In the first episode, titled "Outsiders: An Unlikely Friendship," Obama reflected on the strife the pandemic caused, racial injustice in America and how the country has to "find our way back to a more unifying story."
"That topic came to dominate so many of my conversations last year, with Michelle, with my daughters and with my friends," Obama said on the podcast. "And one of those friends just happens to be Mr. Bruce Springsteen."
The 59-year-old explained that while he, a lawyer and politician from Hawaii, and Springsteen, a rock star from New Jersey, may seem to have little in common, "we've found that we've got a shared sensibility about work, about family and about America."
Obama added: "In our own ways, Bruce and I have been on parallel journeys trying to understand this country that's given us both so much."
Article continues below advertisement
Obama and Springsteen — who recorded their eight-episode podcast in a converted farmhouse on Springsteen's property — will cover topics including fatherhood, marriage and the state of America, Spotify said in a statement to CBS News.
Article continues below advertisement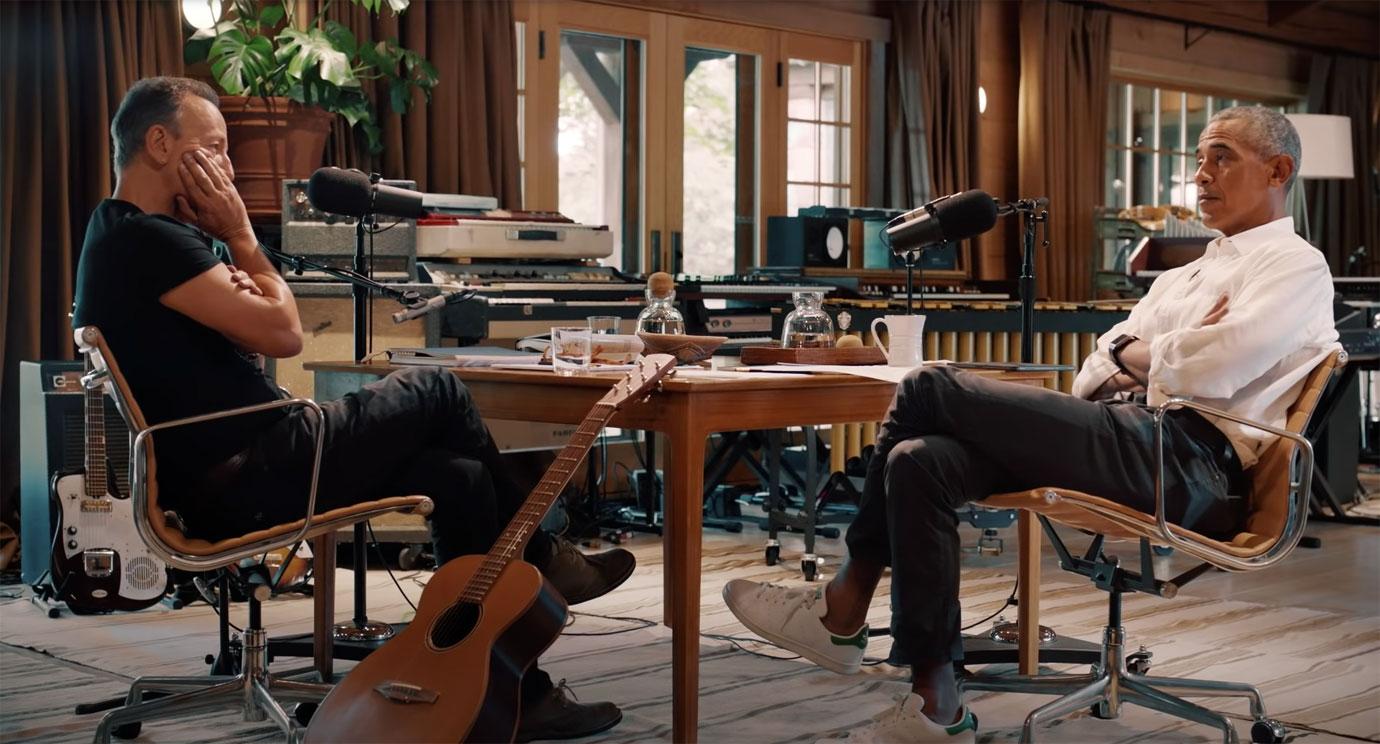 "President Obama and Bruce Springsteen have formed a deep friendship since they first met on the campaign trail in 2008," the statement read. "Now, for the first time ever, Higher Ground and Spotify invite listeners to eavesdrop as they discuss their hometowns and role models, explore modern manhood, and confront the painfully divided state of America today and how we can all move forward together."
BRUCE SPRINGSTEEN REVEALS HE SUFFERS FROM MENTAL HEALTH ISSUES
Article continues below advertisement
Springsteen's new podcast gig comes after he recently made headlines for being busted for a DWI on November 14. As OK! previously reported, the "I'm On Fire" crooner, 71, pulled over while driving his motorcycle to take a picture with fans, and "then a fan offered him a shot of liquor, which he took, while sitting on his bike, which was stationary," a source said. "Park police saw what happened and they immediately pulled Springsteen over as he drove away."
His Super Bowl LV Jeep commercial has since been yanked from YouTube.
"Renegades: Born in the USA" is Higher Ground's second original podcast, following the former first lady's "The Michelle Obama Podcast," which is available exclusively on Spotify.