COUPLES
Elizabeth Chambers Finally Breaks Silence Weeks After Estranged Husband Armie Hammer Came Under Fire For Explosive Alleged DMs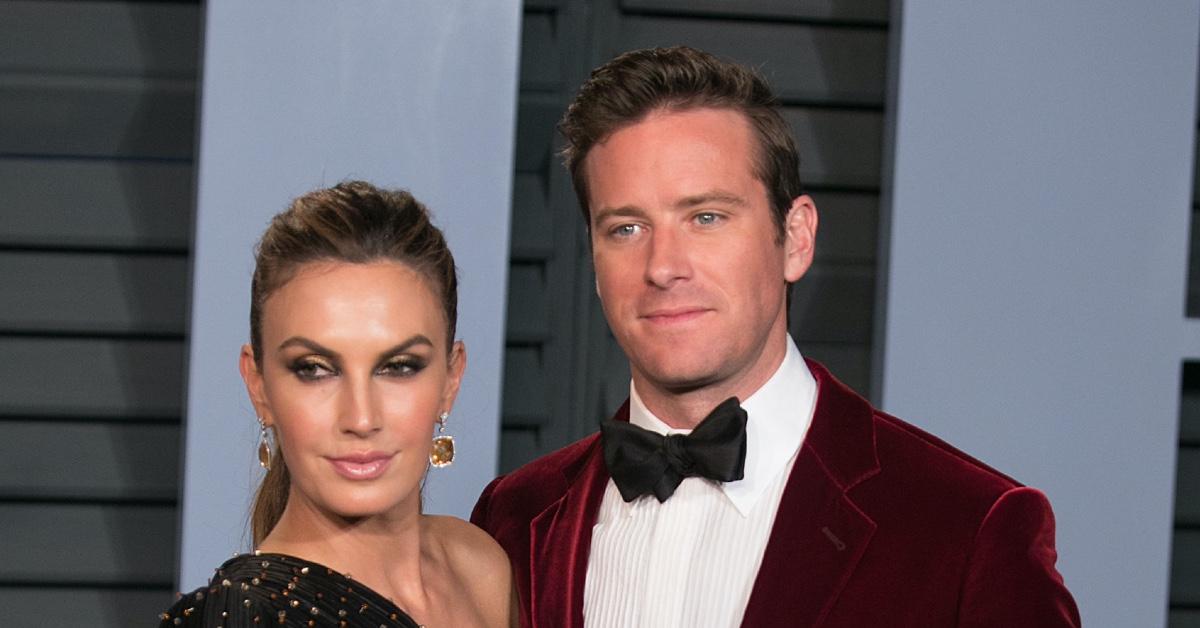 It looks like Elizabeth Chambers finally found the words to express her disbelief with estranged husband Armie Hammer — and those words are, well... "No. Words."
JustJared's Instagram account shared photos of Call Me By Your Name director Luca Guadagnino with stars Timothée Chalamet and Hammer to announce that Guadagnino and Chalamet "are teaming up for a... cannibal love story movie" (unsurprisingly without Hammer).
Article continues below advertisement
And for the first time since Hammer made headlines for allegedly sending some shocking direct messages, Chambers, 38, shared her reaction to the news of the upcoming cannibal film. "No. Words," the mother-of-two commented on the post.
While many questioned "what is wrong" with people in Hollywood — given how sensitive this ongoing issue is with Hammer, whose ex-girlfriends have claimed he had cannibalistic fantasies — others found humor in the announcement. "When life gives you lemons 🍋, make lemonade 🤷🏻‍♀️," one user quipped while another added: "The scary thing is this isn't even the weirdest part of 2021."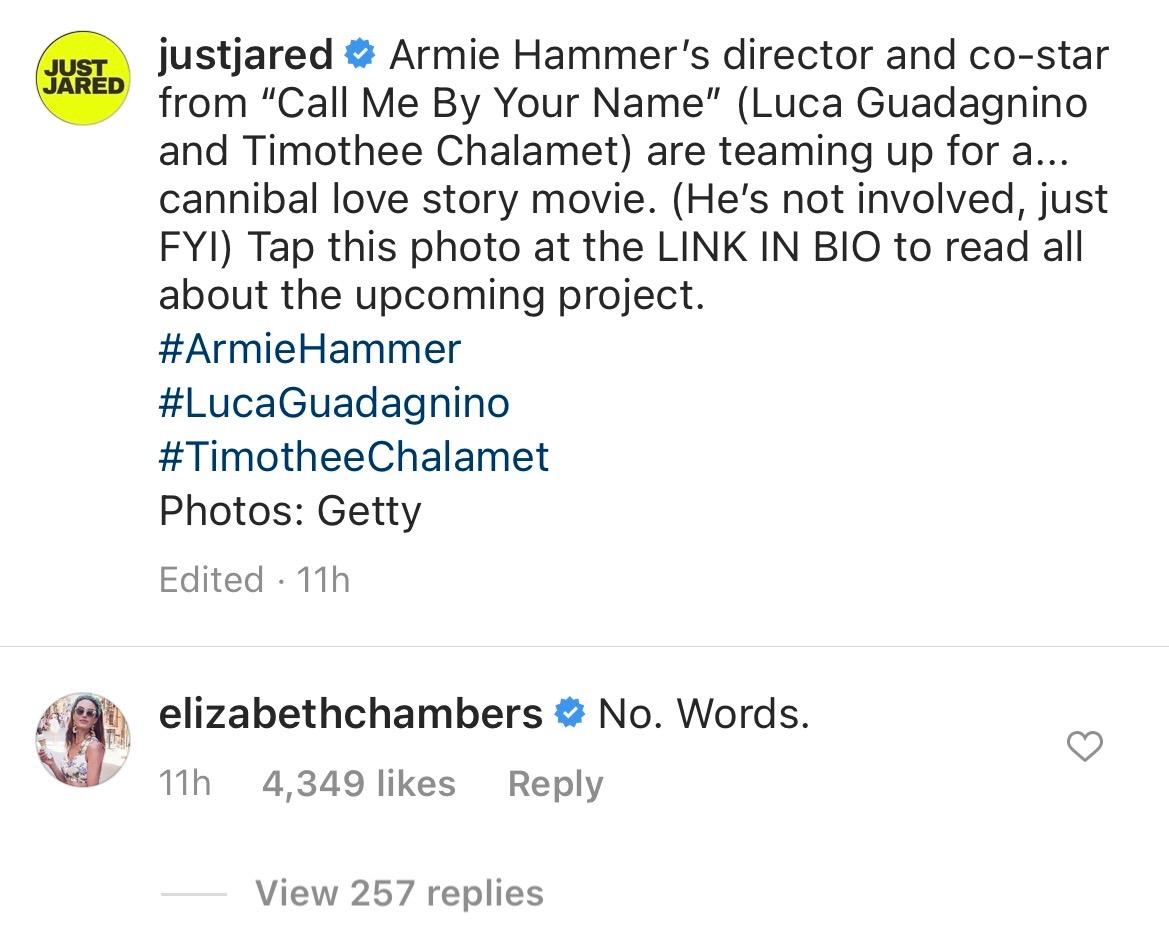 Article continues below advertisement
Chambers — who filed for divorce from The Social Network star, 34, last July — previously kept quiet after her former hubby was accused of sharing his sensational sexual fetishes via disturbing leaked Instagram DM messages (which have not been verified). However, Hammer has responded to the allegations, calling them "bullsh*t claims."
After Instagram account House of Effie posted screenshots of messages said to be from him, several of Hammer's exes came forward to speak on the actor's supposed dark and twisted sexual fantasies.
MORE ON:
Elizabeth Chambers
Article continues below advertisement
Hammer's ex-girlfriend, Paige Lorenze, claimed that the Hollywood star brought up cannibalism "multiple" times. "He said he wanted to find a doctor that would remove my ribs," she shared.
"He was telling me you can remove the bottom rib so he could smoke them, cook them and eat them," Lorenze added. "He kept saying, 'You don't need them.'" She also said Hammer used a knife to carve an "A" in her pubic area as a branding method. "He wanted me to show them off and be proud of them," the 22-year-old confessed.
Article continues below advertisement
As OK! previously reported, Lorenze and Hammer struck up a romance in August 2020, following his split with Chambers. Lorenze called it quits with Hammer last December.
Another ex, Courtney Vucekovich, said Hammer's behavior quickly turned obsessive when they were together. "He kind of makes it like, 'I'm going to teach you things,'" she admitted. "I had this gut feeling the whole time that this was not right. He's not well."
Since Hammer's alleged messages surfaced online, the actor dropped out of his upcoming film, Shotgun Wedding (he has since been replaced by Josh Duhamel, according to a recent casting notice), and it is reported that he also exited the upcoming Paramount+ The Godfather series, The Offer.