NEWS
Armie Hammer Carved The Letter 'A' Above My Pubic Area With Knife, Claims Traumatized Ex-Girlfriend Paige Lorenze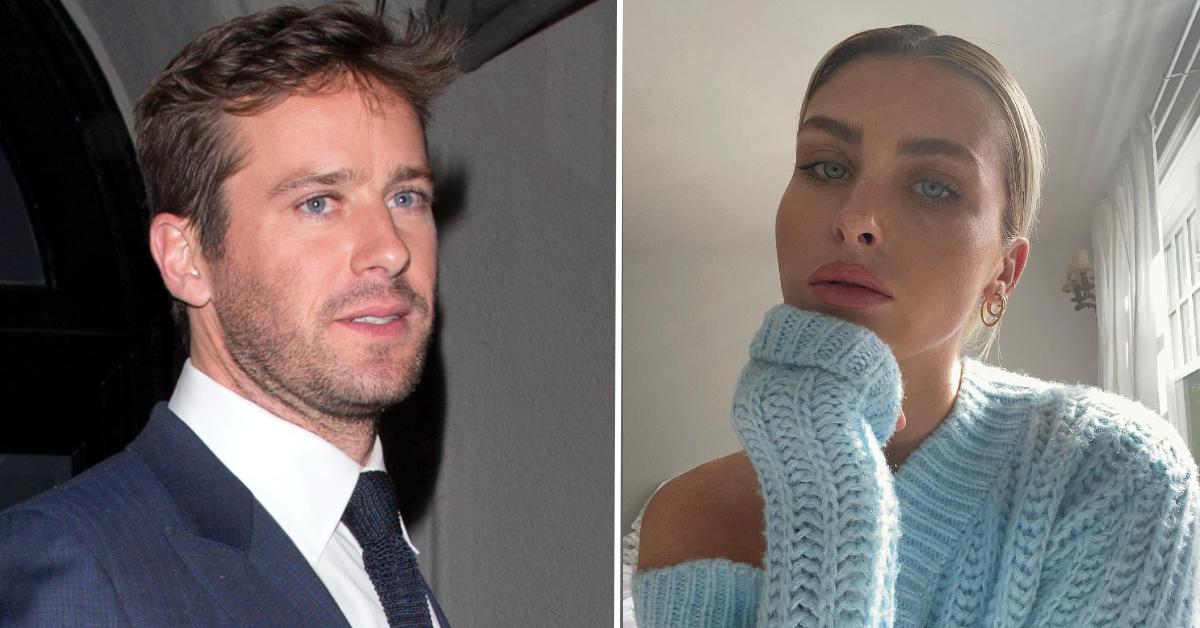 After Armie Hammer's alleged messages about cannibalism and sexual fantasies went viral, the actor's ex-girlfriend Paige Lorenze is now telling all about their crazy relationship — including how he carved the letter "A" about her pubic area with a knife.
"I felt I was letting him down if I said no," the 22-year-old said. "You can still see it. It was extremely painful and traumatizing. He told me that he bragged about it to his friends."
Article continues below advertisement
Additionally, Lorenze claims that the Hollywood star, 34, also introduced her to BDSM — "bondage and discipline, dominance and submission, sadism and masochism" — during their relationship, which lasted from August to December 2020.
"To start off with, Armie was so charming," the blonde beauty explained. "It seemed like a fun adventure to try new things. He eased me into darker and darker things. He manipulated me — and I liked him, which is the scary part."
Article continues below advertisement
Now, Lorenze is trying to figure out what made her so attracted to Hammer in the first place. "Consent is really complex, and saying yes to something does not negate the trauma you might be burdened with after the fact," she noted.
Following the tryst with The Social Network star, Lorenze has been seeing a therapist to help her move on from the harrowing events. "I have had to work really hard to come to terms with the fact that I am not responsible for the trauma I experienced," she said.
Recently, Lorenze posted a YouTube video, in which she revealed she was leaving Los Angeles after a relationship went sour, seemingly referring to Hammer.
"I ended up showing up and instantly got into a relationship with someone because I was super vulnerable, super heartbroken, and I just wanted someone to distract me. I ended seeing someone and it was the strangest … and that's a whole other thing that I don't want to talk about right now. This is really hard to talk about," Lorenze said in the clip.
Article continues below advertisement
"The whole thing is honestly like really hard for me to talk about. I was just really not in a good place. And I allowed a lot of things to happen that I wasn't OK with and numbed myself. L.A. was not a good experience for me," she continued.
Lorenze is not the only girl who has been linked to Hammer to come forward. Jessica Ciencin Henriquez tweeted, "If you are still questioning whether or not those Armie Hammer DMs are real (and they are) maybe you should start questioning why we live in a culture willing to give abusers the benefit of the doubt instead of victims. 🤔 TW// sexual violence."
SOCIAL DISTANCING FOR GOOD: CELEB COUPLES WHO'VE CALLED IT QUITS DURING QUARANTINE
Article continues below advertisement
"I need to eat your entire body. I need to touch every part of you, inside and out ... I want to bite pieces off of you," one of the alleged messages read.
In another note, which has not been verified, Hammer — who split from his wife, Elizabeth Chambers, in July 2020 — referred to himself as a cannibal and told an unidentified woman that he wanted to "chase [her] down" and "pounce on [her] so fast," adding that "you'll need something strong to hold me back from you."
After the scandal made headlines, Hammer not only dropped out of his upcoming film Shotgun Wedding, but called the accusations "bulls**t" and said he wouldn't respond to the "vicious and spurious online attacks against me."
However, a source exclusively told OK! that Hammer is "secretly enjoying all the attention."
"He think's he's Kim Kardashian in the middle of a sex tape scandal or Tiger Woods caught with a mistress. It's perverse, but he's always wanted this," the insider added.
Lorenze first spoke to the February 1 print issue of Star magazine.