NEWS
Paige Lorenze — Previously Linked To Armie Hammer — Asks For 'A Good Therapist' After Actor's Alleged Messages About Cannibalism Go Viral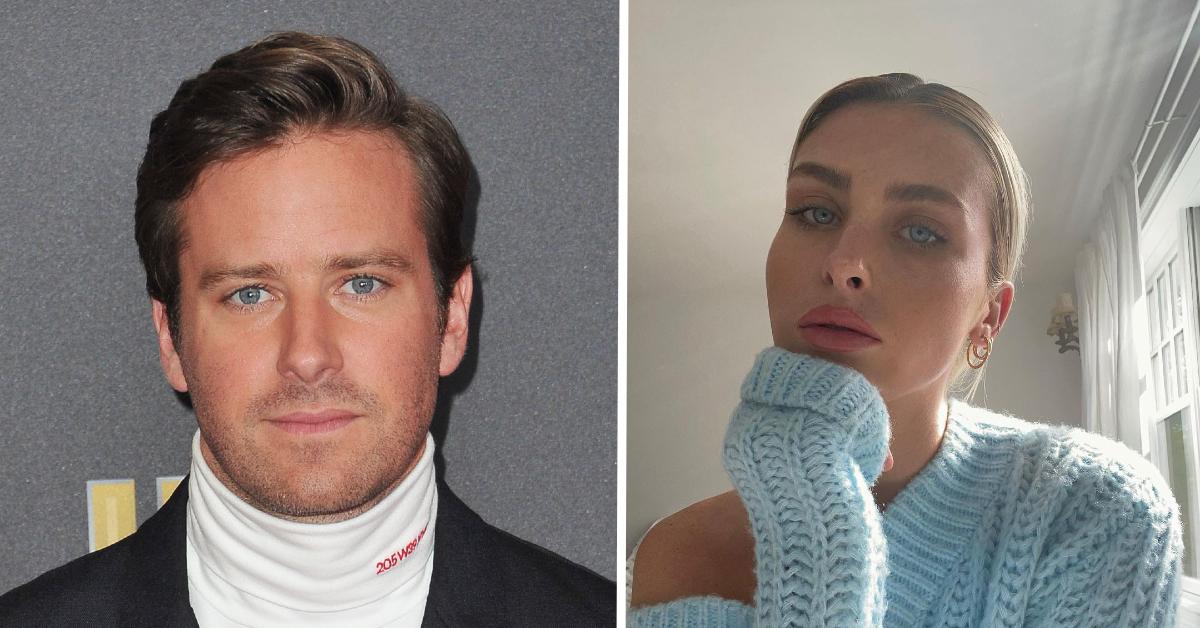 Talking about someone specific? Paige Lorenze, who was previously linked to Armie Hammer, wrote a cryptic message on Twitter — just a few days after alleged messages from the actor's Instagram account went viral.
"Anyone got a good therapist?" the 22-year-old wrote on Sunday, January 10.
Article continues below advertisement
Some of Lorenze's fans immediately chimed in to support the blonde beauty. One person wrote, "dude when u find one lmk awlrightttttttt ok," while another added, "wait so you didn't know about all of his kinks and stuff? girl i am so sorry men ain't s**t."
A third user commented, "yikes. sorry."
Article continues below advertisement
Jessica Ciencin Henriquez — who was also linked to Hammer, 34 — replied, writing, "Yeah girl, I'll send you her number. 😉."
Following Hammer's split from Elizabeth Chambers, The Social Network star has been spotted out and about with a few women. In December 2020, Lorenze and Hammer were seen walking a dog in Los Angeles, Calif.
The pair looked laidback while out and about — Hammer wore jeans and a gray T-shirt, while Lorenze sported a black sweatshirt with green sweatpants.
Prior to that, Hammer and Henriquez had lunch in September 2020. In photos, the duo sat close to one another while having a conversation.
Article continues below advertisement
The Hollywood star recently made headlines after alleged private messages from his Instagram account were leaked online.
The supposed messages, which date back to 2016, discuss sexual fantasies and cannibalism.
INSIDE ARMIE HAMMER & ELIZABETH CHAMBERS'S $5.8 MILLION HOME: SEE PHOTOS
"I am 100 percent a cannibal. I want to eat you. F**k. That's scary to admit. I've never admitted that before. I've cut the heart out of a living animal before and eaten it still warm," the note reads.
Another reads: "I'd chase you down and pounce on you so fast if you tried to walk away. You'll need something strong to hold me back from you."
Soon after, Henriquez took to Twitter to weigh in on the shocking remarks.
Article continues below advertisement
"If you are still questioning whether or not those Armie Hammer DMs are real (and they are) maybe you should start questioning why we live in a culture willing to give abusers the benefit of the doubt instead of victims. 🤔 TW// sexual violence," she wrote, adding screen grabs of the alleged messages.
She added: "Because some of you made it to adulthood without knowing what this is. Abuse: cruel and violent treatment of a person or animal."
Article continues below advertisement
Now that the Call Me By Your Name star is single, it seems like he may be letting loose. In a video obtained by OK! and believed to have been recorded around September 2020, Hammer is seen cracking open a beer while driving behind the wheel of a car.
After opening the alcoholic beverage, he said: "Sending love, boys."
In another clip — which OK! also obtained — Hammer licked a mystery white substance while in the passenger seat of a friend's car. Before he ingested the powder, he said: "S**it's getting weird!"
Hammer has been upfront about how quarantine hasn't been the easiest time for him.
"I think like everyone else on the planet, I felt like the rug was ripped from under my feet," he said. "And I felt like I could feel it happening in slow-motion, like the rug was just being ripped from my feet and I was falling face-first and I was gonna smash my face on the ground. I felt like I was in a state of like, free fall almost, like it was just, it was really difficult."