ROYALS
Samantha Markle Predicts Meghan & Prince Harry Divorce, Despite Having Zero Relationship With The Couple: Watch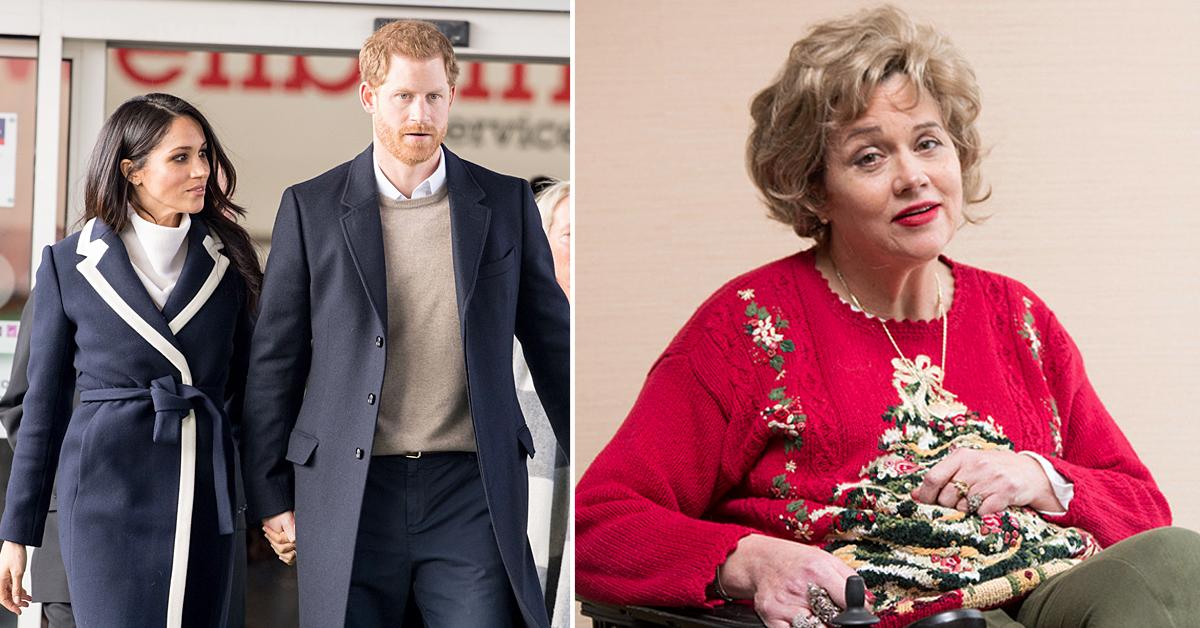 Even though Meghan Markle's estranged sister, Samantha, has no relationship with the Duchess and Prince Harry, it didn't stop her from weighing in on the couple's marital status.
One week after Harry and Meghan's bombshell interview with Oprah Winfrey — discussing their royal life behind the scenes and Meghan's tumultuous relationship with her half-sister and estranged father, Thomas Markle — Samantha said that she sees Harry and Meghan's relationship "ending in divorce unless they get extensive counseling and can agree to work on being honest and work on apologies to everyone they've damaged in the course of this."
Article continues below advertisement
Samantha also said Meghan would need to issue a public apology to their father, Thomas, in order to restore their relationship following their 2018 fallout. As OK! previously reported, Meghan, 39, and her estranged father, 76, haven't spoken since he staged paparazzi photos ahead of the Sussex's 2018 wedding.
As Meghan explained during the couple's CBS tell-all on Sunday, March 7, she and Harry offered Thomas multiple chances to come clean about the photos, but "he wasn't able to do that."
Article continues below advertisement
"I look at Archie, I think about this child [on the way], and I genuinely can't imagine doing anything to intentionally cause pain to my child. I can't imagine it. So it's hard for me to reconcile that," Meghan candidly told Oprah.
Samantha's thoughts on the couple's marriage, which she claimed is doomed, come after Meghan shared her opinion on Samantha's book, The Diary of Princess Pushy's Sister, which was released in January. "I think it would be very hard to 'tell all' when you don't know me," Meghan said during the primetime interview.
"I don't feel comfortable talking about people that I really don't know," she added. "I grew up as an only child, which everyone who grew up around me knows, and I wished I had siblings."
Article continues below advertisement
During her sit down with Oprah, Meghan revealed she had "very clear and very scary" suicidal thoughts and "didn't want to be alive anymore" because she "didn't see a solution" on how to endure the pressure of royal life.
"Depression is not an excuse for treating people like dishrags and disposing of them," Samantha, 56, said of Meghan's tumultuous time in the spotlight.
Samantha and Meghan have been at odds with each other since before the actress wed Harry, due to the fact that Samantha — who was not invited to the royal wedding — dragged Meghan in the press and on social media.
Earlier this week, Samantha trashed her younger half-sister once more, accusing her of suffering from "narcissistic personality disorder." She even went so far as to equate the prince to a kidnapping victim who fell in love with his captor.
"I feel sorry for Harry. He fell victim to her negligence, and I will say sociopathy," she told TMZ. "She pulled him away from his family, all of his friends, the life that he knew."