NEWS
Inside The Vicious And Bitter Feud Between 'Sex And The City' Costars Sarah Jessica Parker & Kim Cattrall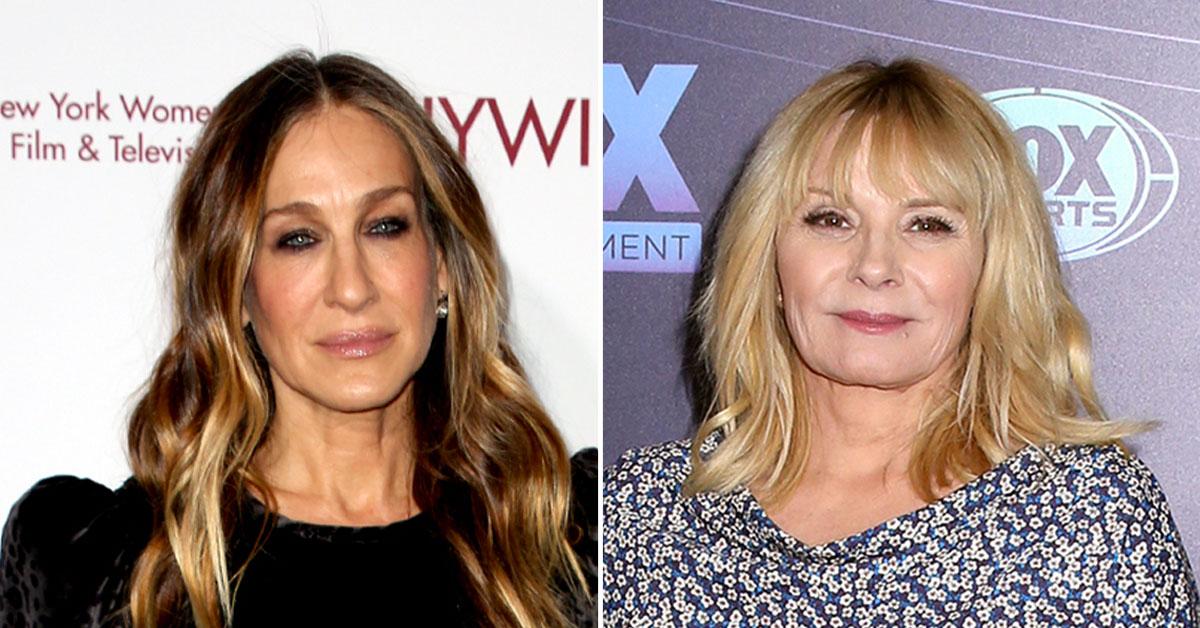 Bad blood! The ongoing feud between Sex and the City costars Sarah Jessica Parker and Kim Cattrall has just been reignited once again due to the news that the latter will be sitting out of the show's upcoming revival.
On January 10, SJP revealed that she and her costars Cynthia Nixon and Kristin Davis would be reprising their roles for the HBO Max reboot titled And Just Like That..., and though fans were excited about the announcement, some couldn't help but voice their disappointment that Cattrall's iconic character, Samantha Jones, would be MIA.
Article continues below advertisement
"Happy to see you back but will miss Kim/Samantha," one comment read, to which Parker replied, "We will too. We loved her so. X."
SARAH JESSICA PARKER SELLS THREE-STORY $15 MILLION NYC PAD, BUT FANS CAN GET A GLIMPSE INSIDE BEFORE IT'S GONE — WATCH
"I don't dislike her. I've never said that. Never would," Parker responded when another fan accused the two of being enemies. "Samantha isn't part of this story. But she will always be part of us. No matter where we are or what we do."
As for one fan's idea that they get another blonde actress to portray Samantha, "We have some new stories to tell. We are excited," Parker responded.
Cattrall has declared for years that she had no interest in embracing her SATC character again, but many believe it's her relationship with Parker that caused her to step back from the series, as she was originally hesitant to ever play Samantha after the series wrapped.
FROM FAB TO DRAB! 'SEX AND THE CITY' STAR KRISTIN DAVIS TALKS ABOUT HER HAIR LOSS
According to reports, tensions grew in 2004, when after six seasons, Cattrall said she wanted to "move on" from the show. Eventually, she caved and joined the rest of the ladies for the first movie, which hit theaters in 2008, four years after the series finale aired.
Article continues below advertisement
Later that year, when asked about any drama — back at the 2004 Emmys, Cattrall was nowhere in sight when the rest of the cast sat together — she explained, "Are we the best of friends? No. We're professional actresses. We have our own separate lives."
However, the shoe designer downplayed any animosity, sharing, "Honestly, we are all friends and I wish I saw more of Kim."
By 2010, Cattrall's demeanor on the situation seemed to have changed, as she insinuated that rumors of a feud were simply gossip.
THE 10 WORST BOYFRIENDS TO EVER APPEAR ON 'SEX AND THE CITY'
"I think Sarah is fantastic. She is a born leader and she guides the crew and the cast in such a strong but gentle way," she shared. "She and I are sick of this. It's exhausting talking about it, and a real bore."
Article continues below advertisement
Things simmered down for several years, but by the fall of 2017, their relationship was back to spinning headlines, as it was said that a third SATC movie was nixed because Cattrall refused to sign on unless she was able to make a separate deal with Warner Bros for solo projects.
She denied the reports, stating several times that she just wasn't interested in doing a third movie.
Article continues below advertisement
One month later, Cattrall suddenly decided to shade Parker. "I think she could've been nicer. I really think she could've been nicer," she replied when asked if she was friendly with her former costar. "I don't know what her issue is."
SJP claimed she was disappointed and confused by Cattrall's harsh words. "I found it very upsetting because that's not the way I recall our experience," she said. "It's sad."
MORE ON:
Sarah Jessica Parker
Things took a serious turn for the worse when Cattrall's brother died in February 2018.
'SEX AND THE CITY' STAR CHRIS NOTH SHOWS OFF HIS GUNS — AND SARAH JESSICA PARKER REACTS!
"If somebody in your life, whether you're in touch with them or not, [is] suffering for any reason, it's involuntary that you want to convey condolences or sadness or just let someone know you're thinking about them," Parker publicly shared as to why she gave her condolences via a comment on Cattrall's Instagram.
Article continues below advertisement
Her sentiment didn't go over well, with Kim lashing out at her on the social media app. "My Mom asked me today 'When will that @sarahjessicaparker, that hypocrite, leave you alone?' Your continuous reaching out is a painful reminder of how cruel you really were then and now," she wrote in her caption.
"Let me make this VERY clear. (If I haven't already) You are not my family. You are not my friend," she concluded. "So I'm writing to tell you one last time to stop exploiting our tragedy in order to restore your 'nice girl' persona."
Article continues below advertisement
She added a link to her post that lead to an article claiming the rest of the cast had a 'mean girls' attitude towards Cattrall, often excluding her from their social outings.
Still, Parker insisted there were no hard feelings between them. "We had this experience and it was amazing, and nothing will ever be like it," she expressed in a PEOPLE interview. "We had a connection with an audience, and we had a connection with the city and with this crew, and we got to tell these crazy stories with each other.
In 2020, Cattrall commented on their relationship once more. "Everything is on Google, so I encourage you to Google it, about anything that I've said," Cattrall told the Los Angeles Times when asked about it. "I feel that that was then, and when I look at what's going on around me, I just don't have any regrets."
Cattrall has yet to weigh in on the HBO Max revival, which received a 10-episode order and is scheduled to start filming in the Big Apple this coming spring.