Maya Rudolph Returns To 'SNL' With Hilarious Impersonation Of VP Kamala Harris & Beyoncé — And Her Stepdaughter Ella Emhoff Was Even Portrayed: Watch
Legendary comedian Maya Rudolph made her triumphant return to Saturday Night Live — a first since she last hosted in February 2012, and she brought along a few of her famous friends.
Article continues below advertisement
Rudolph reprised her role as Vice President Kamala Harris for a "Unity Seder" sketch to celebrate Passover. Martin Short made his debut as Second Gentleman Doug Emhoff and Chloe Fineman played his daughter and budding fashion star Ella Emhoff.
Article continues below advertisement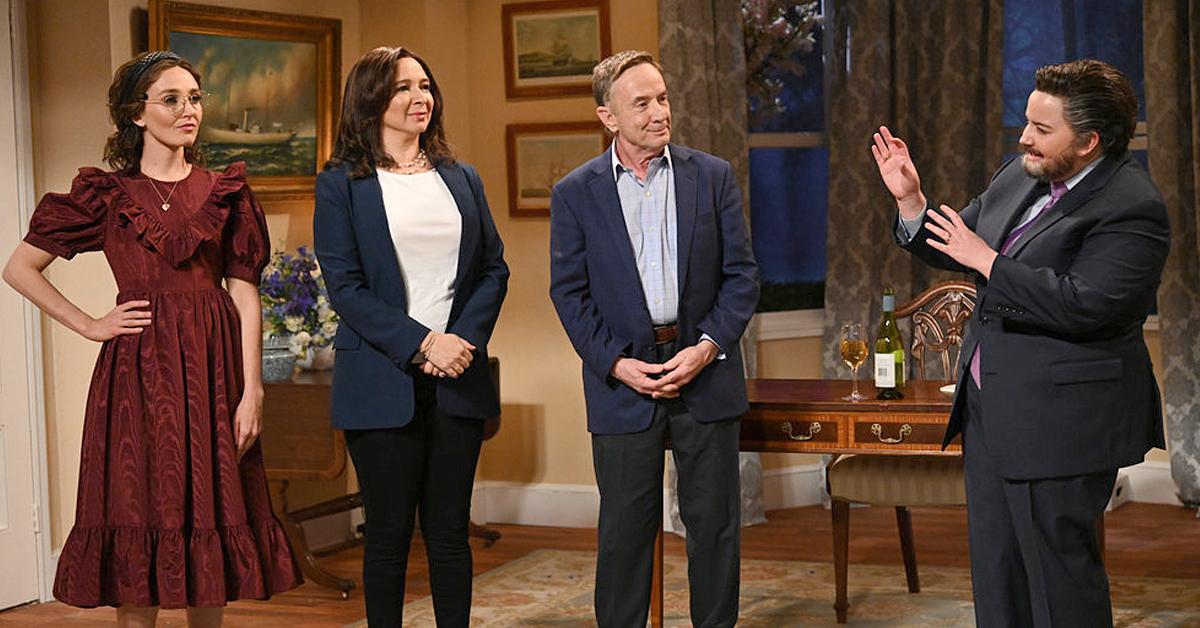 "This has been a difficult year for all of us, but I really do feel we're about to see some light, and what better night to celebrate new beginnings than on Passover, or as my adopted people call it, Pesach," Rudolph began the sketch.
Article continues below advertisement
During the Seder, Harris reaches across the political aisle and invites some of her rivals, including Senator Ted Cruz (Aidy Bryant), who shows up to the party with pork and bread — observant Jews don't eat pork and forgo bread during Passover. "I've never been to a Jewish dinner, so I bought some Israeli flag cupcakes, and I got a ton of these leftover from CPAC. And I've got some pigs in a blanket," Bryant said.
He then went on to blame his daughters for another mishap — making fun of the Cruz scandal where he slipped off to Mexico after the devastating storms that ravaged his home state of Texas — scratching Emhoff's Prius that was in the driveway. "It wasn't me. My only crime is loving too much, and sedition," he said.
Article continues below advertisement
Representative Marjorie Taylor-Greene (Cecily Strong) made an appearance, entering the soiree through a window "insurrection style," which she jokes is her thing now. She also referred to the party as "Antifa headquarters."
Article continues below advertisement
Actor Alex Moffat, who took over the role as President Joe Biden after Jim Carrey left NBC comedy series, showed up to reflect on his recent news conference. "I wasn't nearly prepared enough, but I think I proved them all wrong," he said, while looking down at a note card. "Kamala, I'm not sure if you heard, but I'm putting you in charge of solving a little immigration problem down at the border."
Rudolph as Harris responded: "Thank you for the opportunity. Such a fun, solvable problem."
Article continues below advertisement
The Bridesmaids alum also channeled singer Beyoncé in a separate sketch, wearing a replica of the singer's black leather Grammy outfit. She parodied the popular hot sauce-fueled series Hot Ones — where celebs are interviewed over a plate of increasingly spicy wings — with cast member Mikey Day impersonating host Sean Evans.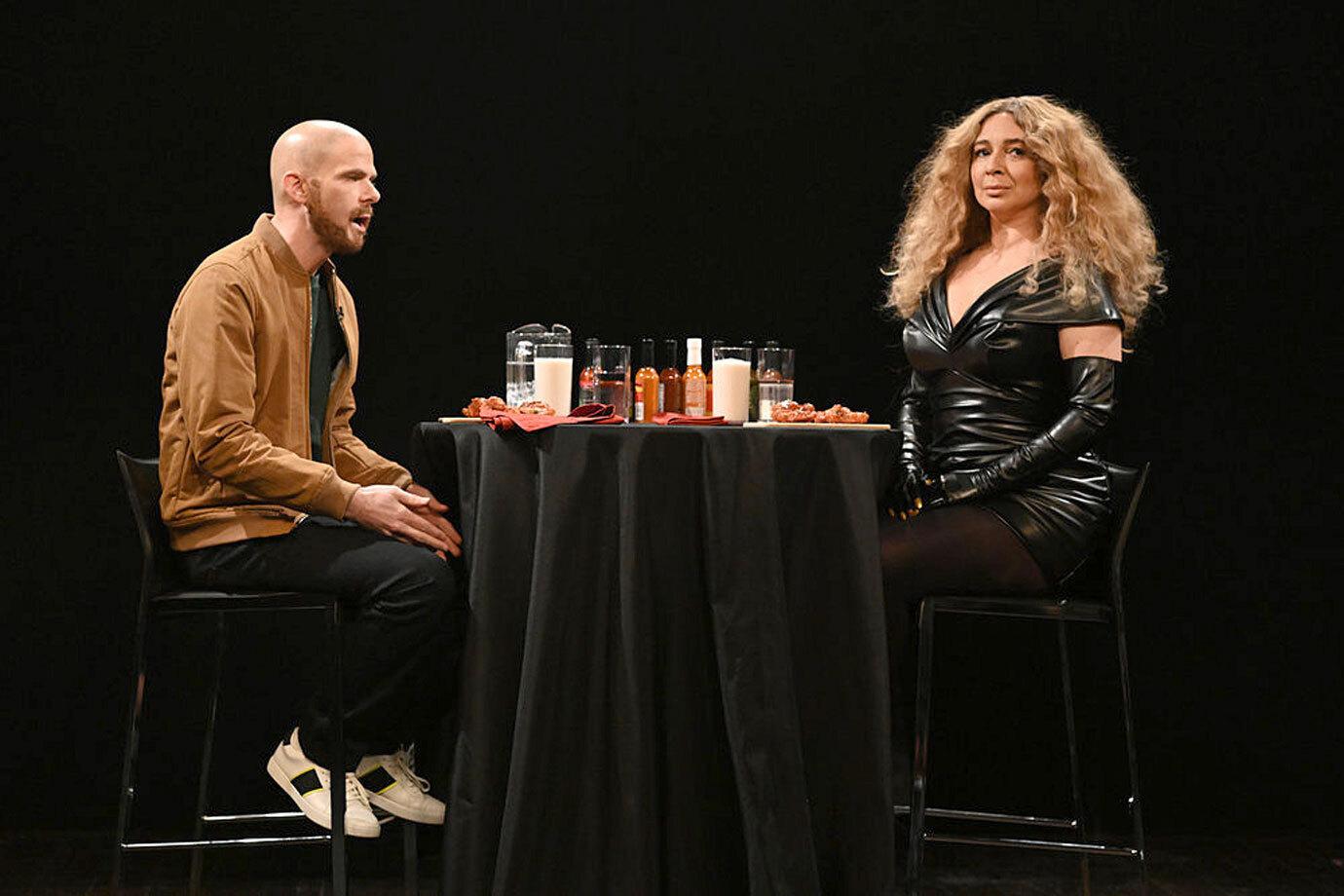 Rudolph was a series regular on SNL from 2000-2007. She's made several guest appearances on the show throughout the years, debuting her impersonation of Harris for season 45, during the run-up to the 2020 election.