ROYALS
Meghan Markle's Half-Sister Slams Her Remembrance Day Photo, Drags Archie Into Things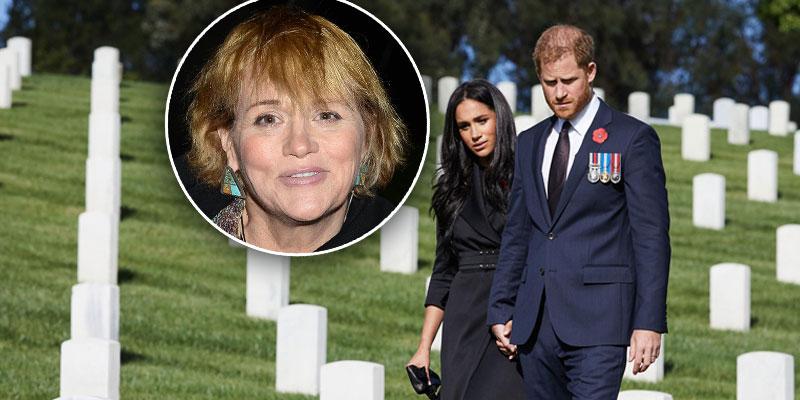 The Duchess of Sussex's half-sister, Samantha Markle, criticized Meghan Markle for releasing photos from her and Prince Harry's private Remembrance Day tribute.
While speaking with Dan Wootton on the U.K.'s talkRadio, Samantha called her sister's tribute to the fallen soldiers at the Los Angeles National Cemetery on Sunday, November 8, an "exploitative photo opportunity." The Duke and Duchess of Sussex visited the grave sites of two Commonwealth soldiers on Remembrance Day and were photographed by a pre-approved photographer, Lee Morgan.
Article continues below advertisement
"So I was a bit shocked to see that on such an important topic — Remembrance and gratitude towards so many who have sacrificed their lives so we can live as we do today, as Harry said — that gratitude would be shown by an exploitative photo opportunity over fallen heroes," she added.
Samantha also talked about the couple's son, Archie, whom she's never met. "Archie has become somewhat of a phantom in the eyes of everybody, because he must be walking now, and he wasn't present at the memorial," she dished. "I think the world hopes for the best for him, but I can't address it now because we haven't seen him, and I don't know that we will sadly."
Article continues below advertisement
According to The Sunday Times, the red-headed prince was denied on the grounds that "he is no longer representing the monarchy." Harry served in the British army for ten years and served two tours in Afghanistan. According to PEOPLE, the Duke would've attended the service in London, but his travel plans were canceled due to the COVID-19 pandemic.
Harry and Meghan stepped away from their royal duties in March to rebrand themselves as Hollywood stars in California. They tried living in the bustling Los Angeles city, but Harry "absolutely hated" the lack of privacy. However, they finally found their forever home in the celeb-filled Montecito community for $14.65M.
Article continues below advertisement
An insider exclusively told OK! Harry is ready to completely walk away from the U.K. and become a U.S. citizen. "He can never see the day when he and his family would return to England. He is happy about the massive deal he and Meghan have signed with Netflix, finally making him financially independent from his family."
While they start their lives anew, Meghan still has to deal with her lengthy lawsuit against Associated Newspapers. She sued the publication after they released a private letter she wrote to her estranged father in 2018, where she scolded her dad and several other members of the family. Meghan is suing Associated Newspapers for five articles in total, three of which were published on MailOnline. The trial has been appealed and is expected to commence in October or November 2021.