EXCLUSIVE
She's Back, Baby! Meg Ryan Is 'Ready To Conquer Hollywood Once Again,' Says Source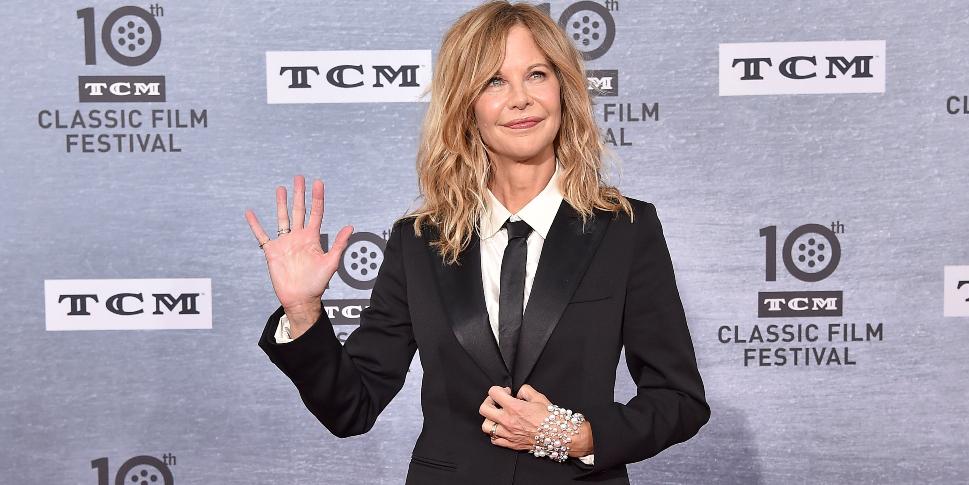 In the late 1980s and early '90s, Meg Ryan was the reigning rom-com queen, playing the hapless-but-lovable lead in beloved classics like You've Got Mail and Sleepless in Seattle. But she hated living in a fishbowl, and a string of flops and the very public demise of her 10-year marriage to actor Dennis Quaid sent her running from the spotlight. "I was burned out," she later said of ditching Hollywood for NYC. "I felt like I was behind a window looking at my life."
Article continues below advertisement
Nearly two decades later, Ryan is finally opening up to friends about why she really left — and why she's finally getting back in the swing of things.
"Meg swore she'd never return to the town where her marriage crashed and burned, and where a movie industry turned against her," says a source of the 58-year-old star and mom of two (she adopted 16-year-old Daisy in 2006 and shares Jack, 28, also an actor, with her ex-husband).
But she's come a long way since headlines about her messy love life and alleged preoccupation with plastic surgery began garnering more attention than her film career. "She's really learned to love and respect herself," adds the insider, "and she's ready to conquer Hollywood once again."
DENNIS QUAID REVEALS WHY RELATIONSHIP WITH MEG RYAN DIDN'T WORK OUT
After keeping a low profile for years, Ryan is determined to set the record straight about her failed romances. "She'd love to do a TV interview about the private hell she experienced," says the source.
Article continues below advertisement
Though she was labeled a cheater after engaging in a steamy romance with her Proof of Life co-star, Russell Crowe, Ryan insists her relationship with Quaid had long been over.
"Meg says the affair with Russell didn't wreck her marriage," the source reveals, adding that she'd withstood her husband's wandering eye for years before falling for Crowe on set. "Dennis was no saint. He struggled with alcoholism while they were together. They were both unhappy and out of love."
She and Crowe tried to make things work, but things between them fizzled out quickly. "It was passionate, but didn't last long," says the source of the fling. "Russell had a temper, and Meg broke up with him after only a few months."
DENNIS QUAID AND MODEL GIRLFRIEND SANTA AUZINA CATCH DINNER IN HOLLYWOOD
Her on-screen chemistry with Tom Hanks had always left many wondering why they never made things official in real life. "Meg loves Tom and calls him her 'work husband' as they've done four movies together," says the source, "but they're good friends and that's all."
Article continues below advertisement
Ryan and Hanks — who has been married to Rita Wilson since 1988 — "talk all the time, and when Tom and Rita were sick with COVID-19 in Australia, Meg was one of the first people to call and offer help," adds the source. "They'd love to do another movie together and it's just a matter of finding the right project."
Ryan's longest and most serious relationship since her divorce was with rocker John Mellencamp. They began dating shortly after Mellencamp, 68, split from his third wife, and spent a tumultuous eight years together.
"They loved hard and fought hard," says the source of the on-off again couple.
During a hiatus in 2015, Ryan said she was "taking a little break from love," but the pair reunited in 2017. They got engaged the following year, only to call off the wedding in late 2019. "They clashed over everything, including his smoking and where to live," says the source. "John hated city life and preferred the wide-open spaces of Indiana, where he has a ranch. They tried to make it work long-distance, but they argued when they were together and argued when they were apart."
Article continues below advertisement
The source says the "Jack & Diane" singer was always pushing Ryan's buttons: "He would do things that annoyed her, like wear the same pair of jeans for a week or go days without calling her. She thought he was immature and selfish, and finally dumped him when she'd had enough."
SOCIAL DISTANCING FOR GOOD: CELEB COUPLES WHO'VE CALLED IT QUITS DURING QUARANTINE
With her 59th birthday approaching on November 19, Ryan is reevaluating what really matters. She regrets becoming overly fixated on her looks and turning to plastic surgery. "After her divorce and split from Russell, she wanted to make herself feel better," reveals the source, noting that she underwent a facelift and got Botox and lip fillers, only to be ridiculed for going way overboard.
"She ended up bringing more attention to herself, and she felt bullied," says the source. Ryan's finally decided to let herself age naturally. "She's stepped back from all that and is looking more like herself," says the source. It's part of her overall transformation.
"Meg's long break from Hollywood helped restore her self-esteem and bring her to a place of self-contentment," adds the insider. "She's done that by focusing on herself and her kids, meditating, reading and becoming more spiritual."