EXCLUSIVE
Making Moves! Prince Harry & Meghan Markle House Hunt In Washington D.C.: Source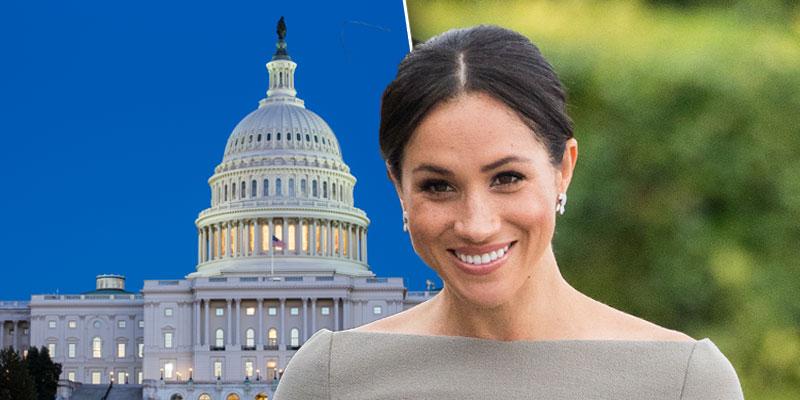 The Duke and Duchess of Sussex made it clear that they'll do whatever needs to be done as advocates for the political causes they support. Prince Harry and Meghan Markle feel so strongly about their efforts, an OK! source says that they are now looking for a home closer to the action in Washington, D.C.
"Meghan and Harry have a lot of power and time on their hands. They are both looking to reinvent themselves, and together they have chosen to go the political root. L.A. will always be home base, but they have started a low-key search for a place in Washington, D.C.," an insider tells OK!. "Now they are no longer working senior members of the royal family, travel and accommodations are something they have to work out themselves.
Article continues below advertisement
"What most people don't know is that Harry has been friends with Jill Biden for almost a decade. The couple is even talking about attending the inauguration on January 20. While they are visiting, I'm sure they will be looking at properties too," adds a pal.
SEX CLAIMS, FIERY INTERVIEWS & FAMILY TROUBLES: PRINCE ANDREW'S BIGGEST SCANDALS
The 36-year-old prince and Joe Biden are longtime friends and have attended multiple events together over the years. Meanwhile, Donald Trump famously said he was "not a fan" of Meghan's and wished Harry "a lot of luck…because he's going to need it."
Article continues below advertisement
Trump, however, isn't the only one who doesn't support the couple's interest in the country's political affairs. Even U.K. columnist Piers Morgan shared his opinion on the royal-turned-Hollywood couple's new interests. "Prince Harry poking his woke nose into the U.S. election & effectively telling Americans to vote against President Trump is completely unacceptable behavior for a member of the royal family," Morgan stated.
Despite the backlash, Harry and Meghan continue to voice their opinions regarding matters of feminism, racial injustice, philanthropy and online spaces. They hosted a Special Edition Time100 Talks on October 20 to discuss building online communities that are more compassionate, safe and trustworthy. Harry and Meghan also launched their philanthropic website, Archewell — which is a not-for-profit foundation — on the same day as their Time100 event.
Article continues below advertisement
While the Prince and Suits alum moved to California to "rebrand themselves" as Hollywood stars, they're making it clear that their philanthropic tasks are just as important. The Duke and Duchess signed a $150M Netflix deal to create their own production company in September. The couple released a statement at the time and explained they will be "creating content that informs but also gives hope" and inspire new generations.