EXCLUSIVE
Source: Suri Cruise Will Step Out With Katie Holmes And New BF, No More 'Hiding'!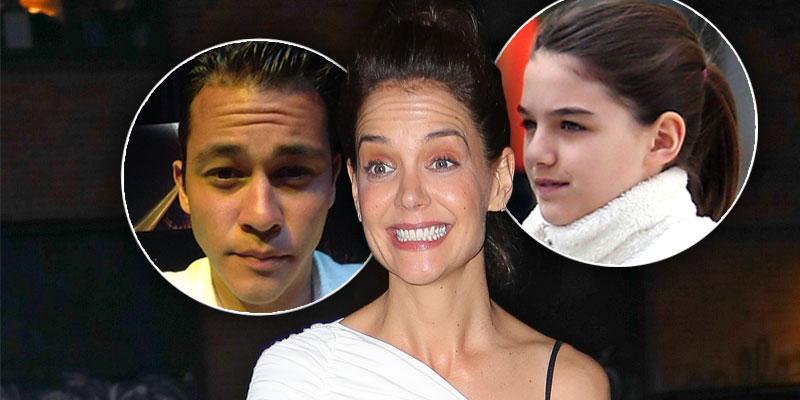 As Katie Holmes and her new man, Emilio Vitolo Jr., continue to make out in public all over New York, an insider tells OK! that Holmes' daughter, Suri Cruise, will soon make an appearance alongside the new couple.
"Katie isn't hiding this new romance. After seven years of creeping around with Jamie Foxx, hiding from photographers and slipping into restaurants through the kitchens so no one would see them, Katie has vowed to never live like that again. She is single and a grown woman and she will date whoever she wants and be proud of her choices. Additionally, her daughter, Suri, is the most important person in her life, which is why it is important for Emilio and Suri to develop a relationship. Not just behind closed doors but also in public. It won't be long until the family is all spotted out together," a source exclusively tells OK!.
Article continues below advertisement
KATIE HOLMES IS 'VERY INTO' 'CHARMING' EMILIO VITOLO DESPITE CHEATING SCANDAL
"Katie is done with being frightened of upsetting her ex Tom Cruise. She is going to live her life. If Tom gets angry seeing his daughter with another man in her life, that's his problem. Suri needs to be around people that want to be part of her life, not those who have chosen to walk away. It is about time Suri sees her mom in a happy and healthy relationship," adds a pal.
Luckily, the 14-year-old "approves" of the chef, 33, another insider told OK!. "Suri is happy that her mom is happy, and there isn't much more to it at the moment. If things get more serious, then obviously, Suri will be involved too. Katie and Suri are a package deal. You cannot get one without the other," the source shared.
The 41-year-old actress has fallen for Vitolo, who is "charming and funny," the source added. "Katie has never been happier. For a long time, she thought she would never be in love again."
MORE ON:
Emilio Vitolo Jr.
Article continues below advertisement
MEET KATIE HOLMES' NEW MAN EMILIO VITOLO — 5 FAST FACTS ABOUT THE RESTAURATEUR
Even though Holmes is smitten with her new man, the restaurateur just got out of a serious relationship with his ex-fianceé, Rachel Emmons. In fact, when Holmes and Vitolo were spotted for the first time in New York City on September 1, it was the "same day" Vitolo's engagement was called off, OK! previously reported.
Adding fuel to the fire, the Dawson's Creek alum knew that Vitolo was engaged and living with his fianceé. "I'm shocked to hear that they were sneaking around this whole time," the insider revealed.
Holmes has always been very private about her love life, but one thing is for sure — she always makes her daughter a priority. So much so, the mom of one revealed she wants Suri to have as much of a normal life as possible. "It's very important that I'm present and she has a stable, innocent childhood. I feel so blessed to do what I do, but there's nothing in the world better than watching your child succeed," she told Town & Country in March 2017.