NEWS
Listen to a Playlist of OK!'s Most Underrated Songs of 2013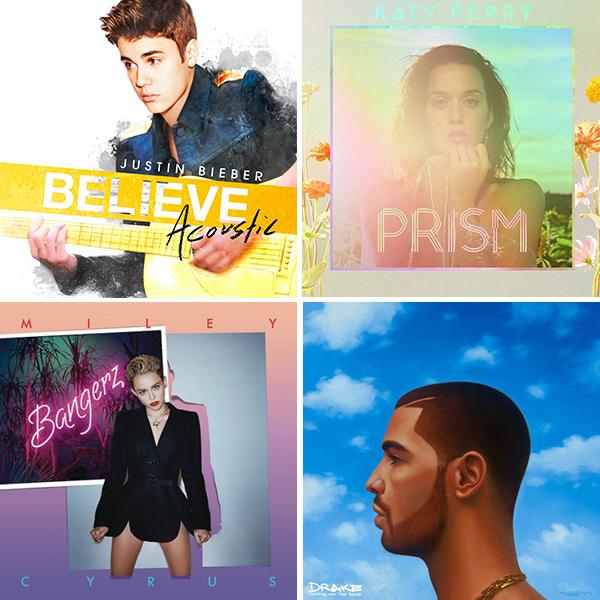 This was a jam-packed year in music. Get it? Packed with a lot of jams? There was a ton of new music to fill up our earholes and just when we least expected it, Beyonce dropped a whole new album on our asses.
Fortunately, there is no Beyonce to be found on this list of Underrated Songs of 2013. We all appropriately flipped out over her new tunes. But here are a few that not nearly enough people put on repeat for weeks at a time. Have no fear, it comes in handy playlist form so you can do just that! There's some album deep cuts that should've been singles and some singles that should've been life-changers. Let's take a listen to some of the underappreciated gems of the year.
Article continues below advertisement
John Newman "Love Me Again"
This song had "major dance party" written all over it, but John's jump across the pond to the US didn't seem to shake us quite enough.
2AM Club "Not Your Boyfriend"
Were you in a casual, unlabeled relationship this year? This song is your anthem.
Conor Maynard "R U Crazy"
R U Crazy for not listening to this song already? This is Conor's follow up to his debut album, produced by Labrinth and I dare you to listen to it just once and not be hooked.
Photos: See the 16 best pop collaborations of the year
Katy Perry Featuring Juicy J "Dark Horse"
Watch The Throne Part 2: Katy Perry and Juicy J. Let's make it happen. Super vibey jam just one notch to the left of Katy's sugary sweet signature pop sound.
Tyga & Justin Bieber "Wait for a Minute"
People might be quick to dismiss this song but it's actually pretty fun and I want to play it on repeat while I run away with my sweetie.
Article continues below advertisement
Sammy Adams featuring Mike Posner "L.A. Story"
Why was this Ryan Tedder-produced jam not a bigger deal this year? It's perfect to listen to with the top down while you're driving through palm trees.
One Republic "I Lived"
Speaking of Ryan Tedder, this song is the most uplifting of the year (sorry, "Roar") and so pretty! It was used in the promos for the last episodes of The Office and made me cry happy tears every time.
Watch: Guess where Christina Aguilera caused drama this time?
Hanson "Get The Girl Back"
Hanson released a new album Anthem this year that is not to be slept on. The first single off of it is a fun song, and see the video for a handful of cameos from their celebrity friends.
Lucy Schwartz "Boomerang"
This song played at the end of Arrested Development right after kind of a big moment and was quite fitting. It will have you instantly snapping along.
Article continues below advertisement
Yes, a deep cut off of The 20/20 Experience (Part 1) that was rarely mentioned amongst the other songs on the record that honestly, and this is coming from a HUGE JT fan, could be overrated at times. Not this one though. It's sexy, it's groovy, and it even made it into his live tour which is really all I could ask for.
Ke$ha "Crazy Kids"
This song balances between delicate whistle and hard stomping beats effortlessly and should've had more crazy kids talking about it, dancing to it and blasting it out of their windows. Also: 2nd best song to ask "Hello?"
Article continues below advertisement
RedFoo "Let's Get Ridiculous"
If you like "Party Rock Anhem" and be honest, every human does whether you want to admit it or not, then you will equally enjoy this catchy dance track and it's super fun video. Perfect for dancing around to while wearing a speedo!
OK! News: Need a Britney boost at the gym?
Kid Ink Featuring Meek Mill and Wale "Bad Ass"
This song released in the spring had "spring break anthem" written all over it and would've fit right in on the soundtrack to the James Franco movie.
Drake "Hold On We're Going Home"
Yes, still a big single this year but did we all really appreciate exactly how good it is? No. We didn't. So let's give it another listen. I got my ears on you.
Gold Fields "Dark Again"
This Australian band released a full album of fun rock songs that will keep you dancing forever.
Cody Simpson "Pretty Brown Eyes"
It's a simple, poppy song that is perfect for 14 year olds (or my music tastes). It's not reinventing the musical wheel, but it's insanely listenable.
Article continues below advertisement
Photos: Those One Direction guys sure have grown up nice
Sia Featuring The Weeknd "Elastic Heart"
This song feels like one that I would be sick of hearing over and over again on the radio after a while but feel like I never even had the chance!
Miley Cyrus "Adore You"
Sure it's a single now with a typically-Miley video but do not sleep on this song. It's equally as beautiful as "Wrecking Ball" and has the potential to be bigger than "We Can't Stop". Not bigger than "Party in the USA" though, let's be reasonable here.
Justin Bieber "Yellow Raincoat"
Hidden towards the end of the Bieb's Believe Acoustic album, this song is so soulful it will make you easily forget at least like 3 of his questionable actions this year.
What do you think is the most underrated song of 2013? Tell us in the comments below or on Twitter @OKMagazine.