NEWS
Britney Spears Slams 'Hypocritical' Documentaries About Her Life In Eyebrow-Raising Post, Says 'I Know I'm Weird'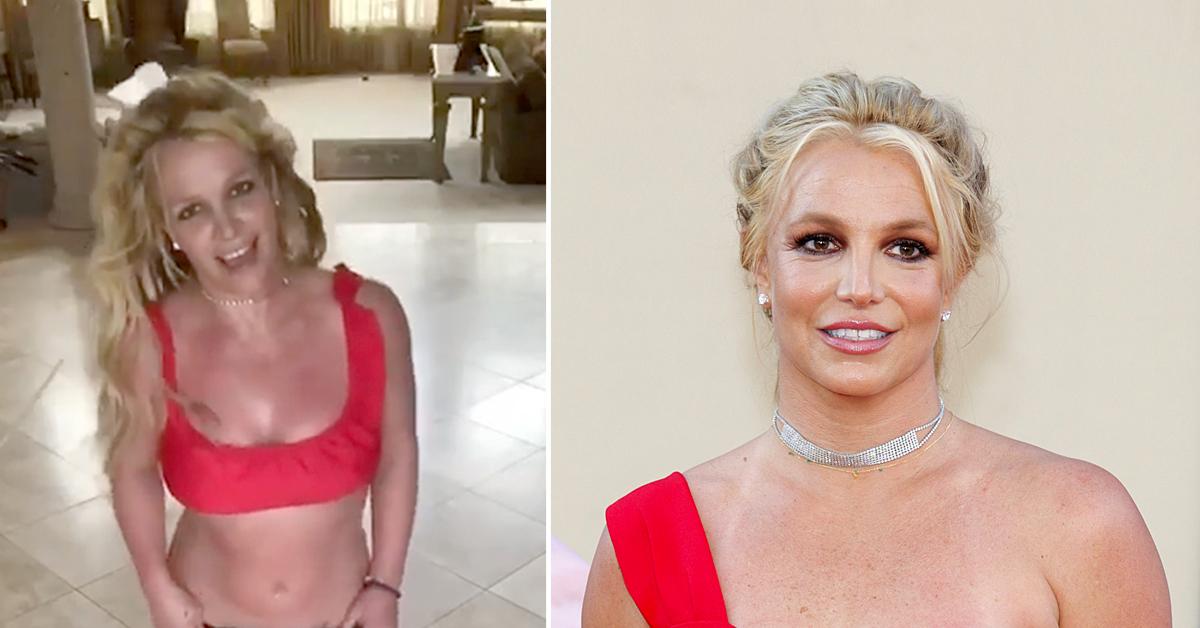 As Britney Spears is gearing up for her big day in court to finally address her ongoing conservatorship battle with her father, Jamie, the pop legend is speaking out about the multiple unauthorized documentaries released this year chronicling her rise to fame and her troubled past — and unlike the millions who watched, she's not a fan!
Article continues below advertisement
On Monday, May 3, the 39-year-old posted a video of herself dancing up a storm, smiling in a darkened studio, and things got a little "weird" (her words).
Article continues below advertisement
"Geez !!!! 2021 is definitely way better than 2020 but I never knew it was gonna be like THIS 😳😳😳 !!!!" she captioned the clip, criticizing Framing Britney Spears and BBC's newly released The Battle for Britney: Fans, Cash and a Conservatorship. "So many documentaries about me this year with other people's takes on my life ... what can I say … I'm deeply flattered !!!!"
Article continues below advertisement
Spears continued: "These documentaries are so hypocritical … they criticize the media and then do the same thing 🤔🤔🤔????? Damn … I don't know y'all but I'm thrilled to remind you all that although I've had some pretty tough times in my life ... I've had waaaayyyy more amazing times in my life and unfortunately my friends … I think the world is more interested in the negative 🤷🏼‍♀️🤷🏼‍♀️🤷🏼‍♀️ !!!!"
Article continues below advertisement
Article continues below advertisement
The pop star concluded her social media tirade with a list of positive things happening in her life, including some upcoming trips she has planned (presumably with her hunky boyfriend Sam Asghari) where she "can't wait to dance in different studios," and she added that she hopes to get "a miniature koi pond" in her backyard soon.
Article continues below advertisement
"I know I'm weird but hey … it's the little things you know ... and I'm so grateful for my beautiful backyard !!!! @betterhomesandgardens should put me on their cover ... I'm no @MarthaStewart that's for sure … but I will tell you I have the finest garden here in LA 🌺🌺🌺🌸🌸🌸🌼🌼🌼 !!!! I hope you're all living your best lives and sh*t or as @parishilton would say SLIVING!!! ... I know I am 💋💋💋!!!!" she wrote.
Article continues below advertisement
Her lengthy (and rather bizarre) post comes shortly after the "Toxic" singer requested to speak directly to the court about her conservatorship, which she's been under for more than a decade.
As OK! previously reported, Spears' lawyer, Samuel Ingham III, told Judge Brenda Penny at a hearing on April 27 that "the conservatee [Spears] has requested that I seek from the court a status hearing at which she can address the court directly."
Ingham did not reveal what exactly Spears will address in court but said the appearance would be related to the "status of the conservatorship." Judge Penny granted the request and set the next hearing regarding the status of Spears' conservatorship for June 23.