NEWS
Suspended: Cop Who Took A Selfie With Protestor At Capitol During Explosive Riots Facing Consequences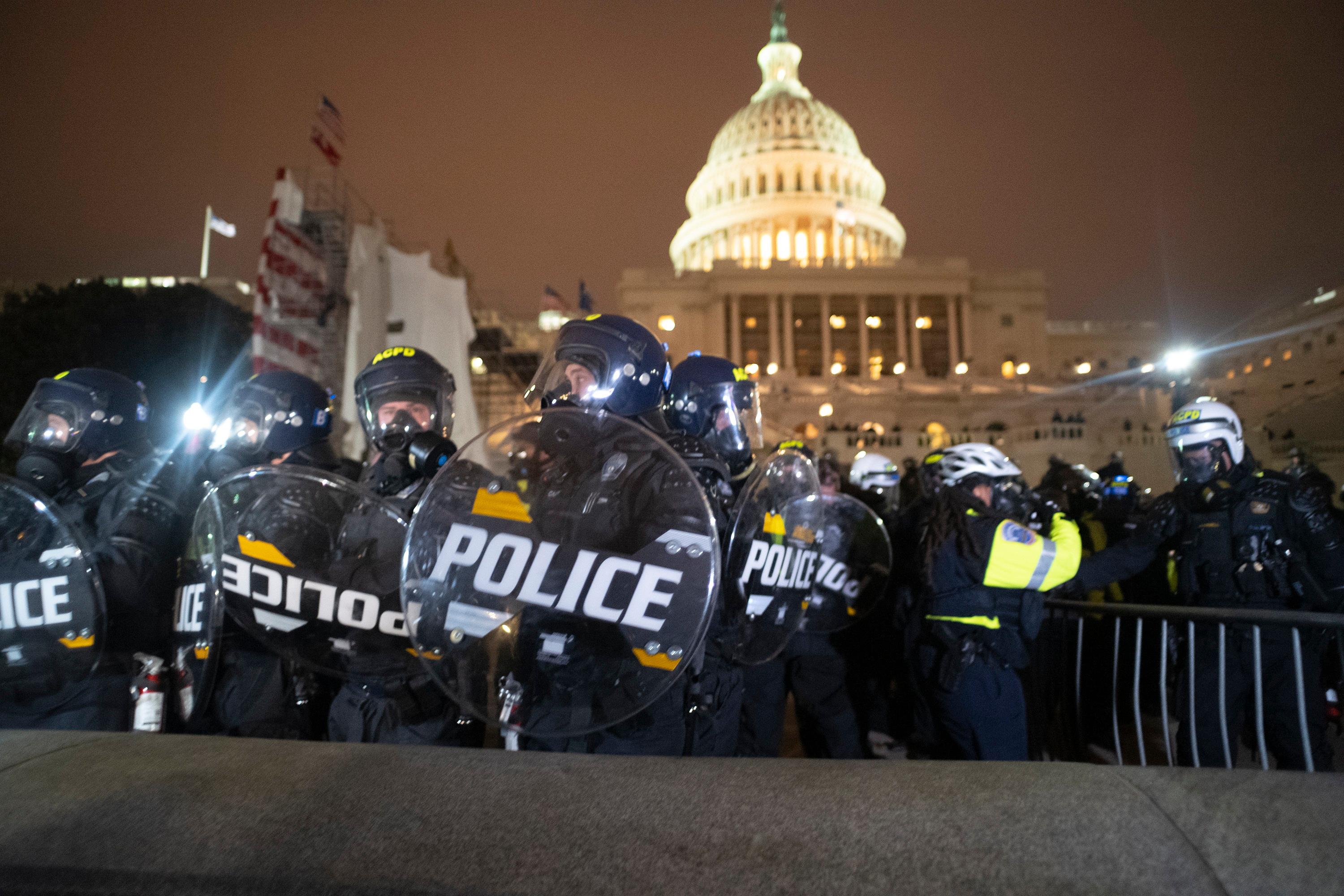 Almost one week after the pro-Trump rioters stormed the Capitol in Washington, D.C., two Capitol police offers have been suspended for their disrespectful behavior.
Article continues below advertisement
Representative Tim Ryan announced on Monday, January 11, that two on-duty cops have been temporarily relieved of duty for the response. One of the cops was reportedly wearing a MAGA hat and directed rioters to the Capitol, while the other was seen taking selfies.
Article continues below advertisement
The cop who took the selfies has been heavily criticized on social media after a video of the gesture went viral.
Reporter Timothy Burke posted a clip of the bizarre moment when a cop posed with the protestor and then nodded to one another once the picture was taken. "Cops are taking selfies with the terrorists," he captioned the clip.
Article continues below advertisement
"That's one way to get fired," one user wrote. "A selfie is the least of our problems. what we need to know is who deliberately ordered a small police presence and if it was tied to Trump trying to control the image," another user replied to Ryan.
At a press conference, Ryan said that the Capitol Police have their eyes on everyone, including those in their own ranks.
Article continues below advertisement
Ryan also said "there's going to be additional [federal] money that [Congress will] provide" to ensure Inauguration Day is safe.
"There will be a good deal of security in addition to Capitol Police … Secret Service … Park Police," he said. "We will make sure Washington, DC is secure."
According to Ryan, the riots at the Capitol are going to have a "ripple effect," as National Guard resources are being brought to Washington, D.C., which takes away from COVID-19 vaccine distribution and "is going to have a national impact."
Article continues below advertisement
The FBI is investigating whether or not the riots were an inside job.
Article continues below advertisement
Meanwhile, two cops have died since the riots on Wednesday, January 6.
Off-duty United States Capitol Police officer Howard Liebengood responded to the riots and then took his own life on Saturday, January 9, at 51 years old, while Officer Brian Sicknick died on Friday, January 8, from injuries he sustained during the riots.
Capitol Police Chief Steven Sund resigned after the riots.
Four civilians also died in the riots. Ashli Babbit was shot dead on the scene, while the remaining three were caused by medical emergencies. Rosanne Boyland suffered from an undisclosed medical emergency, Kevin Greeson had a heart attack and Benjamin Phillips had a stroke.
Article continues below advertisement
President Donald Trump's response to the riots got him banned from Twitter and other social media platforms such as Facebook and YouTube.
"I know your pain, I know you're hurt. We had an election that was stolen from us. It was a landslide election and everyone knows it, especially the other side. But you have to go home now," he said in a since-deleted video and told his supports that he "loves" them and that they're "special."
Trump later backtracked and said that the rioters "do not represent our country. And to those who broke the law, you will pay." Trump has since been banned from Twitter for good.
Trump has also confirmed that he will not attend President-elect Joe Biden's inauguration on Wednesday, January 20.